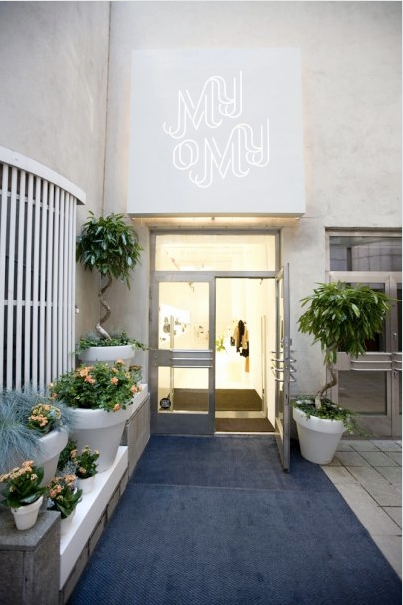 Every time I speak with local New York store owners who sell Scandinavian design, I ask if they have ever been to Helsinki. Often they have, and they always say how impressed they are with the stores and how they merchandise their storefronts in Finland. I couldn't agree more. Helsinki might not be the most known European shopping destination, but it is full of hidden gems, especially for modern design lovers. One of these amazing places to shop in Helsinki, Finland, is
My o My
, which is a year old lifestyle store in the heart of Helsinki.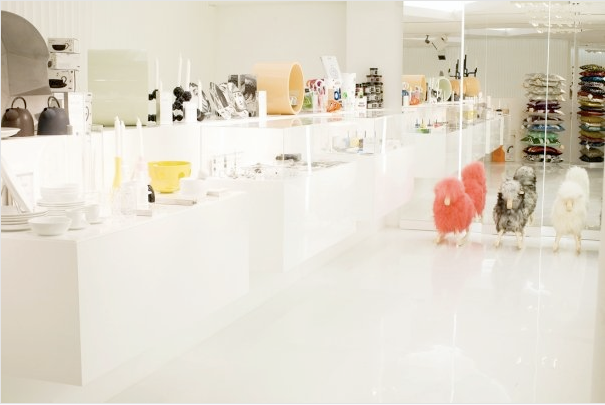 My o My offers fashion, accessories, jewelry and what I love – interior design objects. They mainly import new-to-Finland brands from around the world. I love the mixture of fashion and design and in fact the entire store is a design showcase itself. The interior designers Anna Katriina Tilli and Mikko Vesanen were inspired by the challenging shapes of the retail space and created interesting pleats, like in clothing, to the space itself.
"We briefed them with only three guidelines: whiteness, women with their sweethearts and sigh My o My"
says the owner Pauliina Louhiluoto. Looking at the photos… I can't say anything else but "My o My".
I spotted some great design from My o My's website – above Dutch designer
Frederik Roijé's
chandelier and shelving system and below
Mint Inc.'s
spice grinder and salt and pepper shakers.
I know you are already drooling and booking a trip to do some shopping in Helsinki, but just in case if you need more convincing, here is one more tidbit.
I happen to know the owner
, Pauliina (pictured in the middle), personally, and her taste in fashion and design are impeccable. If you visit My o My, make sure to say hello from me!