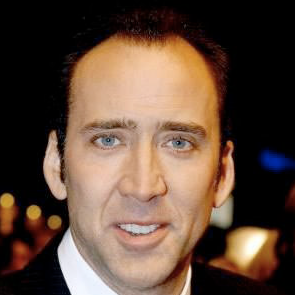 Nicholas Cage borrowed his voice for one of the most famous moles of all times, Speckles, in a Disney movie
G-Force
, which is coming out on DVD next week. I'm a huge fan of Nicholas Cage and I'm so excited to share an interview with him, where he talks about G-Force, and what do you know… the talk turns into talk about the gadgets in the movie. If you want to know which gadget is Nicholas Cage's favorite.. read on!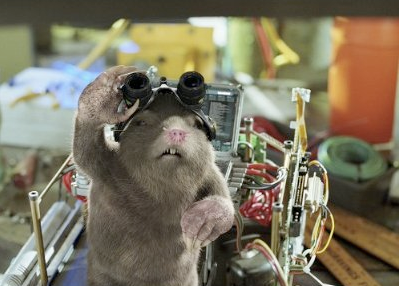 SKIMBACO LIFESTYLE: How did you get involved in G-Force? NICOLAS CAGE:
On my last day on the set of National Treasure 2, [producer] Jerry Bruckheimer told me about G-Force and asked me if I'd be interested in doing an animation. I was really tired, so I put on a funny voice and said, "Well, can I talk like this in the movie?" Jerry replied, "Absolutely." That's how I got involved.
SKIMBACO LIFESTYLE: Sounds pretty cool way to get started. How was it to work on the G-Force? NICOLAS CAGE
: I found it very strange to work without a camera. It is very different because you have to rely entirely on your imagination. I would go into a little cubicle with a microphone and I'd just start riffing. It was a lot of fun.
SKIMBACO LIFESTYLE: Tell us about your character, a mole called Speckles. NICOLAS CAGE:
Speckles is a bit of an outsider. He's a loner and he tries to fit in, but he can't because of the way he talks and the way he looks.
SKIMBACO LIFSTYLE: How did you end up voicing a mole and not one of the guinea pigs in the movie? NICOLAS CAGE:
I had the choice to play any of the characters in G-Force, but I knew I wasn't going to play a guinea pig. I didn't want to be cute and cuddly. I wanted to be a mole.
SKIMBACO LIFESTYLE: So what did you think when you first saw a sketch of Speckles? NICOLAS CAGE
: When I saw a picture of Speckles for the first time, I knew he was a character I would enjoy playing. Everything about him was interesting. He's a wonderful character and he was a joy to voice.
SKIMBACO LIFESTYLE: I have to admit… I didn't recognize your voice at first. How did you come up with voice of Speckles? NICOLAS CAGE:
Speckles allowed me to go in a whole new direction with my voice. He looks very different and he's not the hero of the movie, so he needed a different voice. I wanted to create something that people wouldn't know was me.
SKIMBACO LIFESTYLE: I'm sure the animated picture of Speckles was an inspiration, did you have any other inspirations for the voice? NICOLAS CAGE:
I'm a big fan of a voice actor called Mel Blanc. He was definitely an inspiration. He did the voices for Bugs Bunny, Daffy Duck, Elmer Fudd and Yosemite Sam – and I think it's marvelous that one man did all of these different voices.
SKIMBACO LIFESTYLE: As a geek of some sorts, I need to ask.. there are loads of cool gadgets in the movie – did you have a favorite gadget? NICOLAS CAGE:
I'm not a fan of gadgets, so I don't really know. Technology and computers are not part of my world. I can email, but I don't know have iPods or Blackberries or anything like that. I don't have any gadgets.
SKIMBACO LIFESTYLE: Oh my, and I don't survive a day without my iPhone. You own a cell phone, right? NICOLAS CAGE:
Oh, sure. I use technology for communication and I do have a cell phone, but it's a very old cell phone. It's very simple. That's the way I like it.
SKIMBACO LIFESTYLE: Surely there must be one gadget you like? NICOLAS CAGE:
Well, I do love cameras. I'm not excellent with numbers, so I have to have an auto-focus camera, but I really like taking pictures. I haven't done any photography in a while because I've been working, but I guess cameras are the most interesting of all technological inventions to me.
SKIMBACO LIFESTYLE: Why do you think G-Force is a great family movie? NICOLAS CAGE:
I'm really proud of this movie because it's got something for everyone. There are cute talking animals and crazy gadgets, as well as exciting car chases. It's very entertaining. The movie is designed to put a smile on everyone's face. Any time I have the chance to make people smile, I go for it.
SKIMBACO LIFESTYLE: Thank you so much!
G-Force on DVD
will be out on December 15th, and it is on pre-sale now for only $8.99 – get it while the price is low. G-Force is one of my children's favorite movies of the year, and now when it is coming on a DVD and Blue-Ray, it will make a sweet stocking stuffer or a Holiday gift for the kids. There is nothing better than guinea pigs gone James Bond with an universal message of being happy and proud of what you are, and that each person is special their own way. Granted there are some jokes kids will not understand (making it a family movie parents will like to watch too) and that there are some scary parts of guinea pigs as secret agents, that might not be suitable for the little ones of the family. As we are a Hanes family, and my kids are thrilled to be in the upcoming Hanes catalog, I am leaving you with my son's favorite quote and a video clip of the movie – there is not funnier for a 6 year old than "$6,000-suit, $50,000 watch, and….size 36 Hanes tighty-whities".