9:45 AM
We woke up early on the morning to head to the Oscar® red carpet bleachers, and took a cab to few blocks away from the Kodak Theatre. The Hollywood Boulevard and the few close blocks surrounding the Kodak Theatre were closed. The city was quiet before the storm, and excitement was felt in the smiles of my fellow bloggers and the obvious other tourists walking the famous star-filled Hollywood Boulevard.
10:30 AM
After the security check and getting our bleacher passes, we are shown our seats. Everyone has an assigned seat, and we are so afraid to even think of sitting anywhere else, we don't want to do anything making The Academy mad. All of us Kodak-invited bloggers are in different bleacher sections, and my seat is right next to the Rock and Roll Mama Lindsay. We are getting so excited and snapping pictures already of the red carpet, and the golden man standing next to it.
12:00 PM
The sun is shining and we are still keeping in good spirits, after just waiting and waiting… But we are in slight sugar high after eating the complimentary Krispy Kreme doughnuts and turkey sandwiches. The red carpet is getting the finishing touches and the last vacuum, and we are just waiting and giddy for the upcoming afternoon.
12:41 PM
Waiting and waiting. And I am getting slightly bored so I keep snapping silly photos, like of my shoes. And hand.
1:15 PM
It starts raining and we are frantically trying to take cover. It stops raining.
2:30 PM
Finally people start arriving, we get our Kodak cameras snapping photos like there is no tomorrow. I'm trying to remember everyone's name ("I know she is in that movie with that guy, you know, who was in that other movie with..") and trying to focus my camera. It's sort of surreal, and at times we are in euphoria seeing the stars we have been admiring for years. And some make us mad. Like Zac Efron – he doesn't stop even for one photo for my kids.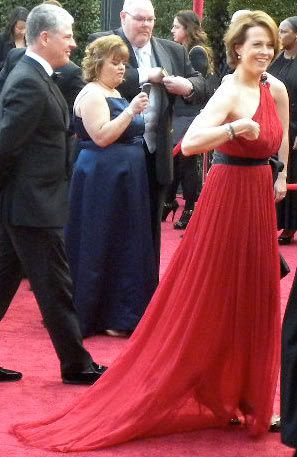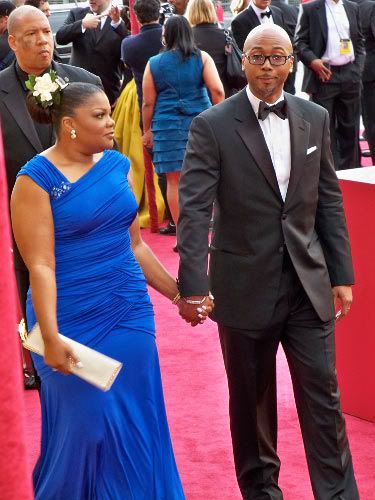 3:13 PM
Matt Damon arrives and I realize that I am no good at being a paparazzi. I don't know if I should just soak this moment in, or try to take photos. People are going crazy at the bleachers next to us. George Clooney just arrived. O-M-G. George Clooney. Even hottie Mattie becomes second next to Clooney's charisma. Clooney is giving autographs at the bleacher next to us, and I can not focus that damn camera. I am trying to take a picture of a living legend, but I don't think I even know if the camera is on (it wasn't).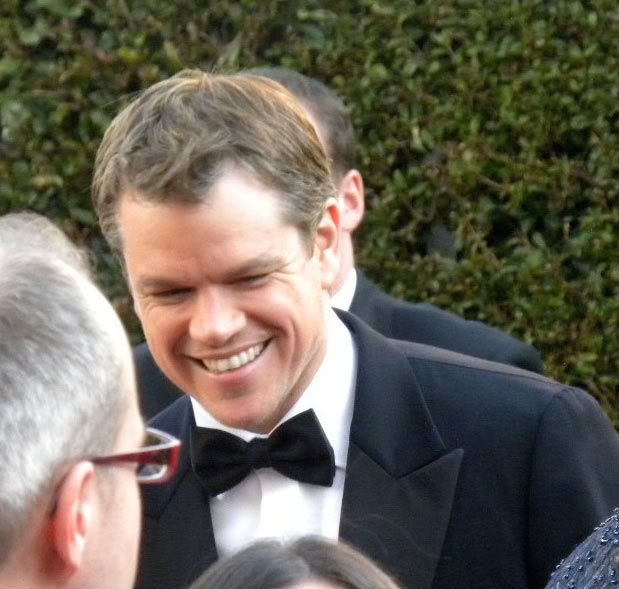 Then the climax happens and George Clooney comes to our bleacher section and right in the front of me and looks at me. I know that he is coming to give autographs for the people at our bleacher section too. But my brain has a temporary malfunction, and I can not think of giving anything for him to sign. So I reach out to him.. and give my.. hand? I don't know what I was thinking, and the brainfart that I am having also makes me unable to say anything. (it was probably best that I just smiled, at that point the words would not have impressed anyone) George has seen this all before. So he just softly touches my hand, the top of my hand, and squeezes gently. It takes at least 10 seconds, which is in the red carpet world an eternity. OMG. George Clooney just touched my hand. Once I come down from clooneyphoria, all I can think is "I have to tweet this". Obviously, the rest of the night was irrelevant, I got The Award Winning Experience of the lifetime.
Disclosure: I've been a George Clooney fan for a long time, and never missed a Kodak moment like this before. But I still love Kodak and am forever thankful for them inviting me to the Kodak Red Carpet Bleachers.