Guest post by Julie Ruble
My hand closed around the door handle, and I pushed the door open breathlessly. While listening for the sound I knew would ring out any millisecond, I kept my eyes trained on my sister Sarah's face over my shoulder. There it was – in my dad's low register first – "SURPRISE!" Sarah broke into a grin as she pieced together the evidence in front of her: her family and friends standing in my mom's small kitchen, a table spread with a feast fit for the English countryside, and me dancing like an elf off to the side, gleeful that I'd actually managed to keep her surprise birthday party a secret until that moment. Birthday parties are nothing new. Millions of cake layers have been baked, painstakingly stacked, slathered with frosting, and prodded with striped candles. Millions of presents have been picked out, paid for, wrapped up, torn open. Millions of paper party hats have been strapped on the heads of friends, family members, and the occasional unfortunate family dog. In fact, maybe so many birthdays have come and gone that we've fallen into a party rut. We celebrate because we're supposed to, and look forward to the end of the party when we can finally clean up the kitchen. Entertaining can become a stressful, negative experience in the blink of an eye – or, say, the time it takes for the whipped cream to break and the cake to burn. But it doesn't have to be that way. It's surprisingly easy to have a breezy, joy-filled few hours of celebrating a beloved guest of honor. It has to do with a frame of mind, first and foremost, about the purpose of a celebration. Beyond that, there are a few tricks to creating a meaningful but simple event. This year, determined to plan a party without succumbing to stress or cynicism, I threw Sarah the aforementioned surprise party based on her favorite book,
The Secret Garden
. I created a sweet, simple celebration that Sarah loved, and that I loved, too.
Here are the keys I found along the way
Thoughtful Theme.
Sarah has loved The Secret Garden since she was a girl. Though she's mentioned her feelings about the book to me before, I'm sure she didn't expect me to take note of them – much less remember them. When she walked into her surprise celebration, she saw more than just the table, set up like a garden tea party with quilts and a picnic basket, little robins nestled in the leaves of potted plants, jars of roses tucked all around, and mountains of food – she saw that I loved her enough to remember something special to her. Isn't this really the essence of celebrating special occasions? The moment where the guest of honor pauses and feels loved? Why do we make it about a cake, or clumsy crepe paper, or even about ourselves as we revel in our own busy-ness? Often making someone feel loved is as simple as showing them you hear them, and care about the things they care about. When planning a simple, sweet celebration, pick a thoughtful theme. Think back to a book, a film, a location, or a moment you know is special to your guest of honor. Imagine small, meaningful ways to represent them in your celebration. I didn't construct a garden wall and lure in wildlife for my Secret Garden party – but I did buy a small necklace with an old key as the charm, and fasten it around Sarah's neck as she walked in. Offer a modest reminder that you know, you love, you care.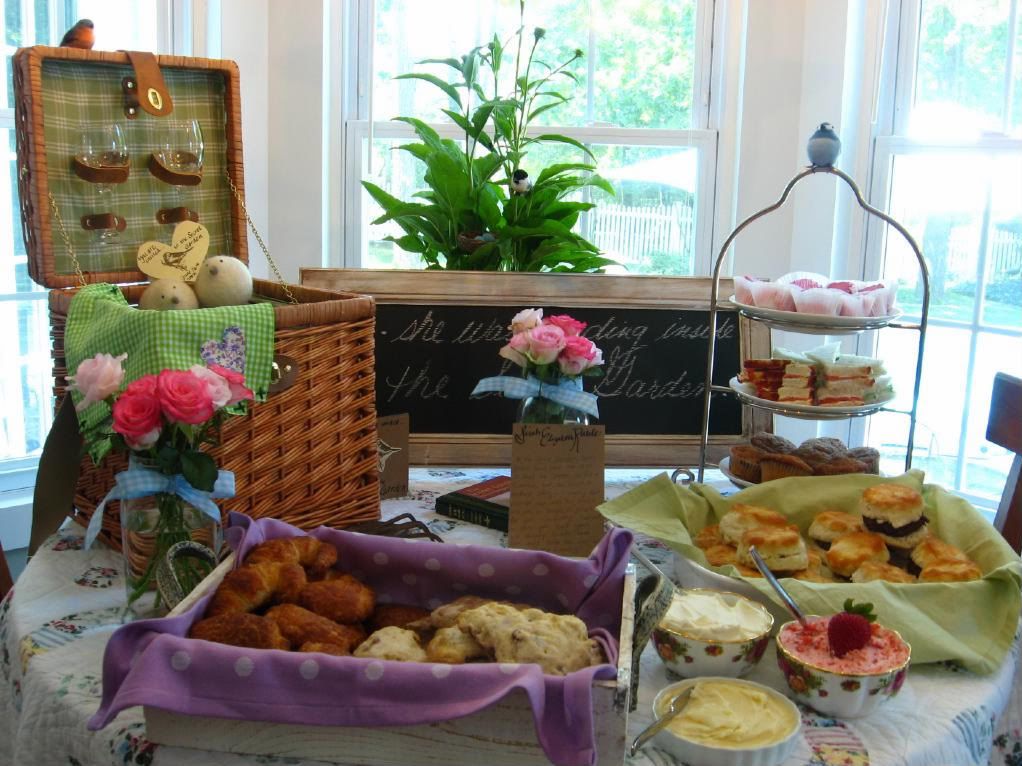 Make-ahead Menu.
When it comes to party planning, timing and schedules orchestrate the symphony of stress. How long will this whipped frosting hold up? Will my cream puffs be soggy by dessert? What if the meal is cold by the time the guests arrive? Maybe by some miracle you'll time the meal just right, and the guest of honor will be thrilled – but even then, you have spent all day fretting and pacing things. Sometimes, it's best to sidestep the issue altogether. Make-ahead foods are the recipe for relaxing and enjoying a celebration you've planned. For Sarah's party, I mixed and shaped my most elaborate dish – homemade, buttery croissants – a full week before the party and froze them, ready to proof and bake. Simpler dishes like rustic, fruity scones and berry muffins were also prepared in advance and frozen. In the days leading up to the party, I made a pitcher of raspberry lemonade and some small petit fours, leaving only a few minor dishes to be constructed the night before. On the morning of the party, I was as cool as my cucumber tea sandwiches. I popped my pre-made goodies into the oven to bake, threw them on the table, and set off to pick Sarah up. Choose dishes that can be made ahead and frozen, don't have to be served piping hot, and can sit a couple of hours on the table without melting. You'll enjoy leisurely preparation in the weeks leading up to the event instead of a marathon baking session that leaves you with flour in your hair as your guests arrive. Also consider serving finger foods or multiple small dishes instead of a sit-down meal that necessitates fancier timing.
Handmade details.
Handmade details are a simple way to spend time and energy on someone you care about. My mom has spent years making quilts for each one of her children. She could have bought us each a blanket, but a blanket isn't what she really wanted to give us – she wanted to give us her time and effort. I took this sentiment and used it on a few manageable projects that would make Sarah's party personal. At the party, handmade heart streamers traversed the kitchen, handwritten invitations welcomed guests, and hand-sewn luncheon napkins decorated the shabby chic table. I'm not a crafty person, so I looked for easy ideas I could accomplish with just a few supplies and my own two hands. Consider creating a photo collage of the guest of honor, folding your own party hats, tying ribbons around jars of fresh flowers, or using stamps and a calligraphy pen to create invitations. Buy a journal for your guest of honor and inscribe personal prompts on some of the pages. Buy a pack of bright, acid-free cardstock, paste a photo or quote on each page, and hang them around the party space. A walk through a local arts and crafts store can be fantastic inspiration for little, handmade touches to make your celebration a sweet tribute.
Keep the focus.
Sometimes changing our experiences is as simple as changing our focus. Each time you find yourself focusing on creating the perfect, lavish meal, buying a frenzy of decorations, or perfecting the flower arrangements – stop. Think of the person you're celebrating and the lovely time you're about to share with them. Realign your actions to fit with this purpose – not your perfectionism. The best sort of party is one that, in a generous and joyous atmosphere, simply communicates love. Eliminate the tired, obligatory, stressful events from your family life. Replace them with something thoughtful, something easy, something charming: a sweet, simple celebration.
Guest post by Julie Ruble. Julie Ruble wears many hats as a middle school teacher, freelance writer, and poet. Check out her baking and photography on her food blog,
Willow Bird Baking
, where you can also get detailed recipes and craft instructions from the
Secret Garden Party
.