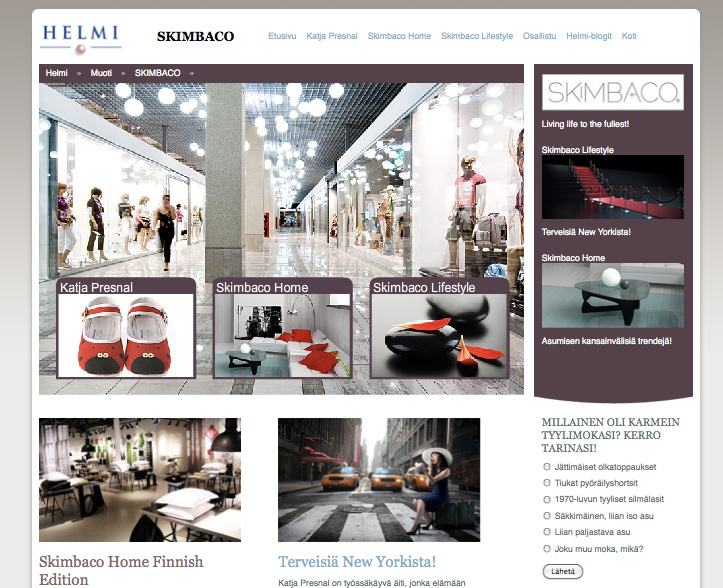 I am so excited to announce that Skimbaco is going international! Thanks to Timo Kunnari, an editor of MTV3.fi homepage, with whom I share a home town, Paimio, Finland, I was invited to talk about a possible partnership with MTV3, the major TV Network in Finland earlier this summer. Today I am happy to announce the partnership between MTV3.fi and Skimbaco, and the launch of two Skimbaco blogs in Finnish. I am currently in Finland, on a media tour to announce the partnership and to celebrate the launch. I am overwhelmed and happy, excited and humbled. I am thankful for the opportunity, and feel such national pride to be working in my native language. At the same time I am proud to become the "eyes in the U.S." for the TV network's site, and to report all the latest trends and happenings, fashion and design back to Finland. MTV3.fi will host two Skimbaco blogs,
Skimbaco Home Finnish Edition
under their
Koti
(Home) channel, and
Katja Presnal in New York
blog under the women's channel called
Helmi
, the blog will be more like Skimbaco Lifestyle, with some exclusive posts in Finnish as well. My goal is to get more Finns excited about blogging, and reading blogs, and to appreciate blogging industry more. Part of our launch is also a cool contest for Finnish bloggers – by writing a blog post of what they think is the best in Finland, they are entering to
win a trip to New York City
to hang out with me, and to see what it is to be a blogger in the city. This is cool news for local bloggers too – MTV3 and I will be hosting a party while the three Finn bloggers are in town and inviting local bloggers to join us!