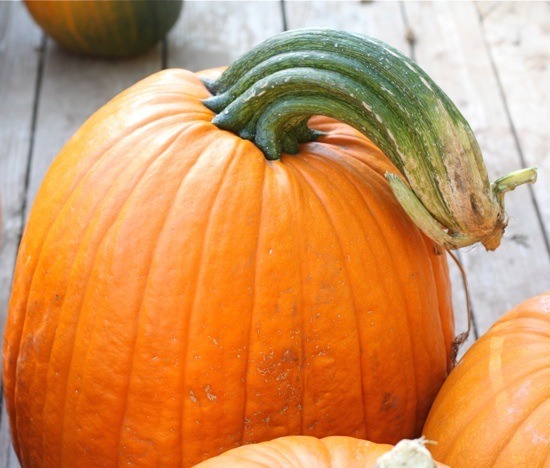 Pumpkins are everywhere this time of year. You can find them at grocery stores, farmers markets, and pumpkin patches. Pumpkins make great fall decorations and are also fun to carve for Halloween. Roasted pumpkin seeds make a simple, healthy, and tasty snack.  Pumpkin seeds are good on their own, but you can also add them to your favorite granola, use them as a garnish for fall soups, or sprinkle them on a mixed green salad. Pick out a pumpkin today and enjoy the fall season by roasting a batch of pumpkin seeds. 
Roasted Pumpkin Seeds 1 medium pumpkin  4 cups water  1 tablespoon olive oil Salt, to taste 1. Preheat oven to 250°F. Cut off top 3 to 4 inches of pumpkin then scoop out seeds into a large bowl. Discard stringy orange fiber from seeds and any seeds that are split or cracked. Place seeds in a strainer and rinse well.  2. In a medium pot, bring water to a boil. Add seeds and reduce heat to medium. Boil gently for 10 minutes. Drain the seeds and transfer to a paper towel-lined baking sheet tray. Pat the seeds dry with another paper towel.  3. Put the seeds in a medium bowl and toss with olive oil and salt. Spread out in a single layer on a large baking sheet. Roast seeds, stirring every 10 minutes or so, until golden brown, about 45-5o minutes.  Set aside to let cool completely-they will get crispier as they cool.  If you want to "spice" up your pumpkin seeds, try these flavor options: For spicy pumpkin seeds, mix 1/2 teaspoon each garlic salt, cumin, coriander and cardamom with seeds and oil before roasting. 
For sweet pumpkin seeds, mix 1 teaspoon each ground cinnamon, cloves and ginger and 1 1/2 tablespoons dark brown sugar with seeds and oil before roasting.