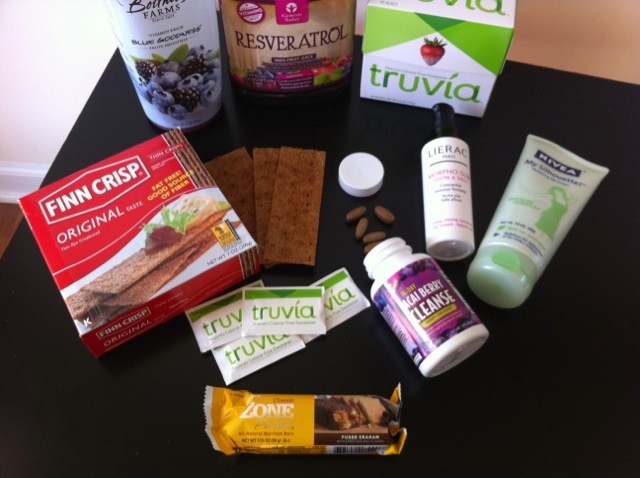 I'm going to look fabulous by the end of January. There – I said it, and now I have to keep it. Right? I'm self-motivating by stick and carrot, this being the stick. I'm writing down my fitness and weight loss goals and that makes it easier to stick to them. Because you know – it would be very tough to come back and write the blog post that I failed. I am trying
everything
and anything. I am going to stick to some of my all time favorite products and also trying some new ones. I literally went to CVS and got my protein bars, diet pills and cellulite gel on the same trip, with a crazed looked in my face that probably told everyone that I was all about serious getting slim business. Remember that these are not the only things I am using. I am literally working my ass off at the gym, and really hoping I will get rid of half of it. But here are my top 8 products helping me get to fit and fabulous faster.
1. Genesis Today Juices
I was introduced to Genesis Today juices last fall, when I was asked to lead a social media marketing campaign for them. Now, almost a year later, I still buy the juices whenever I go to Walmart. We actually quit going to Walmart for a while, but we like the Genesis Today juices so much that we started going again to get them. The taste isn't the best.. the best is how I feel after drinking them ( = good). I like the Acai the best, but Resveratrol and Goji are good too.
2. Bolthouse Farm Fruit Smoothies
The taste is so much better than the Genesis Today juices – but the Bolthouse Farm juices are a bit more expensive, and don't have as many nutrients and vitamins as Genesis Today juices, so I usually mix the two, and you will get energizing juice mix that keeps you full. For now I have been trying to have two glasses of these juice cocktails a day. My favorite mixes are the Blue Goodness Smoothie with Acai or Resveratol juice or C-Boost Smoothie with Goji juice.
3. Finn Crisp
I have been eating Finn Crisps since growing up in Finland, and usually when I see them in store I stock up, because these crackers are so yummy and good for you, great source of fiber. Two crisps have only 40 calories, yet give 3 grams of fiber. They are good with tomatoes or English cucumber. My favorite is with cheese – but I skip it now to cut the calories. Now I eat four of these with hummus and one boiled egg with the juice cocktail for lunch, and it keeps me full for good 4 hours. You can find Finn Crisps from several food stores, but natural food stores are the best place to find them.
4. Zone Perfect Bars
Another product that I found via social media. Zone Perfect actually sponsored me to SXSW conference last year, and I have been hooked on Zone Perfect bars ever since. Now, these bars are not low calorie food, one bar actually has 210 calories. But it comes packed with essential nutrients (like zinc, selenium, niacin, riboflavin..) and has 14 grams of protein giving me stamina to keep going. I eat one either for breakfast or for 4 o'clock snack with a cup of tea. You can get them in several different flavors but my favorite is the fudge graham.
5. Truvia
I switched sugar to Truvia a couple of months ago to be healthier. Truvia is an all natural no-calorie sweetener, and I use it in my coffee. I have been trying to cut down my coffee to one cup a day, so that is probably helping even more than changing the sweetener. You can get a free sample of Truvia simply mentioning Truvia in your blog or Twitter, read more at
MapTruvia.com
. I like the taste – do the taste test yourself, and let me know what you think!
6. Acai Berry Cleanse
Let me gross you out here and say that I even bought Acai Berry Cleanse to loose weight (I told you I am doing everything!). I had Jillian Michaels' pills earlier this year and they worked really well, but they are pretty pricey, so I decided to try these cheaper Acai Berry ones from Applied Nutrition. They make my stomach hurt if I take four a day, but I'm taking two now, and will see if combined with everything else I am doing can see results in two weeks.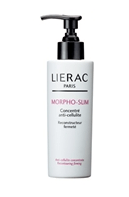 7. Lierac Morpho-Slim
Morpho-Slim Anti-Cellulite Concentrate
by Lierac is the best firming product I have ever tried! It instantly makes your skin smoother and firmer, and the difference really is visible. The price is $52 and it is worth every penny. For a limited time, Lierac is offering a special buy one, get one 50% off promotion on Morpho-Slim Anti-Cellulite Concentrate, so stock up now (and thank me later).
8. Nivea My Silhouette!
Like said – the Lierac's Morpho-Slim is worth every penny but it is pricey. A good second choice is
Nivea's My Silhouette! Redefining Gel-Cream
. I found it online for less than 7 bucks, and it's between 12-15 dollars in most stores. It makes skin softer and more elastic, but doesn't quite firm like Lierac does, however it's much better than some of the other products I have tried.
Full disclosure: I have received free samples of some of the products at some point, but I purchased all of the products pictured. Also, Abbott Nutrition and Truvia are currently clients of mine, but it doesn't have anything to do with my love of the products, I used both products before I started working with the companies.