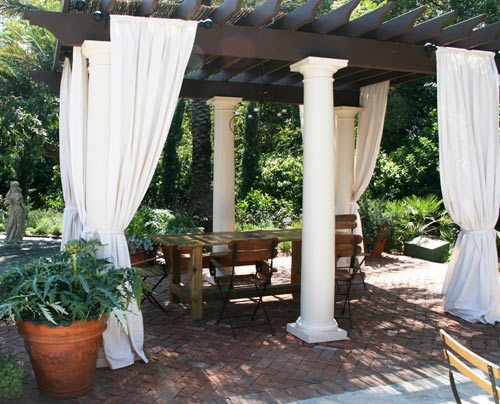 Most backyard fall into these four categories:
Family Fun Center
for kids to play, the
Relaxing Oasis
for enjoying the summer, the
BBQ and party central
for grilling and having fun, and
Enchanted Garden
for gardening. Part of
Skimbaco Home's Outdoor Living feature
I will be showing how you can create either one easily – and also how you could be able to incorporate a little bit if each for your backyard this summer. Relaxing Oasis backyard let's you enjoy the warm weather, relaxes you after a long day at work, and is your favorite Staycation hot spot for the summer. And with hot spot I mean where you can take a nap, relax and enjoy a sweet tea, or a cocktail, read a book and just relax.
RELAXING OASIS
Take a nap!
If you are looking for ultimate relaxation… well, there is nothing like taking a nap in the shade of your backyard. When you are creating a relaxing oasis for your backyard, you will have to include a hammock or a good lounge chair for good afternoon nap. My parents had a huge garden swing and I don't think I've ever had an afternoon nap like that again.. Hammocks are great for napping and for long lazy afternoons.
Hammocks:
Crate and Barrel
,
Walmart
,
Pottery Barn
, Fatboy from
Design Public
.
Sit down and relax!
My favorites are still lounge chairs and swings that you can not just nap, but sit down and read a book. Make sure that you buy covers and seat cushions that are weather proof. Also, it's always a good idea to have an easy storage box for all of your seat cushions in your yard. Maybe a bench with storage under, or a box in the garage if you have an easy access to your garage from your garden. The more easy upkeep you make your backyard, the more time you will spend there. In theory many ideas are great – but it is the every day ease of use that in the end makes the backyard the most enjoyable.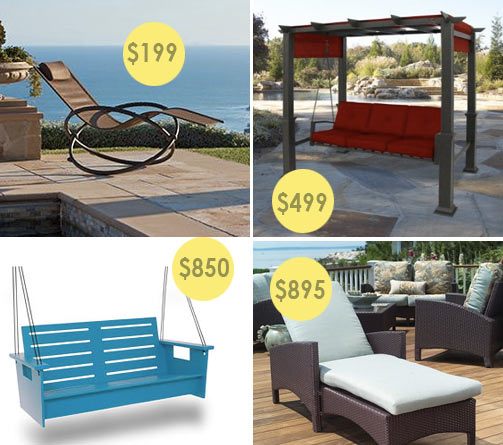 Lounge chairs & swings:
Kmart
,
Target
,
Design Within The Reach
,
All Modern
Ignite the fire
I can't get enough of fire pits,
portable fireplaces
and outdoor fire places. Fire is a must element for Relaxing Oasis backyard's summer nights. Most home retailers have a vast variety of fire pits starting under 100 bucks, making this
outdoor living trend
a very affordable one. But if you are serious about incorporating fire part of your relaxing oasis backyard, consider building a permanent outdoor fireplace, it will instantly take your backyard to the new level!
… And balance it with water!
We've had a few houses with ponds in our yard, large one that you could skate on during the winter time, and a small one for a few friendly backyard frogs, and I love the element of water on backyards. While the large skating pond was amazing, we also had a small row boat in, I don't really recommend building a miniature lake in your yard if you already don't have one.
But small ponds – they are not as difficult to build as they look like. We had a horrible, not well taken care of pond, in one of our houses we bought, and we entirely emptied it and redid it with a good liner and nice stones etc. and it turned out beautiful. Believe it or not, but we just read the
The Complete Pond Builder: Creating a Beautiful Water Garden
book and did the pond with the instructions in the book. An easier way is to create a container pond – a pond in a large container! You can use a large flower pot, bucket, large tin bucket, you name it.
And if you want a no hassle water fountain, try ready made vase fountains that you plug the water pump in and add water and you will have a easy upkeep water fountain for your backyard, like the
Essential Garden Cascade Vase Fountain
pictured below for 70 bucks.
Plants & Flowers
Flowers are pretty, but in ideal world in Relaxing Oasis backyard there is minimal work required, a gardener (or a husband) will take care of the weeding and you can just enjoy the low-key easy to maintain flowers. I like potted flowers, and if I happen to kill them while traveling during summer… they are easy to swap for new ones. Not that I would have personal experience on that or anything. But like said, I like my backyards to be about relaxing, not about working.