Ever wish you could just take a chill pill and instantly feel relaxed? Well, maybe you do… Mine is called "wine". I admit, there are days I'm looking for some miracle "pill" that will instantly transform my life or how I am feeling! I think during the beginning of the year it's always good to remind ourselves to chill out a bit, and not take life too seriously. It's great to set up goals for the new year, make resolutions and all, but I think it's equally important to remind yourself to chillax and to live life to the fullest. Take it easy, remember to enjoy life, laugh a little more and remember what really is important in life. On the other words
take a chill pill and carpe the shit out of diem
. That, and living healthier, looking prettier, losing weight and taking over Europe are my top 5 New Year's resolutions.
Shop for fun non-medicated pills
I don't do pills. If you know me, I'm better known for raising awareness for Motrin's advertising hick ups than taking it for pain, and that even birth control pills get me pregnant. But I could make an exception to the rule, and take almost any one of these chill pills…
LOOK CHILL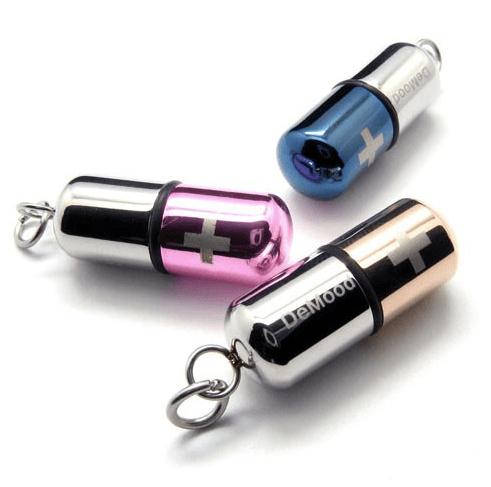 Pill Necklace Pendant
($14.50/each) looks cool and "chill pill" makes a trendy statement.
Take a Chill Pill nail polish by Ginger + Liz
($12) makes your nails sparkle. And when your nails sparkle, you can't help it but chill. You can't take life too seriously with sparkly nails, and this is exactly what this doctor is prescribing you right now.
CHILLY DRINK
Fred Friends Chill Pill Silicone Ice Tray
($8.95) is great for when you want to share some chillaxing drinks with your friends too. I think one great New Year's resolution would be "spend more time with friends and invite them over for chill drinks more often".
Pill carafe
($7.95) is inexpensive yet it looks fantastic. Surround yourself with beautiful objects and serene environment and you will feel a bit more chill too. And when design costs under 10 bucks, well, that's just too good to be true.
Jonathan Adler turquoise pill carafe
($48) is a bit more expensive but still affordable design. Hydration is important, so keep this by you and get some H20 during your day, and look and feel more chill than ever.
CHILL PILL ON THE GO
Chill Pill speakers
are around 30 bucks and these speakers don't just look cool, but they will make listening music anywhere with your laptop/iPhone/iPod/MP3 player etc. heck of a nicer experience. Because nothing makes you more chill than listening some of your favorite tunes.
Take A Chill Pill Gum
($4.99) is a must. You can't help but smile when you pull this gum pack out of your purse. Also makes a great gift for the teenager in your life or your BFF with a sense of humor.
Chill Pill iPhone sleeve
($22.50) protects your iPhone and looks cool too in a fuzzy kind of way. Because nothing makes you more raged than breaking your phone. So protect it to keep your cool.
CHILL LOUNGE AT HOME
Ponteur Pillola Pill Lamps
look great for chillax feeling in your home, but the price tag of $5,000 and up make me feel everything but chill. But if your allowance gets it, go for it. We already discussed about the importance of great design.
Chill Pill handmade soaps
($4.50 each) may not be design objects, but you nothing beats a little chill time when you lock yourself in the bathroom in your home and just have a little me time. May these soaps be a reminder that you need to equip your bathroom with pampering spa products to make it your ultimate chillaxing spot in your home.