I have to say… we didn't do too bad. So far I love Linköping, and I feel it will be easy to make Linköping our home for the next three years. It's not snowy anymore, you can already feel the spring coming, but we took a walk around the city on a snowy day a few weeks ago.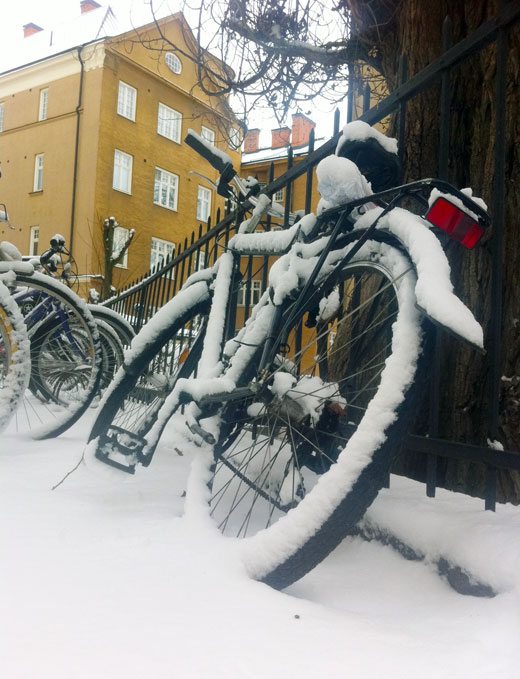 Swedes, like any other Europeans, use their bicycles for everyday transportation and the city is filled with bikes, even on snowy days. Linköping is also an university town, and the students and their bikes fill the center of the city during the days.
I love the old yellow buildings.. You don't have to go to a special historic district to see gorgeous architecture, the center of the town is filled with history and interesting buildings. I snapped these photos on our way to post office, must do a better photo walk when I don't have a family in the tow.
We spotted the Ammos Café Crépes on day one, it was the Nutella in the window… Read more about this charming lunch cafe and how we have unofficially kicked off our
European culinary tour
.
Linköping has a fancy ice hockey/entertainment arena
Cloetta Center
, and we visited it the first time last weekend. I'm hoping they will have some cool concerts or events coming up, right now looks like Judas Priest and the WBC Super Featherweight Championship of The World will be hitting the Cloetta Center this spring. We saw an ice hockey game, only to realize our new hometown team ice hockey club sucks, but hoping better team for next season, because it would be nice to go to the games with the family.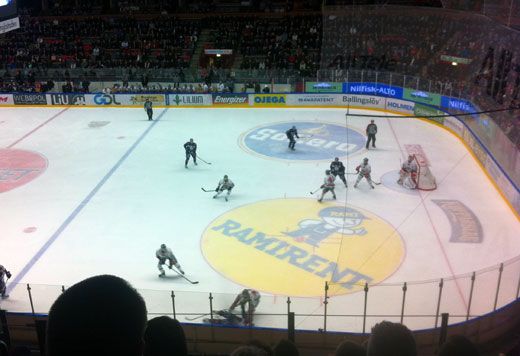 Time will tell how well we will adjust here, but so far we are open minded and love most of Linköping, and what it has to offer. It's odd how fast you can feel "home", even when you are not home.