Read what summer 2012 beauty trends are a DO and which ones are a DON'T! The best: getting your skin in good shape is not just good for you, but also very trendy this summer. In summer 2012 the two biggest beauty trends are complete opposites:
fresh-faced
letting your natural beautiful skin shine or pop of color with
bold colors and metallic
hues. Take a cue from your natural skin tone before you pick a trend to follow. Either look you go for, skin care is equally important. Go for regular facials and have a good daily routine – it really starts as simply as washing your face well morning and evening. Drink a lot of water to keep yourself and your skin hydrated. Healthy lifestyle is the best way to take care of your skin – all year long. Enjoy easier summer beauty routine with the fresh-faced look, and have more time to do other things than worry about your make-up – or be adventurous and try bold colors and have fun with it.
10 Beauty Trends & Tips for Summer 2012
Read Skimbaco Lifestyle's DO's and DON'Ts of summer 2012 beauty trends, and tips how to achieve a trendy summer look.
1. DON'T Tan
Simply said: stay out of the sun and protect your skin from sun, and the tanning beds are not any better. While you may think now when you are younger that tanned skin is better and you want some color on your cheeks, don't do it. Excessive sun exposure causes wrinkles, premature aging and can cause skin damage and brown spots, and dangerous side effects like skin cancer. Wear hats, stay in shade and forget about tanning.
2. DO Remember Sunscreen
Every time you go out, remember sunscreen. You should be wearing sunscreen every day through out the year, but it's especially important during summer. Use at least 30 SPF and remember to reapply after swimming, sweating, or every three hours. I recommend using moisturizer with SPF already built in.
3. DON'T do excessive color
Yes, "color pop" with tanned look and bold colors is one of this summer's trendy looks, but make sure you can actually pull it off before trying it. When it comes to tanning, take a cue from Madge from
Something about Mary
and the New Jersey mom who is addicted to tanning in all of the headlines, I guarantee you don't want their look. And bright blues, greens and purples easily look 80's and outdated, if you don't know exactly how to apply the make-up. Unless you are a supermodel, celebrity with a stylist and dying for headlines, or you have naturally tan or dark skin tone, I do not recommend this look for you.
4. DO funky colorful nails
It's easy to jump on the color pop trend just with a colorful manicure and pedicure. Forget about rose and red, pick from orange, turquoise, minty green, neon yellow, hot pink… or any other candy-like nail color. Or try inexpensive sticker manicures from drugstores with funky prints, they are easy to apply and take off.
5. DO Fake the Tan & Try Color Contouring
If you are set for getting the tanned look, at least fake it, it's better for your skin. Even better: learn to do trendy color contouring, which is like "sculpting" your face with colors to bring it more dimension and create an optical illusion. Apply bronzer from your cheekbones to the top of your ear, to chin and forehead for instant contouring, and highlight your eye area with brightening concealer. Don't finish with matte powder but let your skin have a little natural shine.
6. DON'T do crazy metallics
Metallic eyes were the hottest look for spring 2012 runways, but remember that runways are different than real life. Stay away from crazy metallics unless you are going to a costume party, or a very special occasion.
7. DO shimmery smoky eye
Instead of crazy metallic eyes, add silver, gold or bronze in smoky eye look and update the ever-popular look with a hint of metallics to create a shimmery smoky eye.
8. DON'T pluck your brows
The natural bold thick brows are in, and the skinny plucked brows are out. Yeah for easy maintenance. But you still have to remember to shave your legs.
9. DO go for natural skin
The complete opposite to the bold smoky eyes and color pop looks is fresh-face look. This summer the more
au naturel
you can go with your skin, the better. This is what we here in Scandinavia call the "after sauna look," with perfectly glowing skin, red cheeks and natural red lips. If your skin tone isn't perfect enough to pull the fresh-faced look without make-up, make sure you are wearing a foundation that actually matches your skin tone. Test it on your jaw-line in a natural light is the best way to get the right tone. The daily beauty regimen is more important than perfecting the make-up look. You can give your cheeks and lips color with liquid lip stains.
10. DON'T use regular mascara
This summer it's trendy to go without mascara with the fresh-face look. If you feel too au naturel, or even if you go for bolder summer looks and bold smoky eye look, don't use regular mascara but opt for waterproof mascara for summer. Even if you avoid beaches and pools, the humidity might smudge your normal mascara and waterproof mascara is the best way to go for summer.
Fashion Friday
I'm linking up to Fashion Friday posts at
Blonde Episodes
and
Girlymama
, check out their sites for more fun Friday fashion.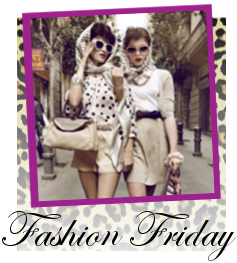 photos: Glamour, Vogue, manufacturers