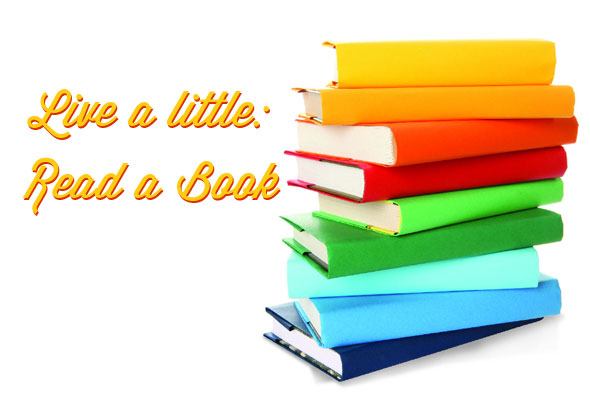 I love books and I can not lie
I come from a home where we always had books. My parents have a huge library, and the books cover the walls of their living room and office from floor to ceiling. I've always loved and had books, but books don't fit our lifestyle of moving every couple of years. Books are so heavy and expensive to move, and our book collection hasn't grown over the years – but it has gone to minimal, and it aches my hard thinking we've lost our books over the years. Unfortunately one of my solutions for not collecting books was to stop reading, and I've had such a love affair with books that for long I almost felt that electronic versions were cheating. Ha, I used to think the same of paperbacks, and only bought nice hardcovers. But I've upgraded myself to this century and now realize that
Kindle
is actually awesome and I don't need the beautiful book walls like my parents have. But I do need to continue reading.
Live a little: read a book
So today.. I encourage you to live a little and read a book and let it take you to a different world, let it inspire you, let it make you think. Let the book make you cry, make you laugh or make you take action. The two books I read recently were
The Charge by Brendon Burchard
(I highly recommend it, and please
read my review and how the book inspired me
), and
Little Bee by Chris Cleave
, and I highly recommend both. If you would like to have more book recommendations what to read, check out
The Review Broads
and
Great Thoughts
for book reviews.
Read more & participate in Live a Little
Participate to Live a Little blog hop! Write a blog post how you "live a little," what's your small way of living life to the fullest and add your blog post to the InLinkz widget above. Rules: Link either to Skimbacolifestyle.com, OR
get the InLinkz code
for your post – or do both! If you post the widget in your blog post, please add these rules as well. You can also find
Live a Little banners here
, and use them in your Live a Little blog posts.