B.R. Cohn Winery and Olive Oil Company in Sonoma
Recently, a friend gave me a special gift. She bid on and won a private tasting for six at B.R. Cohn during an auction then gave it to me because she knows how much I love wine and visiting wineries in Sonoma. Since my friend didn't want to go with me, I invited several other girlfriends and made an ordinary Monday afternoon into something special. B. R. Cohn is owned by Bruce Cohn, who you may know as long-time manager of the legendary band, The Doobie Brothers. But wine lovers know him as the founder and owner of
B.R. Cohn Winery and Olive Oil Company
. We arrived for our scheduled tour and tasting and met our host, Justin. He had us taste some of their wines before going on the tour, which we thought was a brilliant idea!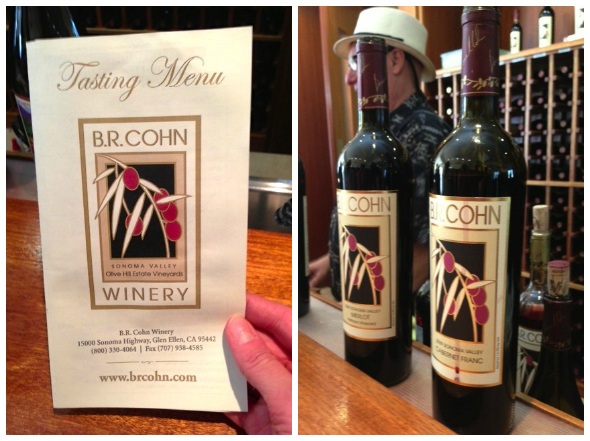 We tasted a few whites and a couple of reds. I liked them all, especially the Olive Hill Estate Cabernet Sauvignon for which B R. Cohn is known for. Once our first tasting was concluded, we made our way outside to the front of the winery.
Justin told us how Cohn bought the property in 1974 and initially sold grapes to other wineries. In 1984, he founded his own winery and eventually began making and selling olive oil from the nearly 150-year-old olive trees on his property. We stopped to admire the old olive trees, impressed that they were still producing fruit after all these many years. The variety of olive grown on the property is called Picholine, a French variety that is known for being fruity with a hint of bitterness. Just the way I like my olive oil!
As we walked around the property, I noticed there were several friendly dogs roaming around. It seems some employees bring their pooches to work with them, a sign of the overall laid-back feel of B.R. Cohn that I appreciate.
While on our tour, Justin told us about the annual Charity Fall Music festival at B. R. Cohn. The Doobie Brothers and numerous other musical guests perform over the course of a weekend. This September will be the 27th year the event will be held. Over the years Cohn has raised over 6 million dollars for various local and national charities. Once we returned to finish tasting their fantastic array of wines, Justin showed us a section of the tasting room where Cohn's memorabilia is on display. He has had such an interesting life in both the entertainment and the wine industries thus far.
With our private tour complete, we made our way next door to the olive oil shop where the estate Picholine olive oil, as well as several other blended and flavored olive oils can be tasted and purchased. They also offer outstanding hand-crafted vinegars in five wine-inspired flavors. Both the oils and the vinegars make great gifts for the foodie in your life.
Interested in visiting B.R. Cohn Winery and Olive Oil Company? They are located at: 15000 Sonoma Highway
 Glen Ellen, CA 95442
 
Open Daily: 10:00am to 5:00pm