Sometimes the destinations you mainly visit in the winter are even better in the summer season. Ski resorts clear off the crowds and offer special deals for holiday-makers, and you can see the familiar place in a totally new light. For me this was the case with Lillehammer when I moved to Norway (aww my list of
Summer Adventures in Lillehammer
from last week), and to some extent the same goes for Switzerland too. When someone says "Switzerland", I immediately think of winter. Zermatt, Verbier, Engelberg, Davos, Saas-Fee… And still, I've probably spent more time in Switzerland in the summer time than in the winter. As Switzerland is a pretty broad as a destination, I decided to pick some of my favourite spots and activities, mainly in the Bernese Oberland and Jungfrau regions for the adventure seeker in the summer time. And to add bit of city life in the mix too, I have few outdoorsy suggestions for the Swiss capital of Bern too!
Do you prefer mountain destinations in the summer or winter?
Interlaken
Interlaken is no doubt one of world's adventure capitals whether it is winter or summer season. Nestled between Lake Brienz and Lake Thun, Interlaken is the gateway to the mountain adventures in the region. Whether it is rafting, paragliding, bungee jumping, skydiving or really any other adventure activity you are after, Interlaken is bound to have something for you. For vacation ideas for in Interlaken, check
Discover Interlaken
.
Hiking and Biking in the Jungfrau Region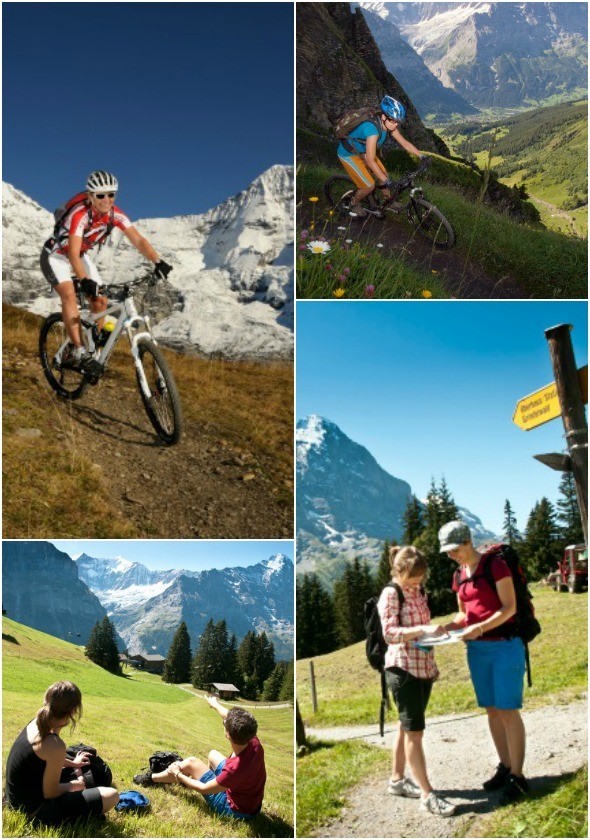 There are over 500 kilometers of marked walking, hiking and mountain paths to choose from in the Jungfrau region, thus making it perfect for active holidays. The mountains of Eiger, Mönch and Jungfrau shadow the area, offering spectacular views for outdoor lovers. Mountain bikers can find 160 km of trails in the region, and if climbing up is not your thing, you can catch a train or cable car some of the way up and then enjoy the decent. For more information on hiking and biking possibilities and vacation ideas for the region, check
Jungfrau region's tourism website
.
Outdoor Experiences in the City of Bern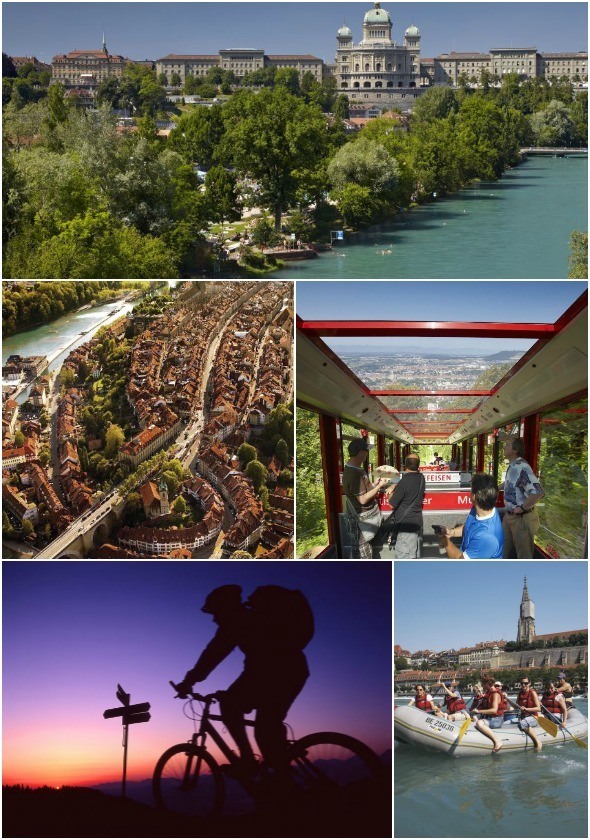 Bern might be the capital of Switzerland, but when it comes to its size it is almost like a big town or small city, just perfect for both bit of city life and outdoors. To admire the views to the Alps and over the city, you can climb up the Gurten mountain, or alternatively hop on the panoramic Gurten funicular that takes you straight to the top. To get down? If you brought your mountain bike you'll be in to some fun rides on the single tracks all the way to the bottom, or alternatively you can take a leisurely stroll down the footpaths. However, maybe the most fun thing to do in Bern is to hop in the Aare river and float down, like the locals do, in the warm and fast current in the city. I didn't even think of this possibility when I first visited Bern and it was quite an amusing surprise to see people floating down in masses, sometimes with their clothes in dry bags ready for the exit. However, if you would like to leave your valuables and clothes somewhere safe, Marzilibad swimming pool (free entry) is a good place for that. See
Bern Tourism
for more ideas and inspiration.
Images: Feature image by Jungfrau Region/Mattias Nutt
,
 Interlaken images by Interlaken Tourism, Jungfrau images by Jungfrau Region/Mattias Nutt, Stefan Hunziker & Susila Lubomir, Bern images by Bern Tourism.