One beauty trend that I absolutely love at the moment is the minimalistic natural makeup combined with bold red lips. With correct products I can get myself out of the house looking decent in less than 15 minutes. The natural makeup look alone is great, but when you add a strong lip color, the entire look changes, and in a way the red lips-look is perfect for a confident woman. You are confident enough to go out in barely there makeup, but you still want to say you are pulled together and want to make a statement with the lips. Here are two pictures of the beauty trend that I am liking so much right now.
This makeup look goes so well when you want to hide behind sunglasses, when you want to look pulled together but don't have time to do a full makeup, and when you want to run some errands before going to gym.
And how I sport this look: anywhere between dropping kids off the school and for international flights.
I honestly also loved the smoky eye-look when the attention was in the eyes, and would have never guessed how much more I'd love the natural look combined with red lips. I think the reason might be because it is so much easier to do fast. Whether I am taking kids to school now on the fall, or during the past six months when I have traveled a lot, this natural look with red lips has become one of my favorites. I wanted to showcase my 15 must have beauty products at the moment, some of them are long lasting favorites, like the hair spray that I have been using since my modeling days in the 90's! Many of them are not make-ups, but products for overall beauty regimen that will help you to look great with minimal effort. I have been buying many of these products on my travels, I've bought them from France, Sweden, Canada and the US. Some of them might not be available where you live, but I wanted to feature the actual products I am using at the moment. Also, I am really trying to go for better quality products (as in: better for you), but find it frustrating to buy expensive natural cosmetics only to find out they are not that great quality. The products recommended here are worth every penny. The price points of the products vary a lot too, but I buy a cheap mascara and foundation to save money for great skin care products and perfume.
15 must have beauty products
SKIN CARE
1. Vichy Aqualia Thermal night spa
This is the only product not pictured in the large picture – because I already used it all, I love it so much. This night time treatment by French
Vichy
is amazing, making your skin look better and feel better – while you sleep. Created with Vichy Thermal Spa Water, known for its 15 beneficial minerals that help reinforce the skin's natural defense, while balancing pH levels and aiding in the skin's regeneration, Night Spa is paraben-free and gentle even for sensitive skin. Unfortunately I was not able to find a retailer who stocks this in the USA yet, but it is available in most European countries and Canada.
2. Hevia Skin Science Anti-aging Cleanser
Hevia
Anti-Aging Cleanser is my to-go cleanser at the moment. It's perfect for sensitive skin and it's enriched with super anti-oxidant Red Mangrove Extract to help repair your skin and it also has virgin coconut oil and shea butter to retain moisture balance. It cleanses well leaving skin refreshed. I personally don't like oily or foamy cleansers or soaps for my face, so this cleanser is perfect.
3. Murad Rapid Collagen Influsion
Murad Rapid Collagen Infusion
helps your skin to get the correct collagen and hydration levels and above all: reduces the appearance of fine lines and wrinkles. It's a bit pricey to my taste for $78, but after seeing the results, I feel it is worth every penny.
4. Eumadis Dermaclay Crème Active Jour Eclat Vitalité
I bought the
Dermaclay Crème Active Jour Eclat Vitalité
from a natural store in France, and it's a light day cream that helps your skin fight against the pollution in the air.
MAKE-UPS
5. L'Oreal Magic Nude Liquid Powder
L'Oreal Magic Nude Liquid Powder
is my foundation and powder in one. Technically it is liquid-powder that's easy to apply on and transforms to a powder-like finish. It's super light and gives you that "no make-up"-look and just sort of perfects your skin. I like that it also comes with SPF 18 and it's super cheap for about 12 bucks and available in most drugstores. It's perfect for traveling because ultimately you could only bring this and leave a heavy foundation AND powder home.
6. Marcelle BB Cream-to-Powder
Marcelle BB Cream-to-Powder
is another great product to be used alone instead of using foundation and powder. The Marcelle BB cream covers more than the L'Oreal's Magic Nude, and it's also hypo-allergenic and perfume-free. It's a great BB product to have in your purse and use for light touch-ups during the day, and I recommend applying it with a slightly wet sponge so you won't accidentally apply too much. I applied this way too much at first and used half of the product in a week before learning to apply it more sparingly. The product is available in Canada and can be shipped to US.
7. Lise Watier Satellite Bronzing Powder
Another great product find from Canada is the
Lise Watier Satellite Bronzing Powder
. It's a perfect mix of a bronzer and a powder, again, making it a perfect product to take for trips or carry in your purse every day, because you don't have to bring both a powder and a bronzer. It gives just the perfect amount of color to your cheekbones and forehead.
8. Mark. Touch & Glow Shimmer Cream Cubes All Over Face Palette
When I want more glow and color for my face, I use the
Mark. Touch & Glow Shimmer Cream Cubes All Over Face Palette
. It's more like a bronzer than anything else, and it gives you an incredible glow. Sometimes I use the individual palettes as an eye-shadow too, making it very versatile product. This might not be all that aligned with the "natural look" but this gives very fast the extra sparkle for your more minimalistic make-up. Again – a must have in my travel kit.
9. CoverGirl LashBlast Volumizing Mascara
CoverGirl was my client a few years ago, and I did a campaign for them including promoting the
CoverGirl LashBlast Volumizing Mascara
, and it won several beauty awards afterwards. I ditched my much more expensive mascaras, and have been using it ever since. It gives perfectly volumized lashes without all that cakey-look that some mascaras do. For the natural look I use the black brown mascara, but typically I have both very black and black brown in my make-up bag.
10. Emani Hydrating Lip Color
Emani's hydrating lip color
is my new lipstick love. The lipstick is made from 100% natural ingredients and 80% organic extracts and the natural oils in it make my lips feel soft. The color stays on without that drying effect that many stay-long lipsticks have. I love the color "sex pistol" for bold red (the color doesn't look true on their website) and the "inde" for more natural look.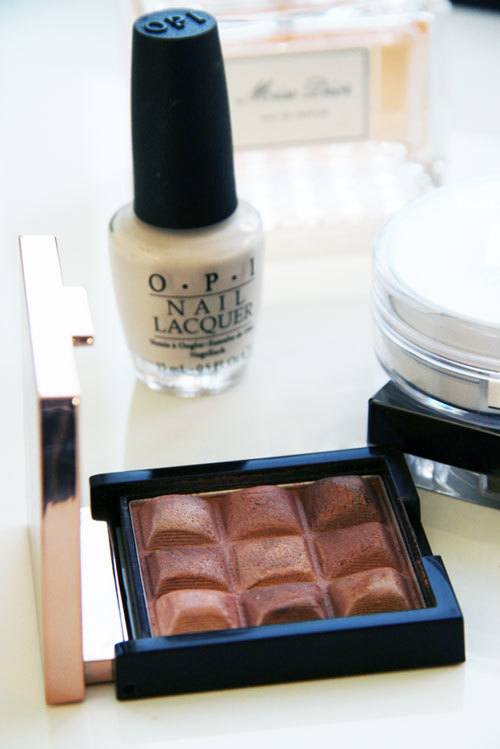 THE PERFUME
11. Miss Dior Eau de Parfum
Your look is minimalistic and natural – make an impression with scent instead of heavy make-up. It's OK if your signature perfume is heavier than your make-up look. With red lips and a good perfume, you will impress and communicate sophistication and self-confidence. I like the
Miss Dior Eau de Parfum
(1.7 oz Eau de Parfum Spray/$90) because my husband bought it for me.
HAIR
12. L'Oreal Paris Elnett Satin Hairspray
L'Oreal Paris Elnett Satin Hairspray
(2.2 oz/ $6.68) has been my stable for 20 years and I probably will never use any other hair spray. The reason why I am adding the hair spray to the natural look must haves is that this hair spray gives an amazing hold, but doesn't make your hair stiff, but leaves it very natural looking. I sleep my hair in a bun and open it on the morning and sometimes don't even brush my hair – just spray some hair spray for a few stray hairs and give it more volume by spraying some in the roots while keeping my head down.
HANDS
I don't have time for regular manicures so I focus in keeping my hands soft, nails trimmed and use nail polish that protects my nails.
13. L'Occitane Shea Butter Hand Cream
L'Occitane Shea Butter Hand Cream
($12) is the best hand cream out there, and in fact so popular that it's sold every three seconds around the world! I always have a mini-tube in my purse with me, especially when I am traveling.
14. OPI nail polish
OPI nail polish from Euro Centrale Collection 2013, color: My Vampire is Buff
($6.81) is one of my favorites at the moment. The creamy color is lighter than many nude colored nail polishes, and yet it's a heavy duty nail polish covering the nails instead of giving them sheer cover. It's perfect for the pulled together, but minimalistic look.
TEETH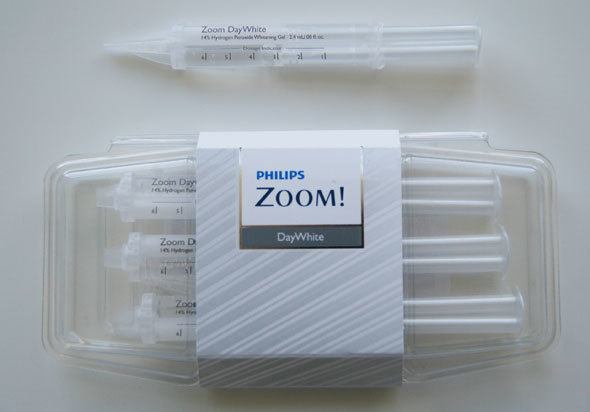 15. Philips Zoom teeth whitening
Last but not the least – smile and you will be beautiful, no matter your make-up or clothes. I noticed I had started smiling less because I was ashamed of my teeth, which are not as white as they used to be. I started using the
Philips Zoom teeth whitening
this summer to get my teeth back to white. I am still in the process, but already can see huge difference to the past, and highly recommend it. You have to consult your dentist with using it and get teeth guards molded for you, but after that you can just get inexpensive refills even from Amazon.com and keep whitening your teeth at home with professional results. Want more?
Check out the 11 beauty products Adrienne recommends
.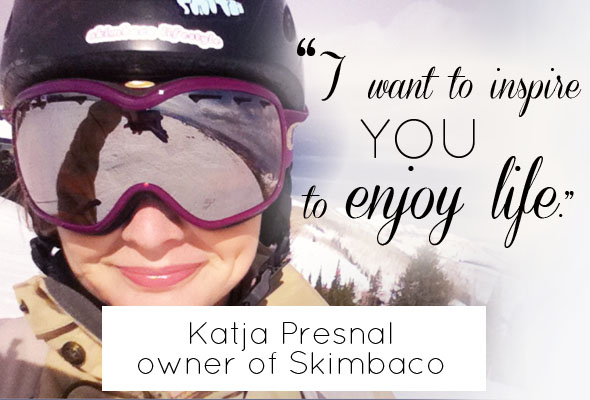 My mission is to inspire you to live life to the fullest and find your own "skimbaco," how you enjoy life where ever you are in the moment. For ideas for travel, home, food and fashion,
subscribe to weekly Skimbaco Lifestyle
feed on Mondays and
I hope you get my newsletter as well
that I sent out sometimes on Fridays.