Our kitchen mini-makeover is finally done and I absolutely love it, it really reflects on our family perfectly, while it's still in harmony with the country style of the 400-year-old rental mansion we live in. Just during the last 6 years of Skimbaco Lifestyle our family has lived in a mountain side lodge in Colorado, in an apartment in New York, a modern Swedish house at the suburbs and now in a mansion in the country side. Buying things for home has been very challenging, and in the past our things have been a very eclectic mix of different styles and different pieces picked along the way and bought for specific homes we've lived in. Now I finally feel like we have gotten rid of many things that don't reflect us, and we have been able to purchase pieces that I can now fit in almost any type of environment. I have realized that sticking to my Scandinavian roots has been the best way to go.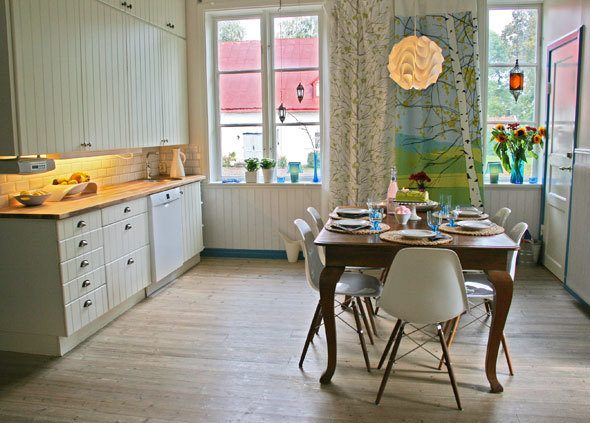 I liked
the kitchen before
too – but wanted a fresh new look.
Note:
I got the Delta faucet for free as part of a campaign with GLAM media, and I ended up not buying many new things for the kitchen and saving the money for a trip to Italy (or somewhere undecided). I ended up spending
less than $100 for the entire makeover
by only purchasing new lamps, and place mats for the table and a copper spray-paint to give some old things a new look to accessorize the kitchen. Everything else I "gathered around the house." However, if I had purchased everything for the kitchen makeover, the
cost would have been a few thousand dollars
, price varying significantly whether the chairs are real or knock off (mine are rentals, perks of expat living). The faucet alone is $570 plus installation cost.
My kitchen mini makeover is a perfect example of "making it work" and mixing great modern design with traditional structure. Both styles have something in common:
good quality and timeless design
. Our mansion kitchen is a
very traditional Swedish country kitchen
, with white cabinets, wooden counter top, and it even has a gorgeous old wooden stove and solid wood flooring – very timeless country kitchen that has lasted for years and will last for years. Some of the appliances have been recently updated, and there really are only a few outdated things in the kitchen, and with out mini makeover we were able to fix one of them:
upgrading the faucet
.
We have two sinks in the kitchen, yet both are relatively small and it has been difficult to wash large pots and pans. The
Cassidy faucet
has the new touch technology and I am now like a little kid playing with the touch on/off with the new faucet. I also love having a pull-down faucet, it makes such a big difference in washing the big pots! Or handling with any large containers, like this antique flower vase I've had for years, and I am always afraid of breaking when putting water in.
I picked a modern Delta Cassidy faucet with Touch2O Technology
to give the kitchen a modern touch. I picked out a style that reflects the old country kitchen and will last for years. It took only around 30 minutes from a professional plumber to install the faucet, although this was the first-ever Touch20 Technology faucet he had seen or installed. He did utilize the
easy how-to-videos
on Delta's website to save time figuring it all out.
The biggest change in the kitchen isn't structural at all – it was bringing some of
my modern design favorites
in the kitchen. The Eames chairs, Marimekko fabrics, Iittala glassware, Le Klint lamp, and Villeroy & Boch serving pieces are all modern classics that are completely different style than the mansion kitchen, however, they fit the kitchen perfectly, giving it a perfect modern look, and ultimately, a very Scandinavian look. I absolutely love how it all came together.
I spray-painted some old things copper to match the copper range hood and removed some clutter from the old wood-burning stove to make it really stand out. I still like how it functions as a side table though, and I like having the hanging pots and pans and the cooking oils right there easily accessible.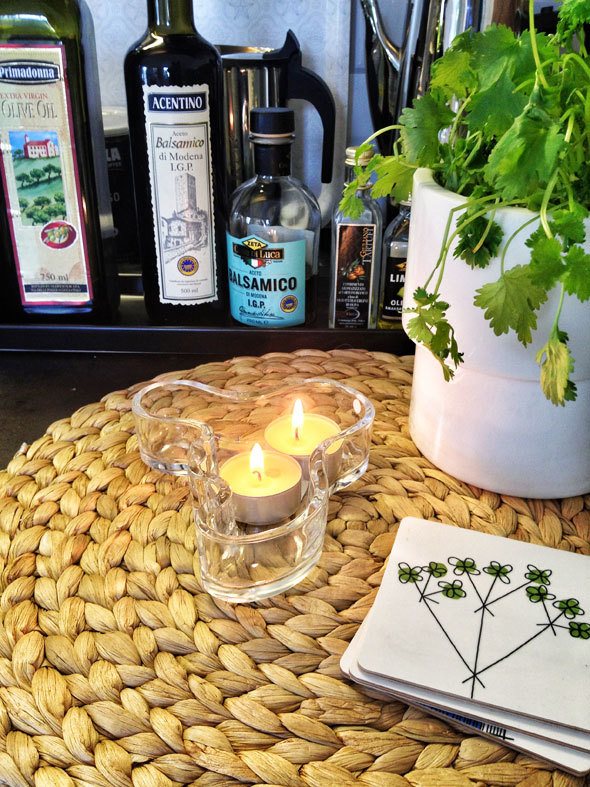 I also hung Moroccan-style lanterns in the windows. First I was planning on buying white lanterns that would fit maybe better with the white chairs and lamp, but I had these, and I actually really love how they bring the global feel to the kitchen, and reflect our "treasures from around the world"-style home.
The fall evenings are getting darker and darker, and the lanterns in the windows give light and ambiance for dinner time. I also have several Iittala's Alvas Aalto bowls filled with votive candles in the kitchen.
I removed the curtains altogether and instead added two large fabric wall-hangings in between the windows instead to give color to the kitchen, but also get the feel of having curtains as a decorative element, although I didn't wan't curtains to block any of the precious light coming in. The only bigger purchase we made for the kitchen are the two matching IKEA lamps on the windows. They also give gorgeous light to the kitchen during the evenings.
They always recommend decorating with pairs and in all honestly, I do have a lot of "pairs of things" in the kitchen, but it is also equally important mix it up and not make it too equal. It's OK to decorate with what you have in hand. I bought a matching pair of flowers – but they are planted in non-matching white pots.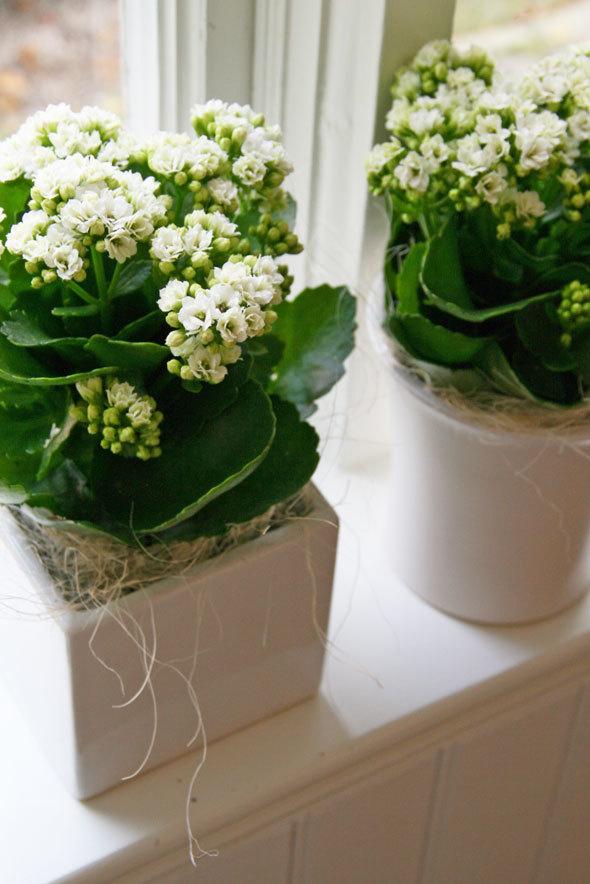 I will share a full shopping list of the kitchen items in a separate post, but today wanted to share the highlights and some details. I honestly love how by mixing modern and traditional and expensive designer items with flea market finds from around the world you can create something that you feel comfortable with.
Delta Touch2O Technology for your kitchen and bathroom is precisely in tune with your every touch. Take the quiz to learn which faucet style best describes you at
deltafaucet.com
.
You can see my Inspired Living Pinterest Board and more of my inspirational ideas for the kitchen.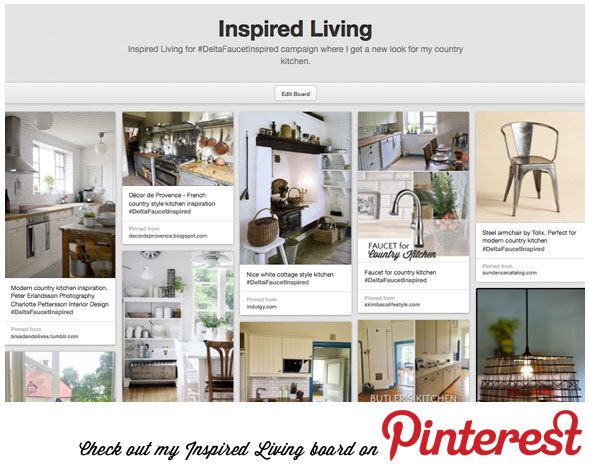 Disclosure: Compensation was provided by Delta via Glam Media. The opinions expressed herein are those of the author and are not indicative of the opinions or positions of Delta.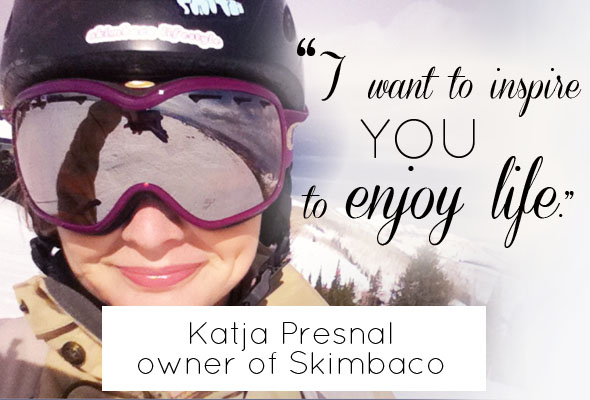 My mission is to inspire you to live life to the fullest and find your own "skimbaco," how you enjoy life where ever you are in the moment. For ideas for travel, home, food and fashion,
subscribe to weekly Skimbaco Lifestyle
feed on Mondays and
I hope you get my newsletter as well
that I sent out sometimes on Fridays.