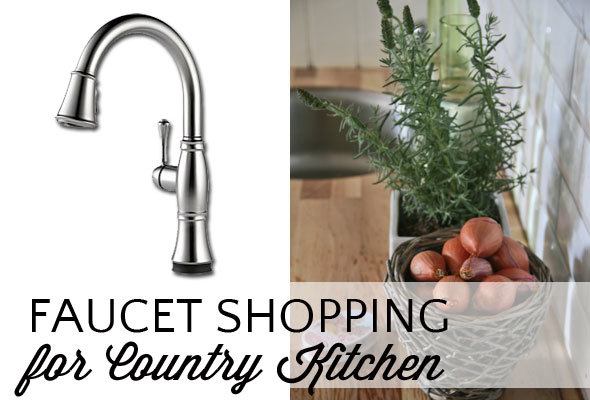 We recently moved to an amazing mansion in the countryside, and I shared
a few pictures from our kitchen
last month. I am in love with the large country kitchen. The house is large, but the kitchen is the hub for our family gatherings for cooking dinner together, planning the day and eating big country breakfasts (dinners we try to eat outside in the garden or in the dining room). The kitchen is great, and one of the things I love about the kitchen is the gorgeous wooden counter top, but it had pretty bad water damage when we moved in. Luckily you can fix water damaged counter tops relatively "easy" – by sanding them and adding a few layers of lack. Well, fast forward two months, and our counter top has water damage again, and now I know it's partially from the leaking faucet. Even with just a little drip that probably wouldn't hurt other counter top materials, the wood just gets all dark around the faucet and sink. I've always had a thing for faucets and sinks when it comes to home design, but I think now I truly see how not having good faucets can make such a big difference, and not just in aesthetics! Long story short, as I started dreaming of replacing the faucets,
Delta
faucet company must have read my mind, and asked if I wanted to see what they have available and to check out their interactive digital tool, which allows users to explore and discover different faucet designs based on personal aesthetics. I have to admit, they have done pretty good job with their Inspired Living site, and by collecting kitchen and bathroom ideas together, and helping you to get the look (and the faucet) you are after. Check out the interactive image below for links to different features on Delta's site. Best of course is if you go and play around yourself, I highly recommend it. Just be warned, the site has so many cool links and featured that it might take a you a while. I spent an hour just reading the blogs where they linked to!
I took the "kitchen personality" test and it was pretty cool – it only had images to pick your favorite of.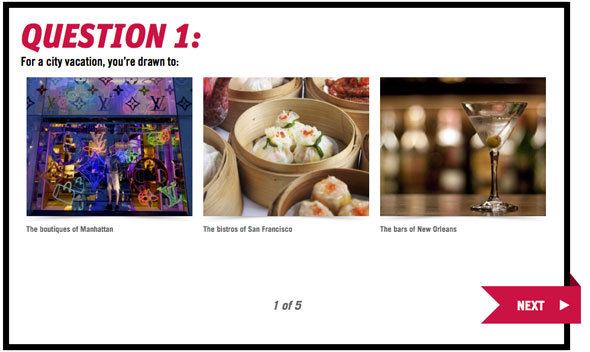 I went clicking around and the result was "workshop" and it is kind of true… I do love to cook, throw parties and rarely serve the same food twice to my guests (a trick I learned at the Biltmore estates: write down the name of the people and what you served). Although usually people ask me if I could cook the same food because they liked it so much!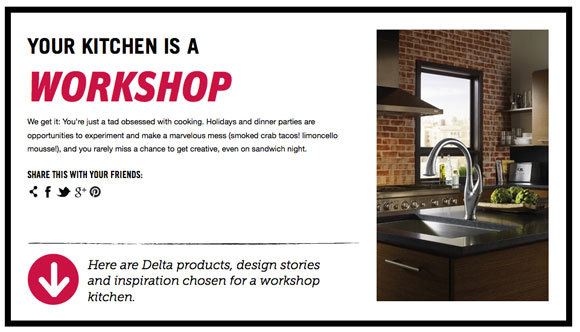 I did feel that the personality was pretty accurate so I went around and clicked the most unlikely images again and got the same answer, and on the third and fourth time it showed another personality "party place" – I don't know if it has any other personalities, because I was only able to get those two. Which pretty much both describe me. My closet barely has any clothes and I've sold most of my books, but not just I have enough white places and wine glasses to throw a dinner party to 20 but I also have enough beer steins to throw a Oktoberfest in my backyard.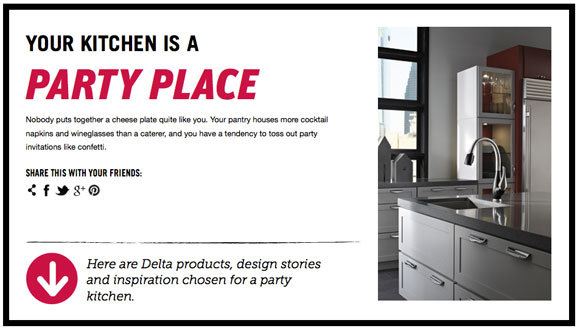 Under the personality test result you can find kitchen faucet recommendations for you, and since I had already gone through all of the different faucets earlier, I was surprised to see that my favorite faucet was actually in the list! I love the Trinsic faucet for its modern and sleek look, but it doesn't really go to our country kitchen so I picked something else to our kitchen.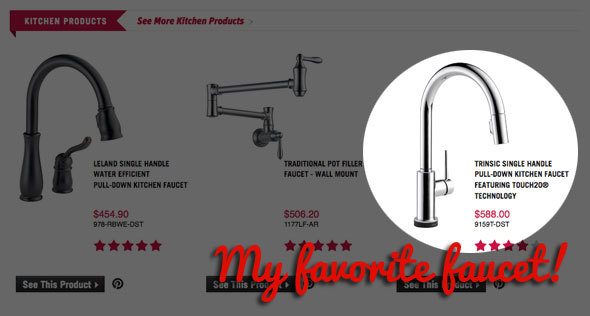 My country kitchen faucet pick
Although I personally liked the more sleek Trinsic faucet, I thought the Cassidy faucet would go better with the mansion kitchen. Our personal taste is more modern, and so are our furniture, but to preserve the beautiful 400-year-old country mansion I think the more traditional look of the Cassidy would go better with the house in the long run. I think when you pick a faucet, it should be an investment that lasts for long time, and you should perhaps even think beyond the decorating trends. I much rather pay more for a good quality faucet that lasts for years to come, than swap it every few years. And speaking of an investment – the Cassidy isn't really the cheapest faucet out there for $645 for the Arctic Stainless finish, but it is not just about the looks that draw me into Cassidy, it was much, much more, making it a smart choice regardless of the price tag. It is equipped with Delta's
Touch2O Technology
that allows you to simply tap anywhere on the spout or handle of the faucet with your hand, wrist or forearm to start and stop the flow of water. You just have to see it:
Delta Touch2O Technology for your kitchen and bathroom is precisely in tune with your every touch. Take the quiz to learn which faucet style best describes you at deltafaucet.com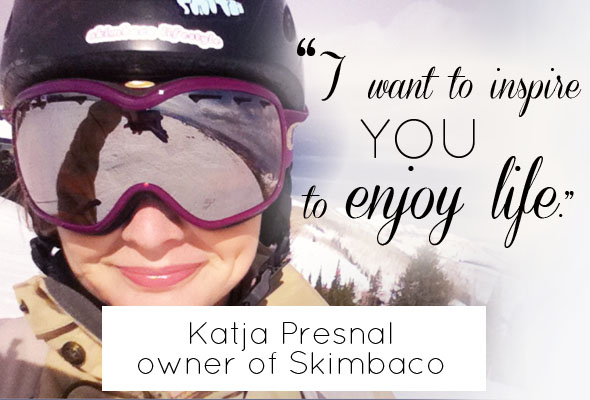 My mission is to inspire you to live life to the fullest and find your own "skimbaco," how you enjoy life where ever you are in the moment. For ideas for travel, home, food and fashion,
subscribe to weekly Skimbaco Lifestyle
feed on Mondays and
I hope you get my newsletter as well
that I sent out sometimes on Fridays. Disclosure: Compensation was provided by Delta via Glam Media. The opinions expressed herein are those of the author and are not indicative of the opinions or positions of Delta.