Guest post by luxury travel expert Mia Niemelä of Touchse travel blog.
Himmerki Holiday Village and Kirikeskus Hotel
I spent four days at the wilderness holiday village Himmerki, which is located in Posio, a small town, relatively near proximity to the Arctic Circle of Finland's Lapland.
The family that runs the holiday village also owns a closeby wilderness hotel called Kirikeskus.
Art Experience at Kirikeskus
I stayed at Himmerki, but I got a tour in Kirikeskus, thanks to the nice hotel personnel.
Kirikeskus hotel is right next to the Kirintövaara skiing center, which makes the hotel an excellent place to stay if you're into downhill skiing, cross country skiing and stunning wilderness views, after all, you get to admire that beauty from pretty much every window there is in the hotel!
Everything is completed by designer Anu Pentik's personal handprint. Her design touches will be even more visible in all of the rooms soon, once the hotel renovation process is finished. Anu Pentik is the founder of the most well-known Finnish ceramics and a lifestyle brand, Pentik. Pentic was founded already in 1971, and they still have their ceramics production in Posio.
Posio is well-known for Pentik, and Pentik has been sharing the story about Nordic nature and the longing for beauty. Pentik has impacted and inspired Finnish homes for over 50 years, and most likely every single Finn is familiar with Pentik's success story as well as their unique products.
"The love of ceramics and Finnish design is evident in our hotel everywhere. In addition to its magnificent nature, Posio is known for Pentik and versatile ceramics. Our hotel also houses the world's northernmost ceramic center, which also hosts international ceramic events every year. The hotel's two gallery spaces feature stunning ceramic art from around the world." shares the Director of Sales and Development, Mrs. Janica Suominen.
The two ceramics exhibition showrooms separate Kirikeskus Hotel from any other hotel in the area. When you walk into their ground floor, you will be in awe. It looks like you as if you just walked into a high-end gallery, not a showroom in a wilderness hotel. Stylish settings, well-designed lighting, and the elegant use of space are all signs of this gallery's level of professionalism.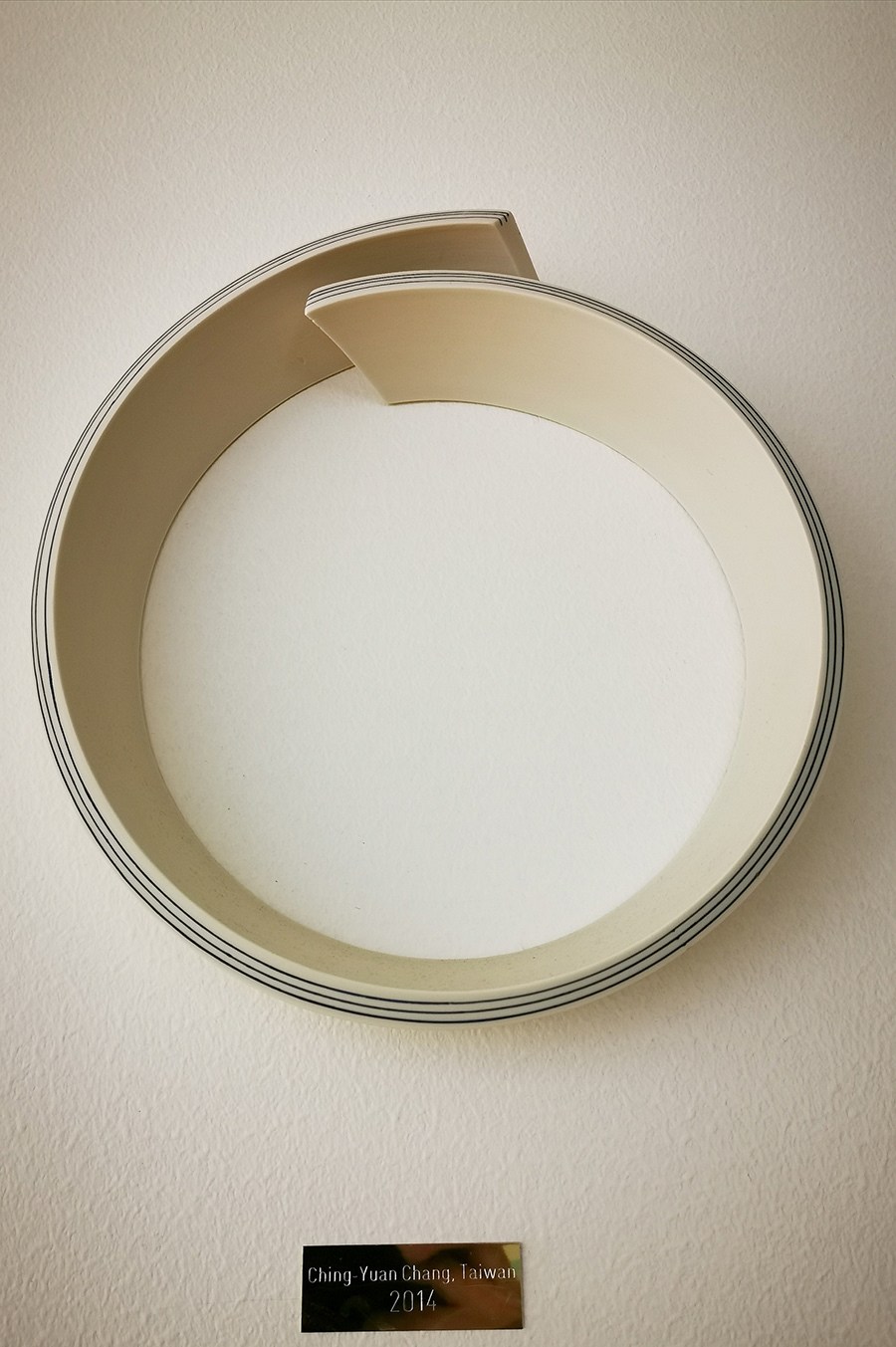 Kirikeskus Hotel as the world's northernmost ceramic center is an unusual but excellent place for hosting and organizing various high-quality art courses regarding ceramics as well as landscape photography, naturally inspired by its surrounding untamed nature. In addition, popular annual yoga retreats take place in the hotel's spacious yoga studio. I can see the appeal for relaxing retreats and nature-inspired art courses, as every day I was amazed by all the intriguing details of the wilderness surrounding Posio.
Nature Exploration at Himmerki
Lakes are an essential part of the Finnish lifestyle and Finnish vacation time. The role lakes play is quite remarkable actually, whether it's dipping to swim in a lake after sitting in a hot sauna, or fishing, or basically any water activity you can imagine. No matter the season, summer, fall, winter, or spring, Finns enjoy the lakes. In Posio municipality, there are about 3000  forest ponds, lakes, rivers, and streams! 
The importance of natural water areas can also be seen in Himmerki, which rests by the pristine, crystal clear water lake, Kitkajärvi. In Himmerki there are plenty of various choices for accommodation, starting from the RV area's camping options to summer cabins, log cottages, sauna lodge, lakeshore villas all the way up to the Himmerki suite, providing luxurious comfort and facilities.
All of the newer lakeshore villas provide the guests with all the modern amenities you would need to have an effortless stay. I felt at home the moment I stepped into our comfortable villa.
Both Kirikeskus and Holiday Village Himmerki offer venues for all types of meetings and events, such as birthday celebrations, weddings, seminars, and company gatherings. Naturally, all catering can be provided as well. The conference rooms contain all the equipment required for successful meetings.
What to do, what to see, what to experience?
Short answer: A lot!
Kirikeskus Hotel has a weekly activities program that focuses on the Arctic lifestyle. Husky rides and visits on reindeer farms are continuously demanded and popular things to do in Lapland. I mean, who wouldn't love to meet up with those cute huskies or cuddle a domestic reindeer?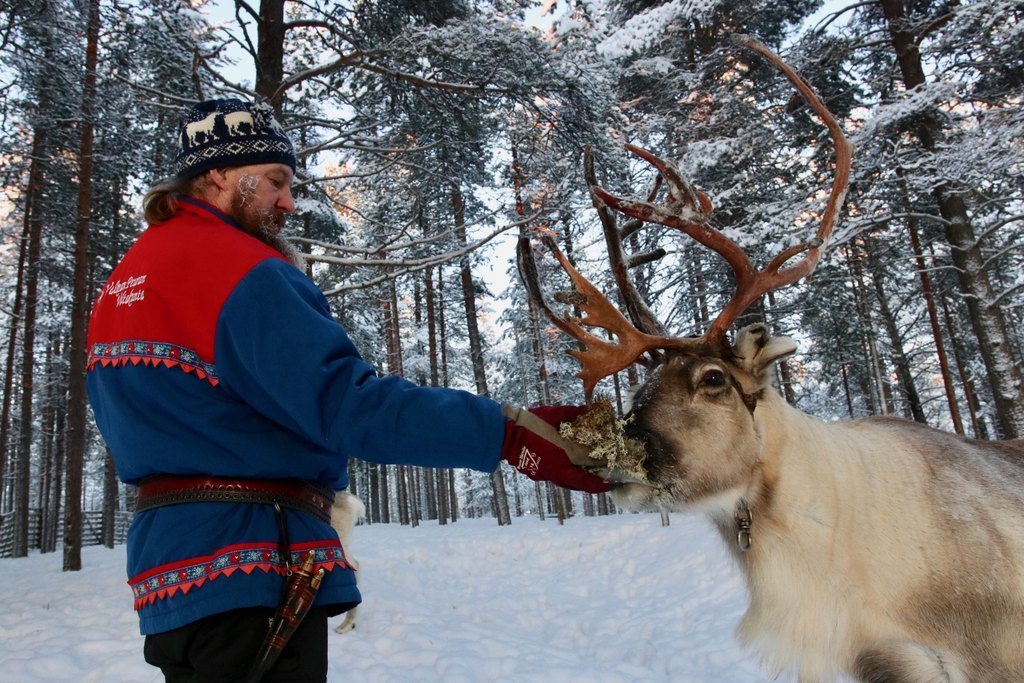 Snowmobile excursions are also super. I love the speed and the views, what else could I ask for? Northern lights? No problem, if the forecast is promising, hunting them and driving a snowmobile can be combined too. For those that want to make it even more personal, there is a possibility to put your hands in clay and make your own souvenir, or of course, you can always book a photography course and shoot your own natural beauty masterpiece! You can even borrow gear, such as snowshoes, skis, and toboggans from the hotel.
For me, the stay at Himmerki's lakeshore villa was all about nature and the outdoors. I very much enjoyed my time at Himmerki's as the Lapland spring was at its best and I got to experience a proper snowstorm, stunning, sunny days when the temperatures got above zero, which was perfect for all the outdoor activities. Also, luckily it had been snowing the night before which made all the trees look absolutely mesmerizing!
Skiing tracks in the area are well maintained and very versatile, suitable from the beginner to an experienced skier, I hear even Finland's top skiers sometimes train here. I found the snowmobiling routes around the lake perfect also for wandering around and if you wanted to go off the course, to the unbeaten path. Just get snowshoes from the reception building and no problem walking wherever your feet take you.
I also got to try winter fat biking and it was so much fun. Not too much speed so that I was able to take my time to enjoy this breathtaking scenery as well. And of course, I wanted to borrow a toboggan as well, just like any good old adventure-minded Finnish girl would. It is that one activity that I have loved ever since I was a very young little girl and I think I will keep on going down the slopes with toboggans for as long as I can, that is so liberating and fun, and for sure keeps you young at heart!
Since my stay was outdoor-oriented, I loved having a fireplace and a sauna in our villa. The combination of being out for the day, then putting fire on and going to the sauna, and then, of course, having a delicious meal guarantees a good night's sleep. I particularly appreciated the fact that our villa was soundproof. I did not hear a sound. Sounds like a perfect spring vacation? Yes, it was.
For hikers there are multiple trails, for example to Riisitunturi and Kuoppavaara, which start from the Kirikeskus Hotel's yard, so starting the hike doesn't get much easier than that. For those that prefer just a shorter walk or a hike, there is an unobstructed shed (we call them "kota"), only an easy, accessible route away from the hotel. However, for a more challenging hike, hike all the way up to Kirintövaara hill and wait for the Northern lights to show up, that is the reward you will never forget!
Kirikeskus Hotel also has a separate lakeside sauna. On top of the traditional sauna, also various sauna experiences can be organized in collaboration with the hotel partner, Luonnokas. A professional sauna therapist treats you with both peat and various domestic herbs. To top all this, book the outdoor hot tub for an experience you'll never forget.
The two long beaches of Livojärvi lake and Hietajärvi lake are called Riviera of Finland, where you can go for a refreshing swim on a hot summer day (it may get up to +30 C on occasional days during the summer). Also, kayaks, boats, and bikes can be rented from the Himmerki reception.
Green Values
As excellence for their green and sustainable values both Himmerki Holiday Village and Kirikeskus Hotel have been awarded Green Key and Sustainable Travel certifications for their efficient recycling, favoring local products, services, and workers, along with respecting and preserving this majestic, unique nature. Further, many of the ingredients for the dishes in the restaurants are produced locally. The company also makes sure that collaborating partners, such as husky and reindeer safaris sold through them meet the criteria of good animal husbandry, thus it is highly important that partners share the same values. Today, such responsible actions are much appreciated by guests, I know that from my personal experience as someone who has a lifetime of experience in luxury hotels around the world, and yes, especially in Lapland. If I personally had to choose between two hotels, I always aim for the one with values that correspond to mine.
To whom would I recommend Kirikeskus and Himmerki? Anyone who values great outdoor activities – or just relaxation, pure nature, fresh air, and unique experiences at a very affordable price and to those who like to support local entrepreneurs.
How do you get to Posio?
You can either drive to Posio, which's about a 10-12 hr drive from Helsinki, or just hop on the plane and fly to Kuusamo or Rovaniemi and rent a car or take the green option and take a night train with a comfortable sleeping cabin from Helsinki to Rovaniemi. From Rovaniemi, you get to Posio also by bus so despite the wilderness location, the places are relatively easy to reach and I promise you, the views on the way are worth seeing! From Rovaniemi to Posio, about 140 km. From Kuusamo airport to Posio (Himmerki), 54 km.