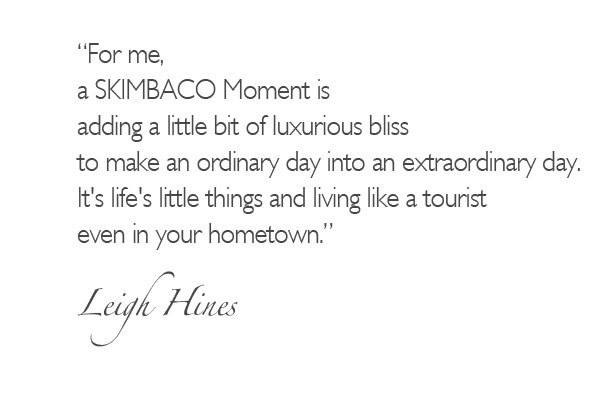 Even though I cover
luxury hotel and travel for Skimbaco,
which is nothing ordinary in the least, I live a very ordinary life in Raleigh, North Carolina.  When you check my
linkedin profile
, you'll see that my job is a stay-at-home mom. Jack is 8, and Liza is 4.  I just write on the side.  I am not wealthy.  My husband, Will, is a civil engineer. We are a family that believes in saving, as well as splurging on things we enjoy.  You can bet that when we do splurge, we do without something else.  We have to have spending priorities like most families. And even though I'm the team member at Skimbaco known for her luxury-hotel obsession, I believe luxury should not be defined by expense, but rather by pleasure and experiences.  I'm just a Southern girl who loves a little luxury, on occasion.  Here are my Top 10 Skimbaco Moments of 2013.
1. Indulging in Coffee, Doughnuts, and Scones
I could easily drop off my son at school in the morning, and head back home, but that would be too ordinary for some days. I like to add in a Skimbaco moment with a stop at Krispy Kreme on occasion.  Krispy Kreme was founded in North Carolina, and nothing is better than driving by Krispy Kreme in Downtown Raleigh, and see the hot doughnut sign in the window.  I think I associate a little bit of bliss with a good cup of coffee and a scone, too.  Yes, I splurge quite often at a lot of my
Raleigh favorites
.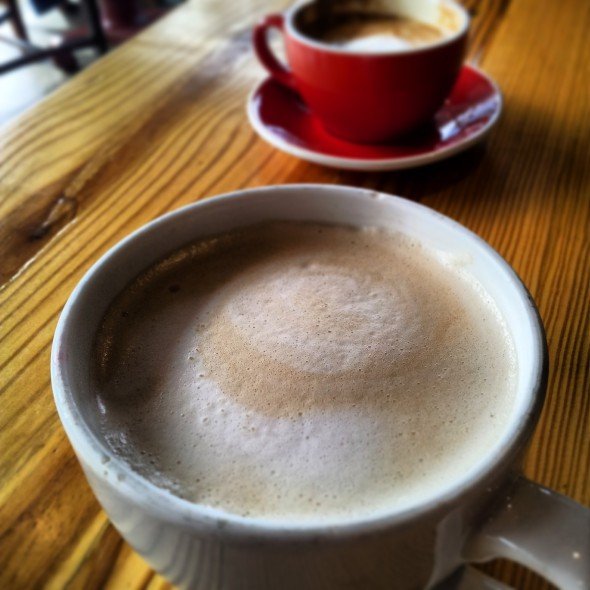 2. Enjoying Ice Cream and this Fireplace in 20 degree weather at the Biltmore Estate in Asheville, N.C.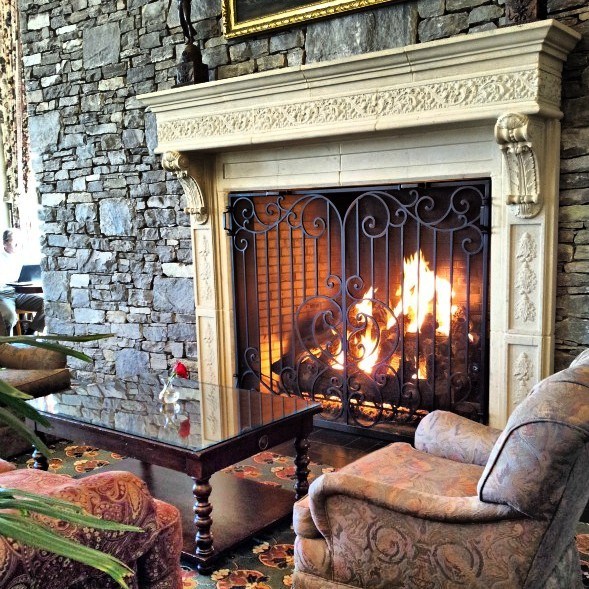 Sure, it was cold out, but the
Biltmore Estate makes some of the best ice cream in North Carolina
. When on the estate, you cannot miss the creamery.  Why not just shiver a little bit over Mint Chocolate Chip ice cream. The kids did.  The
Inn at Biltmore is one of my favorite NC splurges
.  The Inn has a cozy feel, and sitting by this fire is definitely a Skimbaco Moment for 2013.  Well, having a Toffee Coffee by the fire was even better.  I did a whole series on the
Biltmore Estate for Skimbaco
, and the HinesSight Blog. And now that I'm a huge
Downtown Abbey fan, touring the house
was even more special. I couldn't help, but compare the time period.
3. A Child-Free Overnight in Chapel Hill, N.C.
I think the  look on my face says it all here. I'm in a luxury hotel, and I'm kid-free for 24 hours. Now, that's SKIMBACO.  My husband and I don't get this opportunity very often, and it was a royal treat.
The Siena Hotel
, located in the University town of Chapel Hill, N.C. made us feel as if we had been transported to Tuscany without the jetlag, as evident in
"My Pack Your Bags" feature.
4. An Afternoon Spa Day at the Old Edwards Inn and Spa
In April, my family packed our suitcases and headed to the mountains to enjoy some time at the Old Edwards Inn and Spa in Highlands, North Carolina.  This little mountain town delights with restaurants, shops, and natural beauty. In the heart of it all, is one of the top hotels in the world.  I named
Old Edwards Inn and Spa
, my absolute best hotel stay in 2013. In my spare time,  I also write a weekly parenting column for the local Raleigh newspaper, and my readers learned why a hotel is such an important part of a trip. My entire family, except for me, became sick with a virus while in Highlands.  It was pretty horrendous, but to do this day, my husband says that he was sick in comfort.  Old Edwards made sure my family was resting comfortably, and treated me to an afternoon spa treatment.  It was one of the
most beautiful spas
I've seen on my travels and a Top SKIMBACO Moment.
5.  Meeting Katja in Toronto at TBEX
In June, I said goodbye to my family and went on a
whirlwind trip to TBEX in Toronto, Canad
a.  The highlight for me was meeting Katja. She is a dynamic speaker, warm-hearted, kind, and so talented. We drank way too much Nespresso at the
Hotel Le Germain in Maple Leaf Square
, and bonded over a middle of the night fire drill. I'm so happy and proud to call her my friend. As soon as we sat down, it was as if we had known each other for an eternity.
6. Being Silly and Carefree with the Family in North Myrtle Beach, S.C.
I love being silly with my family. I don't always publicly put my silliness on my blog, but my hope is that my readers don't think of me as snobby, and stuffy since I talk about luxury a lot.  My family owns a home in North Myrtle Beach, S.C. and it is a place where we just relax, and enjoy togetherness.  While on that trip, I enjoyed one of the
best cocktails ever called "The White Cloud"
, and a
cheesecake that was extraordinary
at the
Grande Dunes Marriot Resort and Spa.
7. A Non-Fancy Lunch for Two with a Fancy View in Topsail Beach, N.C.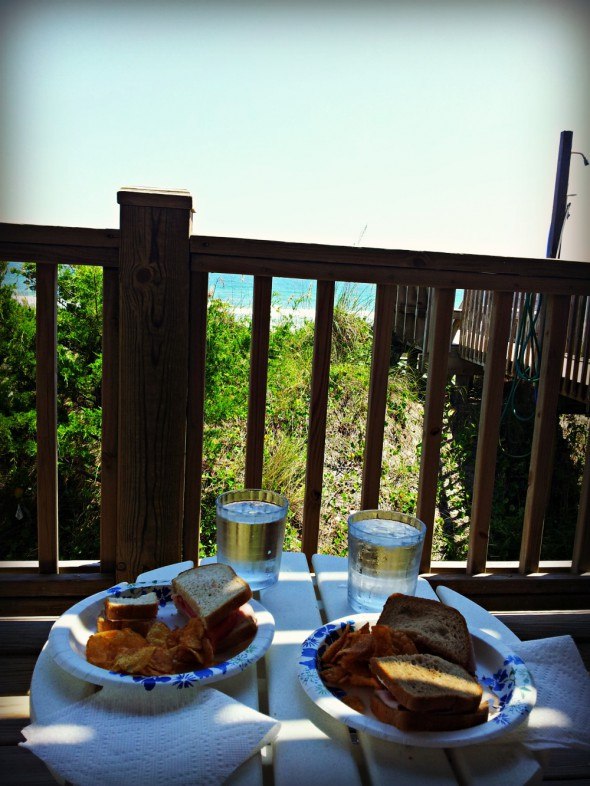 Every year, I'm blessed that my mother-in-law rents a
beautiful oceanfront home in Topsail Beach, N.C
.  Now that my kids have gotten older, we had one of the best vacations there ever this year.  That's because it's a lot less work these days on the parents. They just entertain themselves.  One of my favorite SKIMBACO  moments was an impromptu lunch on the porch. I also love to indulge on hushpuppies while there, and take in views like this.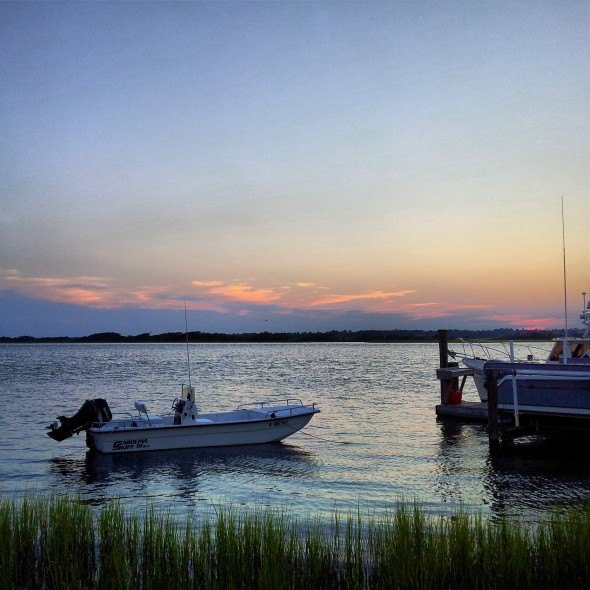 8. Feeling Like Scarlett O' Hara at Tea at the Jefferson Hotel in Richmond, Va
It's no secret that I enjoy afternoon tea.  
The Jefferson Hotel in Richmond, Virginia has one of the best tea experiences
in a Southern, genteel atmosphere.  We
spent one night at The Jefferson Hotel
while on our way to Colonial Williamsburg for a few days.  Afternoon tea at the Jefferson is certainly a SKIMBACO moment. It's an extraordinary tea experience.
9.  Following Queen Elizabeth's Footsteps at the Williamsburg Inn, but Did She Have a Pina Colada Like Me?
While in Williamsburg, I enjoyed
touring the Williamsburg In
n. I have to admit that it was fun for me to come down the same stairs that Queen Elizabeth came down in 1957.  But my true SKIMBACO Moment came when I enjoyed a simple Pina Colada by the pool while my kids played in the water.  I bet the Queen didn't do that on her two official visits. Williamsburg is a great place for families, and is a great way to immerse kids in living American history. I
enjoyed staying at the Williamsburg Lodge
, which was just steps to everything.
10. Seeing My Child Meet a Disney Princess for the First Time
Oh, to be 4 again. They are so wide-eyed, and dreamy. My family's biggest SKIMBACO Moment was when we splurged to go to Walt Disney World.  We took my son to Disney when he was four, and we wanted to do the same when my daughter turned four. Our trip was right before Thankgiving, and it really got us in the holiday spirit. My heart melted when Liza met a Disney Princess for the first time. 2013 was a great year. I always end the year with a birthday. This year, I officially became middle-aged at 45.  At first, I was a little depressed at the number, but then I realized that I'll always feel young, and knowing me, always a little silly.
Happy New Year!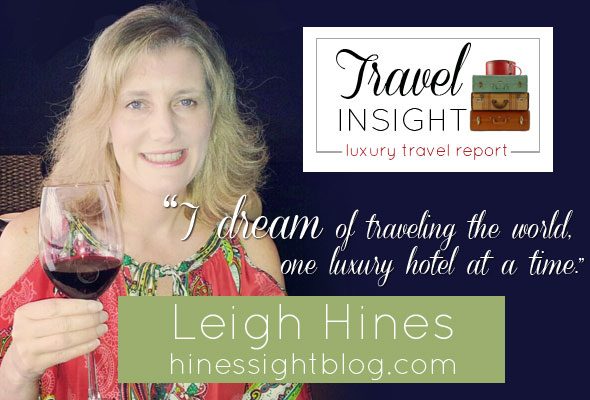 I live like a tourist in my hometown and my dream is to travel the world one luxury hotel at the time. If you love traveling as much as I do,
subscribe to Skimbaco Travel
, and never miss any travel content from our site.