Concierge recommended Toronto eats
It's important to remember that a hotel concierge is there for you when you stay in a luxury hotel. After all, you are paying for their services, and they know their city better than anyone because it's their job to know it. I started relying on the hotel concierge when I traveled to Italy with a girlfriend in 2000. He recommended a great trattoria tucked away on a side street near the Spanish steps. To this day, I still remember that meal being one of my favorites while staying in Rome.
I recently traveled to Toronto for TBEX. On this trip, I readily admit that I didn't see much of the city or dine in the local restaurants in the two-short days I was there. But I got to know my concierge at my hotel, Susan, with the boutique property,
Hotel Le Germain in Maple Leaf Square
, very well. We chatted a lot. Susan and her colleague Greg are considered two of the best concierges in Toronto.
Before my airport shuttle came to pick me up, I interviewed Susan about some of the best eats in Toronto. She told me it was hard to narrow it down because there were so many good places. Toronto abounds with great dining, but I pressured her until she revealed her favorites. This is her list.
Great Fine Dining Eats in Toronto
Canoe:
Under the leadership of Executive Chef Anthony Walsh, this award-winning restaurant offers breathtaking views of Toronto, as it is located on the top floor of the TD Bank Tower. The menu ranges from salmon to smoked duck.
Buca
: This Italian eatery on King Street continues to be a Toronto favorite. The menu is inspired by rustic Italian cuisine, with an emphasis on building recipes around seasonal and fresh ingredients.
Origin:
Located in the historic downtown Toronto neighborhood of St. Lawrence, Origin Restaurant & Bar is a high-energy global food bar that celebrates the diverse cuisines of the world.
The Best Family Friendly Eats in Toronto

Wayne Gretzky's:
I think any hockey fan may recognize this name. This restaurant has a menu from burgers to pizzas to steaks. It has a menu to please all families, and is actually three restaurants in one with a sports bar and rooftop oasis.
Real Sports Bar and Grill:
This restaurant is Hotel Le Germain's neighbor near the Air Canada Centre. It also has the honor of being the number-one sports bar voted by ESPN in North America. The restaurant also has an extensive kid's menu.
Against the Grain Urban Tavern:
This local gem on the city's harborfront, within walking distance of downtown Toronto, serves up local and European brews with salads, flatbreads, and comfort delicacies like buttermilk-fried chicken and fish and chips. The desserts such as banana cream pie made me drool, too.
The Best Places for Afternoon Tea in Toronto
Windsor Arms Hotel
: Since 1927, the Windsor Arms Tea Room has been serving a traditional afternoon tea. It has all of my favorites: scones with Devon cream, petit fours, and fresh sandwiches. Tea is served daily.
King Edward Hotel:
Tea is served on Friday, Saturday, and Sunday afternoon at the King Edward Hotel in Toronto. The King Edward, built in 1903, has the honor of being Toronto's first luxury hotel. Children under 12 can enjoy the Jester Tea Service.
Fairmont Royal York Hotel:
At the regal Fairmont Royal York Hotel, tea is served in fine china along with sandwiches and pastries on Saturdays and Sundays in the Library Bar.
Sweet Eats in Toronto to Satisfy the Sweet Tooth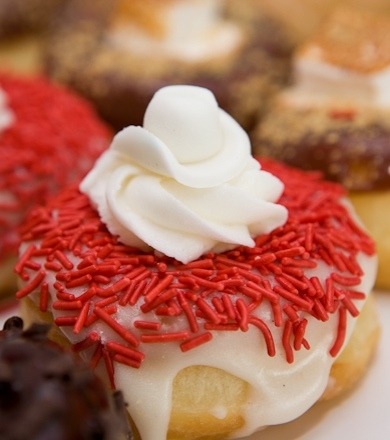 Dufflet Pastries:
Dufflet Rosenberg is known as the Queen of Cake in Toronto. She now has three retail cafes in Toronto, and each one is the "go-to" place for the finest in dessert indulgences.
Jelly Modern Donuts
: Say hello to Canada's best–tasting doughnut. Baked fresh with locally sourced and organic ingredients, this doughnut shop on College Street is the go-to place to curb your sweet tooth.
Prairie Girl Bakery:
This cupcake shop with a couple of locations in Toronto wants you to live one cupcake at a time. The focus here is on real eggs, creamy butter, all-natural ingredients, you know … similar to those prairie roots. They never sell day-old cupcakes, either. At the end of the day, they donate them to an agency supporting people in need.
The PLAY Lounge at Hotel Le Germain Maple Leaf Square
I did spend a lot of time in the
PLAY Lounge at the Hotel Le Germain Maple Leaf Square
. PLAY serves food after 4 p.m. And believe it or not, I had two out of three items Susan recommends. I give them two thumbs up. The Margarita The Cosmo The Bison and Vegetable Sliders I also recommend the beet salad. To learn more about the
Hotel Le Germain Maple Leaf Square, read my latest "Pack Your Bags" feature on the HinesSight Blog.
Photo Credit: Hotel Le Germain, Canoe, Against the Grain Urban Tavern, King Edward Hotel, Modern Jelly Donuts
Editor's note:
My favorite Toronto restaurant is not in the list but worth the mention. Pretty much anything I tasted my own and my friends' plates at the
O&B Canteen
was absolutely delicious.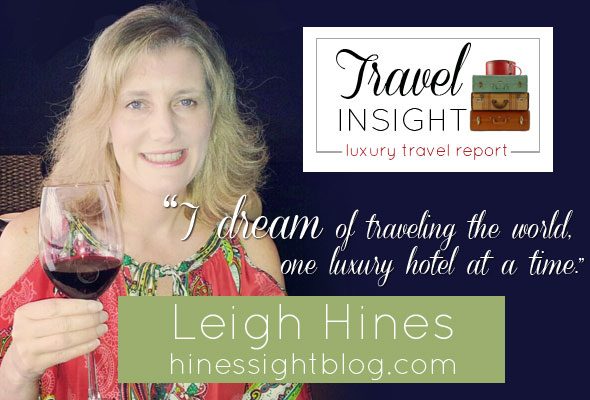 I live like a tourist in my hometown and my dream is to travel the world one luxury hotel at the time. If you love traveling as much as I do,
subscribe to Skimbaco Travel
, and never miss any travel content from our site.