Even if we are not traveling abroad in the summer time, we are always out and about doing smaller road trips or spending time outdoors. I gathered some of my favorite products for summer travel and outdoors, for the whole family.
Zoë B Biodegradable Beach Toys. $22. This is on my shopping list for the summer. There is enough plastic in the world as it is and these US-manufactured, world's first biodegradable beach toys are safer for our kids as there are no toxic chemicals like BPA or phthalates. The toys are safe for our oceans also: if washed out to sea, the toys will fully break down in 2-3 years (not 500 years, like ordinary plastic). Winner of the Parents Tested Parents Approved Award.
Lifefactory Links Flask Glass. Starts from $22.99 for the adult sizes. Again, another product that is more environmental friendly than plastic. These US-manufactured glass bottles with silicone sleeves come in 16oz and 22oz sizes for adults, but there is also a selection for babies, toddlers and kids.
Manduca Baby Carrier. Starting from $249.90. This is something I wouldn't travel without, works well from an infant to a 4-year old, and this has been, and still is a huge relief when running from terminal to terminal in order to catch that connecting flight. Manduca is an ergonomically designed soft carrier which is highly praised here in Europe, and it accommodates to different carrier sizes too from petite to large. Comes in several different color options.
Patagonia Synchilla® Print Blanket. $45. When we go on a road trip a warm, comfortable fleece blanket, or two, are always thrown in for the chilly summer evenings and picnics. The sale of these Patagonia blankets, made of recycled polyester, supports the Great Pacific Child Development Center (GPCDC) of Ventura, California.
Petzl Zipka®2 Head Lamp. $44.05. It took me a long time to learn to alwyays have a flashlight on me when traveling. Even with the midnight sun here in northern Europe, there comes the time when something goes missing under the car seats or under a bed in a cabin with no electricity and tiny little windows. Petzl Zipka®2 Head Lamp is a perfect travel companion; small, stylish and light.
PackTowl Original Light Weight Towel. Starting from $7.95. These towels don't take much space and they pack extremely light, while soaking up to 10 times their weight in water. Enough said, a perfect travel companion!
Devold Breeze Woolly Top for Kids. Do you wear wool in the summer? We do. It's perfect especially for the little ones as when wet or sweaty, it still breathes and keeps the toddlers warm. On the other hand it feels cool when dry, even in the blazing sun.
Bergans Junior Sport. $231.90. Even though I used the Manduca Baby Carrier for hiking when our toddler was still a baby, now the Bergans Junior Sport is our go-to product (we have an older model though, these last from kid to kid!) when hitting the mountains with our 20-month old. The carrier has large pocket under the seat for snacks and change of clothing. Maximum carrier load is 17 kg / 37 lbs
Norrøna Bitihorn Aero60 Jacket. Approx $165.00 (199.00 NOK) The Bitihorn Aero60 jacket from Norrøna's lightweight trekking and trail running line is light, windproof and flexible jacket made of breathable recycled polyester. Besides being the ideal match for trail running, cycling and hiking, it is a great product to have in the side pocket of your bag, ready to use in any windy and chilly situation. Comes in a range of colors for both men and women.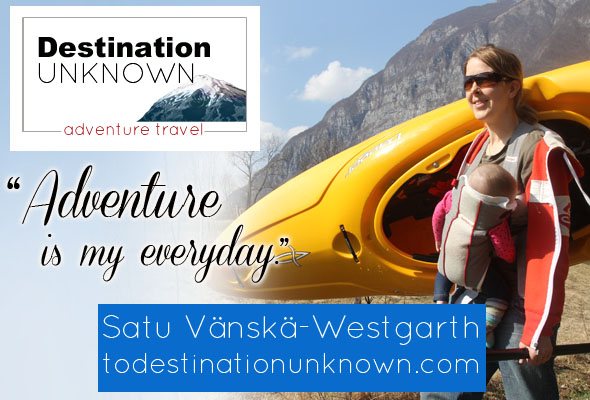 I love to explore the world to new destinations. If you love traveling as much as I do, please
subscribe to Skimbaco Travel weekly email
and never miss a travel post.