Italian Romance with Southern Hospitality in Chapel Hill
Nestled along quaint Franklin Street in Chapel Hill, North Carolina, is a little slice of Italy in the middle of North Carolina's Blue Heaven, as this Southern University town is nicknamed. I have a special place in my heart for Chapel Hill because it is the town where I went to college, so any time that I go back there is a treat. When I was at UNC-Chapel Hill my freshman year in (cough) 1987 majoring in broadcast journalism, the Siena Hotel was the big news on campus. It was the first European boutique of its kind in the Tar Heel State, and the hotel owners, who fell in love with the Italian culture while on a holiday, basically transported a little bit of Siena, Italy, to this college town. From decadent, imported Italian marble to an award-winning Italian ristorante, named after Siena's famous Il Palio horse race, Chapel Hill's own Siena Hotel was built to impress and charm guests.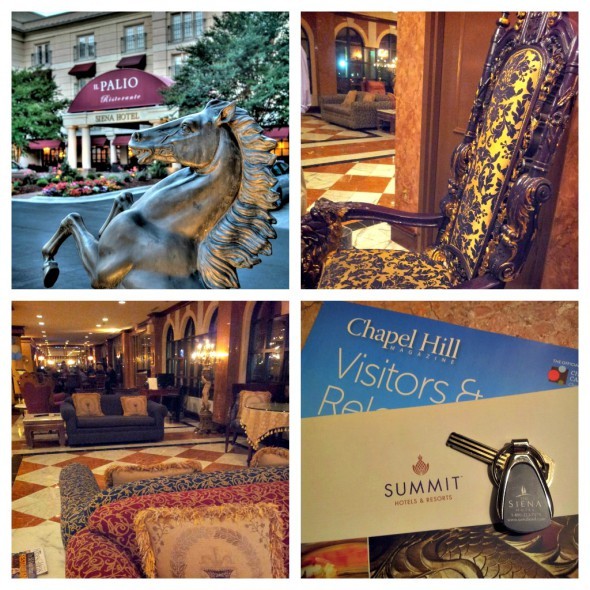 The Siena Hotel: Italian Luxury in N.C.
Twenty-six years later, this AAA Four-Diamond award-winning hotel continues to offer guests the romance of Italy with flair of Southern hospitality. Now that is the best of both worlds right there.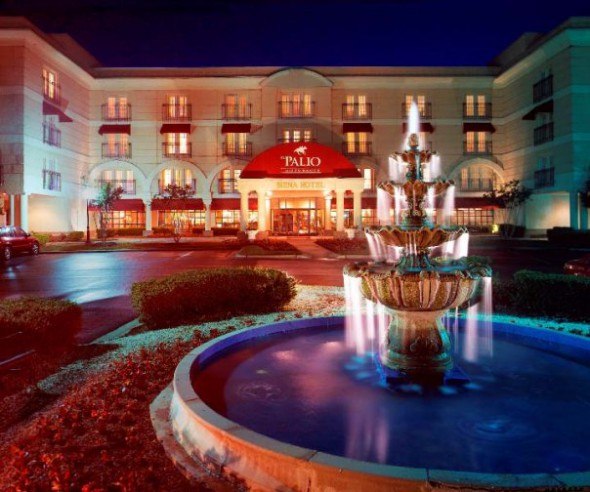 With two young children, I just can't pack up and go to Italy for a few days, but thanks to a wonderful sister-in-law, I was able to pack up and enjoy a little bit of Italy for one night at the Siena Hotel. The hotel is stunning, and with just 79 guestrooms and suites, and special touches like complimentary cookies in the lobby in the early evening, guests truly feel as if they are staying in someone's personal Tuscan Villa. This Summit Hotel property is certainly not like a cookie-cutter chain. Even though rooms may be similar in style, each one has its own personality through artwork, bathroom tile, and furnishings.
Our suite was dramatic in décor with rich blacks and ivory touches. The mural on the wall was of downtown Siena. You honestly could close your curtains and believe you were in Italy for the night. As you follow me on my travels, you know I'm a sucker for a nice bathroom, and this bathroom certainly impressed. First off, I loved the mirror and the beautiful granite, but the true star of the room was the walk-in shower. Tub lovers will be disappointed, but the walk-in shower equipped with at least five showerheads takes luxury to a whole new level. The hotel is currently undergoing room renovations, and the designers are truly wowing guests with these new bathrooms. If you want a room similar to mine, be sure to ask for one of the newer rooms until all rooms are complete later this spring.
Il Palio: A Farm-to-Table Ristorante
With an award-winning restaurant downstairs, and just one night away from our children, it was a no-brainer for us to dine at Il Palio, North Carolina's only AAA Four Diamond Italian restaurant. The ambience exudes romance, and dishes are farm-to-table culinary masterpieces. The food was so delicious that I picked it as my
Fabulous Friday Pick on the Hines-Sight Blog
last week. You certainly don't have to stay overnight at the Siena Hotel to enjoy the cuisine of Il Palio, but you certainly want to give yourself a good three hours or more to enjoy all the courses and soak up the Italian atmosphere. All pastas are made in-house, and the restaurant prides itself on working with local farms to ensure the freshest ingredients. The wonderful thing about being a guest at The Siena is that the fabulous chefs of the Il Palio serve up breakfast, lunch, brunch, dinner, and in-room dining. Nothing screams romance like room service. Don't you agree?
A complimentary breakfast in Il Palio is included in your room rates, but it's so much fun to splurge on room service when you don't want to have to rush to be downstairs by a certain time. Even though I was only 30 minutes away from my home in Raleigh, the Siena Hotel made me feel as if I had been transported to one of the romantic countries in the world. It was dreamy. When we picked up our children the next day, we felt refreshed, rejuvenated, and reconnected. Twenty-four hours without children were so needed. We were ready to tackle parenting again. The hotel goes out of its way to make you feel like an Italian royal.
Now that's amore!
Rates for the Siena Hotel
begin around $150 a night. The hotel is not located in the heart of the UNC campus, but the hotel provides complimentary transportation within a five-mile radius ,which is a plus if you are wanting to spend any time on Franklin Street when the university is in session. Parking is not always easy on this section of campus, so having the Siena Hotel van drop you off and pick you up is a perk. Photo credit: The Siena Hotel and Hinessightblog Disclosure: I was a media guest of The Siena and Il Palio. I did have my own expenses while staying at the hotel, and as always, opinions are my own.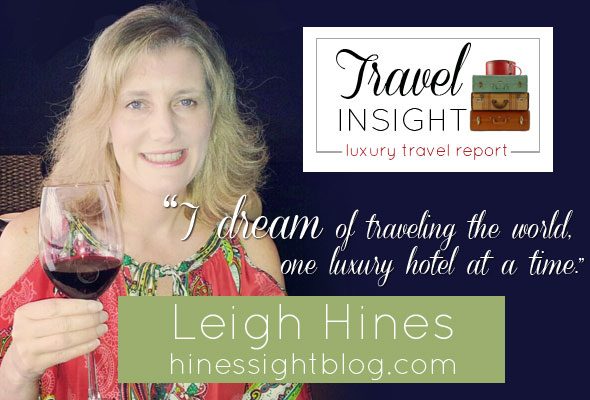 SUBSCRIBE TO SKIMBACO TRAVEL
, travel newsletter delivered to you once a week.