Hooked on handmade soaps
Handmade soaps are our everyday luxury item, and now we have started making our homemade lavender soaps, and absolutely love it. I just recently
became Young Living wholesale member
, and their lavender essential oil is perfect for these soaps. Of course, feel free to experiment with other essential oils as well!
Why we chose lavender?
Lavender can assist the body when adapting to stress. It is a great aid for relaxing and winding down before bedtime, yet has balancing properties that can also boost stamina and energy.
Therapeutic-grade lavender is great for skin and beauty products and it can be used to soothe and cleanse common cuts, bruises, and skin irritations. The French scientist René Gattefossé was among the first to discover these properties when he was severely burned in a laboratory explosion. And simply our reason also was… we love the scent!
Essential oil soaps – our everyday luxury
Nomadic lifestyle makes you really reconsider what everyday luxury means. When we moved from New York to Sweden we had to sell about 80% of everything we owned and while our home now feels "full" of new things, we still don't have curtains in the windows and half of our glassware is from flea markets, and I am tired of buying new things just to either try to get rid off or pack them shortly again. Everything I buy has to be heirloom quality for the keep-forever pile, or easily resold or recycled when we move again or something that can be consumed. This is where the everyday luxury comes in… My bathroom is very minimalistic, or call it bare if you like, and
my everyday luxury comes from products like soaps, not from the plush new bathroom accessories
. It was my daughter who got us all hooked on handmade soaps, and we have been shopping for them from
Tuscany
to Sweden this past year. A few weeks ago we finally took the plunge and tried making some soaps at home. What do you think of our lavender soaps? I think they turned out great!
What you have to know about handmade soaps
Soap is made from lye and oils through a chemical process that can be messy and even dangerous if you don't know what you are doing. It also takes a long time for handmade soap to harden and be ready to use. I have no experience making handmade soaps from the scratch, so we took a shortcut –
we bought ready made base that we just melted in the microwave oven and it was easy to even do with my 11-year old daughter
. You can also use crockpot if you have one.
Easy DIY soaps at home using the microwave oven
I am not an expert in soap making but if I was able to make these soaps with the first try
, I can only imagine what kind of soaps you are able to create! We bought all of the soap making supplies just from a regular craft store. You can purchase special soap molds from the craft store, but we also used cupcake molds (not shown in the pictures). Any silicone molds will do.
You will need:
For the soaps: Melt and pour soap base Dye Essential oil Additional ingredients such as herbs or flower petals, we used dried lavender Supplies needed: Chopping block & knife Plastic bowl to melt the soap in (in the microwave oven) soap molds (and stamps if wanted)
Instructions how to make melt and pour soap bars.
1. Cut the block of soap in about one inch cubes and put it inside a microwavable bowl. Melt in high for 2 minutes and check how melted the soap is and add more time as needed until the soap base is completely melted. 2. Stir the soap to make sure it has melted completely, but be careful not to mix too much or you will get bubbles to the mix. You can carefully remove the bubbles from the top if wanted and discard the top foam. Add coloring a drop at a time, we used about 4-5 drops, but it's better to go slowly so you won't accidentally add too much. Stirring until well combined. 3. Add the essential oil or fragrance and stir well. 4. Add other ingredients, like flower petals, herbs, or oatmeal and stir but again remember to go slowly so you won't get the foam on the top. 5. Pour the soap mixture into soap molds and allow to cool and set for 24 hours. 6. Take the soaps off the molds and let air dry before wrapping (if used for gifts). This is how my daughter packed her soaps to give to her friends for the Valentine's Day.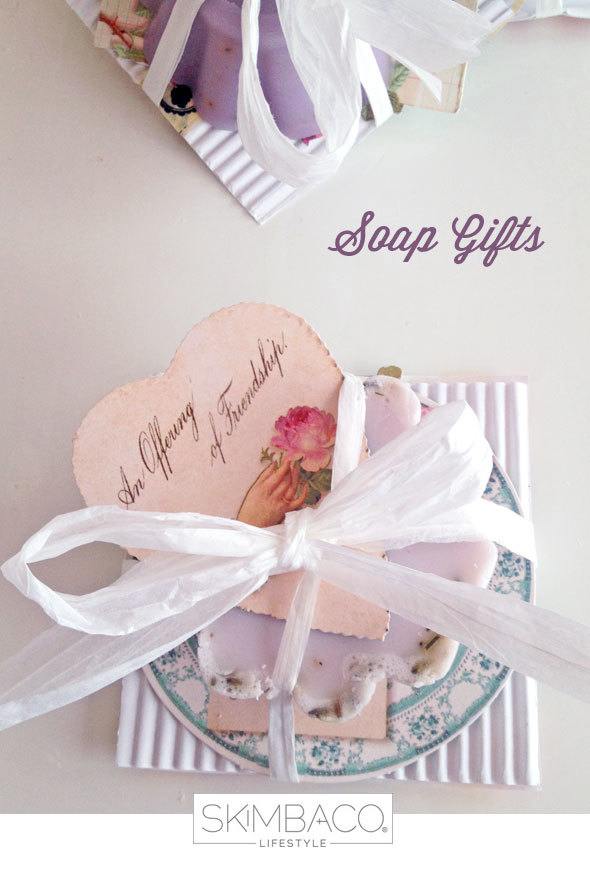 Interested in essential oils?
Join Young Living
and always get your essential oils 24% off the retail price! Or better yet – get your essential oils and create extra income with Young Living essential oils.