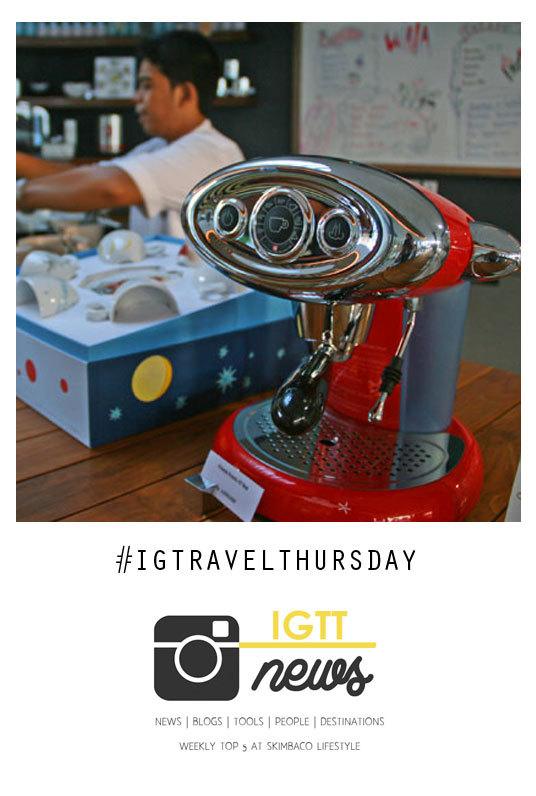 Read my weekly top 5 of what's happening in the world of Instagram travel. Picture above is from a coffee shop inside the Le Méridien Bali Jimbaran. I hope you will also check out our new
Skimbaco Lifestyle magazine
, in which we cover coffee and travel in different forms. And tea too.
IGTT Weekly Top 5
1. Featured Travel Brand on Instagram
Starwood Hotels & Resorts' guest loyalty program Starwood Preferred Guest has launched the first advertising campaign by a travel brand on Instagram reports
Skift.com
. Advertising on Instagram is still on its infancy, but it's great to see a travel brand to be among the first companies testing the new waters. Starwood Hotels & Resorts with its several hotel brands such as W Hotels, Le Méridien, Westin, Sheraton and St. Regis has been the leading hotel brand on Instagram with several innovative campaigns even before the first advertising campaign. W Hotels has over 37,000 Instagram followers, and W Hotels guests have posted 17,500 photos tagged with #whotels hashtag. Almost more impressive: Le Meridien brand with their LeMeridienHotels Instagram account has only 3,000+ followers, but there are over 18,300 photos posted with the #lemeridien hashtag. I attended to the grand opening of
Le Méridien Bali Jimbaran hotel
last year, and they had a strong Instagram strategy from day one. The hotel lobby had a TV monitor displaying the Instagram photos posted in real time, and Instagram-influencers, me included, were invited to spread the news of the hotel being open for business (and it's absolutely fabulous).
Eight months later there are over 600 photos tagged by the Le Méridien Bali guests with the #lemeridienbali hashtag, almost double than the next best Le Méridien location, Kuala Lumpur, with 370 photos tagged with #lemeridienkl. So far the SPG Instagram account has gained only around 300 new followers since the ad campaign started five days ago, not a huge amount. The hashtag they are asking guests to use is #SPGlife.
2. Featured Instagram tool
As mentioned before, there are new tools for viewing and utilizing the geo-tagged Instagram photos launched now almost on weekly basic. One of the newsworthy ones is
Tripvore
website, where you can see information of the travel destinations by viewing data pulled from Instagram, Foursquare and Wikipedia. I typed in "Milan, Italy" and Tripvore shows the latest photos and Foursquare check-ins and suggests some local events.
I can easily see for example how the Duomo looks like through the eyes and camera lenses of other travelers.
3. Featured IGTT Instagrammer
Today's featured IGTT Instagrammer is
Keamar
, of the
Deep Red Blues
blog, where she writes both in English and Finnish.
Kea lives in Finland at the moment, but calls Alaska her other home after spending an exchange student year there long time ago, and frequently going back to Alaska – and the lower 48 states.
4. Featured IGTT post from last week
I am bending my own rules this week, perhaps because I am sitting in the Milan airport typing this on a very long layover and wishing I could see the city, even just a little bit. The "rules" I am referring to are the IGTT-rules we have set for our link collection: each post should somehow touch the topics of travel AND Instagram. Otherwise it could be just any post about travel – or Instagram – but our purpose is really to shine light where these two intersect. Long story short, my featured post from last week is Elisa's
Away from the Duomo: 5 more lovely spots to visit in Milan
, although most of the photos don't look like Instagram photos. Oh Milan, one day I will return and learn everything about you, starting with the 5 spots Elisa recommends.
5. Featured travels to follow
Travel to New Zealand via our team member Satu's photos. Kayaking family adventures and the lack of good wifi might be preventing Satu from posting as often as we would like to, but follow
ToDestinationUnkown
for eye-candy from New Zealand this weekend and the upcoming several weeks. And travel to Italy with me this weekend! I will be adding much more photos with the #skimbacoitaly hashtag, as I explore the Puglia area of Italy (the heel of the boot). You can find me as
Skimbaco
.
IGTT Traveling Linky
Read more Instagram Travel posts from these new blog posts this week and add your own blog post.

Not a blogger? Not a problem. Join us at Instagram by using hashtag #igtravelthursday and share your travel photos.
Bloggers! Join the Instagram Travel Thursday and Host the Linky!
Bloggers, join us! Add your blog post to the Linky above, and you can also take the Linky code and add the Linky widget in your blog! Get email sent to you when the Instagram Travel Thursday linky post is up (
subscribe it here
).
get the InLinkz code
Copy and paste the following rules and the banner image when you host the Linky widget:
Join us for Instagram Travel Thursday! Instagram Travel Thursday is a weekly blog post collection with a purpose to promote the great travel experts on Instagram and Instagram as a source for travel inspiration. Add your Instagram Travel-related post to the Linky. Here are the Linky rules: Link to a new Instagram travel post and use the permalink of your post, not the homepage URL. Only new posts from the week of the linky and no giveaways, other linkys or sales pitches. No links to your Instagram profile, only links to your blog. Link back to one of the Instagram Travel Thursday Linky hosts. Visit a few other posts in the linky and show them some love (comment, tweet, Pin etc.). Links that do not follow the guidelines will be removed. More information at
Skimbaco Lifestyle's Instagram Travel Thursday page
.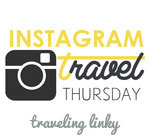 Get the banner: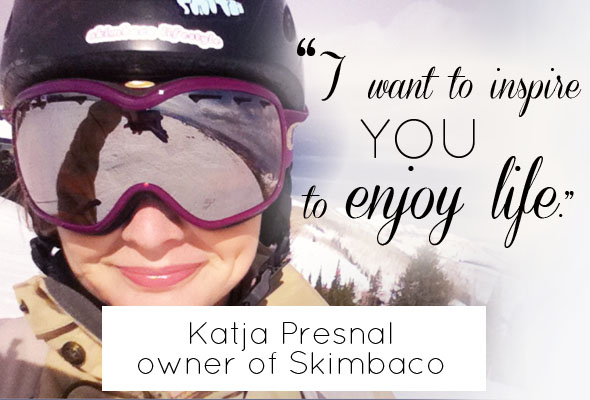 My mission is to inspire you to live life to the fullest and find your own "skimbaco," how you enjoy life where ever you are in the moment. For ideas for travel, home, food and fashion,
subscribe to weekly Skimbaco Lifestyle
feed on Mondays and
I hope you get my newsletter as well
that I sent out sometimes on Fridays.