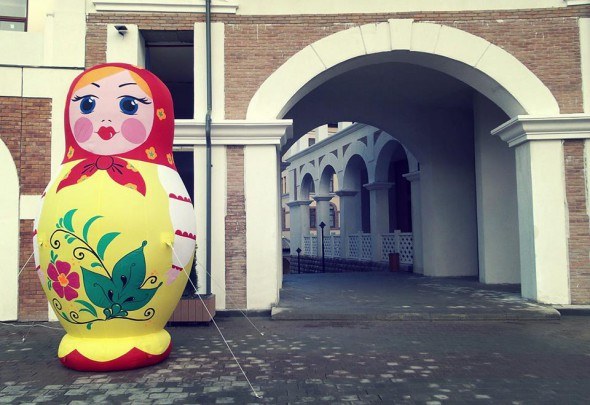 Real pictures from Sochi! Read an excellent guest post by Linda Jager. Linda has traveled the globe and covered the 2010 and 2014 Olympic Winter Games. She is currently handling media relations for U.S. Biathlon in Sochi.
Privyet from the Mountaintops of Sochi
I don't have a problem with this!
As the Press Officer for the US Biathlon Team, I'm here for 3 ½ weeks to cover competition and work with journalists from all over the world here for the Olympic Winter Games. Simply put, biathlon is the Olympic sport combining cross-country skiing and rifle marksmanship. I think one of our 2014 Olympians, Hannah Dreissigacker,
explains biathlon the best
. Working with the United States Olympic Committee, our travel plans and accommodations were booked far in advance of the Olympic Games. While we all can't be housed in the Olympic Village, as press officers, it's most helpful to have us housed with the media we work with and close to the Mountain Media Center.
I am staying at the
Gorki Panaroma
. The property sits atop of the Gorki 960 Village – a short, scenic gondola ride down to the hub of transportation and activity in the Sochi Mountain Cluster (aka Krasnaya Polyana). We are a short 45-minute shuttle or train ride to the Sochi Coastal Cluster (aka Alder), the coastal venues, and the Sochi airport.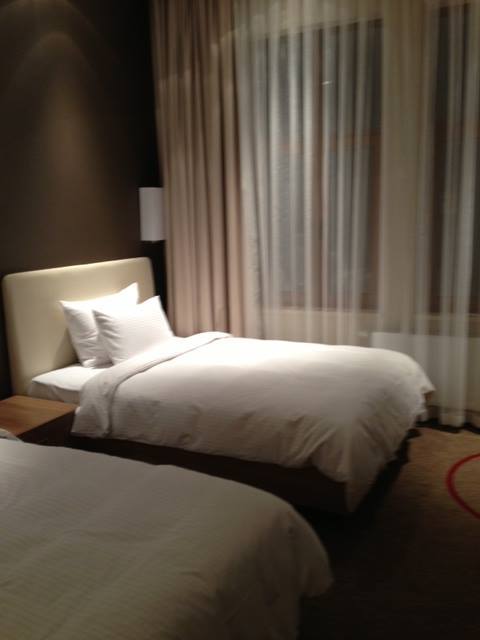 I'm happy to say I've been very pleased with the accommodations, and as a world traveler, I have seen a lot. The Gorki Panaroma is brand new, with a staff that is more than happy help you carry a cup of coffee up to your hotel room (yes, that actually happened on my first morning). When I returned late evening from my second night working at the venue, I was greeted with a glass of champagne in the lobby. Yes, please. Thank you Gorki Panaroma!
My room on the top floor is simple, comfortable and clean – with plenty of closet space (a good thing when you have three weeks worth of clothes). The hotel is at the base of a ski resort, and I'm doing all I can to resist the urge to grab some downhill skis and take a few runs – way to much work too do! When finished, this will be a great spot for a ski holiday. Plenty of ski-in/ski-out lodging and lots to explore in and around Krasnaya Polyana.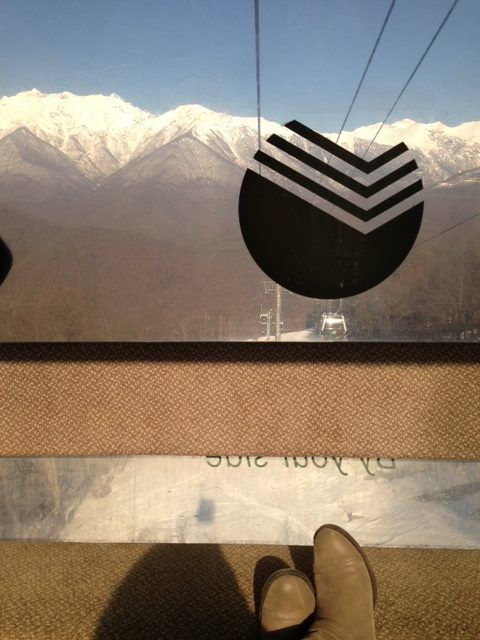 My "office" is up at the Laura Cross Country and Biathlon Stadium. Truly, the most beautiful venue here, but a bit of a trip to get there – two gondolas and three shuttles on way. It's especially stunning up there when the sun is setting over the mountain range! It's so worth the trip! Go Team USA! You can follow Linda at Sochi via her Instagram account
Liney_jags
and connect with her on Twitter as
PCLinda
.
Guest post by Linda Jager.
An Long Island, New York native, Linda Jager learned to ski at the age of 5 and spent many family ski vacations on the icy slopes of New England. She packed up her car and moved west immediately after college and took advantage of skiing the West's infamous powder as often as possible. A Park City, UT local since 2000, Linda and her husband have raised their two daughters on skis at Park City Mountain Resort. When she's not skiing, Linda is a freelance writer, foodie, film reviewer and outdoor sports enthusiast. She's traveled the globe and covered the 2010 and 2014 Olympic Winter Games handling media relations for U.S. Biathlon and the U.S. Short Track Speed Skating teams. A trip to Iceland is next on her bucket list!