Happy Instagram Travel Thursday! This week we have a guest blogger, Laurence Norah of Finding the Universe inviting you to a photography trip to Paris. I highly recommend this photography course to improve your travel photography, whether you are a hobby-photographer, Instagram-addict or a blogger! And you can't beat the location: Paris. And the absolute cherry on the top: scroll down for the details how you can score 20% off the price.
Is there anything better then spending time in Paris? Wandering the Champs Elysees, peering at the Eiffel Tower, getting lost in the backstreets of Montmartre?
I'd argue that yes – even better than just spending time in Paris is wandering Paris with some sort of camera in hand, capturing imagery of this iconic city, and perhaps learning a bit about the craft as you go. Personally, I have to say that that pretty much describes my dream day!
It is with delight therefore that following the success of our workshops in Dublin and Berlin, we've announced that the next Lightmoves Creative workshop in Europe will be held in this fantastically photogenic French city on the weekend of the 27th – 29th of June 2014.
Hosted by myself, Laurence of Finding the Universe, and Daniel Nahabedian of Canvas of Light, the workshop is going to be spread across three days, and will include a day long photowalk around the city, as well as two days of more hands on workshops covering everything from basic to advanced post processing.
Between us, Dan and I have many years of photography experience, and we've taught and led workshops at locations around the world and to all skill levels. In Paris, we want to share that knowledge with you, to help you take your photography to the next level, be that for your work, or just so you can take better photos of your next adventure.
Each day in Paris we're going to be offering something different, with something for everyone, from photography beginners looking to up their game, to those who are thinking about branching out it into more advanced photography including shooting for HDR, long exposure tips and tricks, and shooting in more challenging lighting situations.
We'll also be spending a good deal of time learning about the art of post processing – a vital part of any photographers workflow. The workshops will include hands on time using industry standard software, helping you take your photos to the next level. We'll be covering everything from simple techniques and tricks that every photographer should know to make their photos pop, through to more advanced subject matter.
If you're interested in learning more about this opportunity, and want to come explore Paris with us, whilst learning about photography as you go, then check out the full details on the workshop page, which tells you everything you need to know, from pricing, to what's included, to testimonials from some of our former workshop attendees.
Speaking of pricing, we are delighted to be able to offer the IG Travel Thursday and Skimbaco Lifestyle community a whopping 20% off all the prices you see on the signup page. Meaning if you get in at the earlybird price, you can get the entire three days of learning for €160! We think this is amazing value for the content on offer, and we hope you can join us! In the meantime, you are welcome to check out our Instagram profiles, Daniel @canvasoflight, and Laurence @lozula.
IGTT Traveling Linky
Read more Instagram Travel posts from these new blog posts this week and add your own blog post.

Not a blogger? Not a problem. Join us at Instagram by using hashtag #igtravelthursday and share your travel photos.
Bloggers! Join the Instagram Travel Thursday and Host the Linky!
Bloggers, join us! Add your blog post to the Linky above, and you can also take the Linky code and add the Linky widget in your blog! Get email sent to you when the Instagram Travel Thursday linky post is up (
subscribe it here
).
Get the InLinkz code for your post. Copy and paste the following rules and the banner image when you host the Linky widget:
Join us for Instagram Travel Thursday! Instagram Travel Thursday is a weekly blog post collection with a purpose to promote the great travel experts on Instagram and Instagram as a source for travel inspiration. Add your Instagram Travel-related post to the Linky. Here are the Linky rules: Link to a new Instagram travel post and use the permalink of your post, not the homepage URL. Only new posts from the week of the linky and no giveaways, other linkys or sales pitches. No links to your Instagram profile, only links to your blog. Link back to one of the Instagram Travel Thursday Linky hosts. Visit a few other posts in the linky and show them some love (comment, tweet, Pin etc.). Links that do not follow the guidelines will be removed. More information at
Skimbaco Lifestyle's Instagram Travel Thursday page
.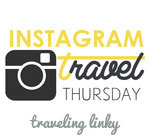 Get the banner: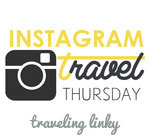 GET A FREE EBOOK ABOUT INSTAGRAM
Also get my ebook
Instagram as your Guide to the World – How, What and Who to Search and Follow on Instagram to Help You Travel the World
FOR FREE when you subscribe to my newsletter.