"Guess how old I am?"
Said the sales lady at the souk in Marrakesh in Morocco as I was holding two bottles of agran oil in my hands, and trying to decide if I should buy more of this miracle oil to take home. I tried figuring out a polite way to tell her I can not start guessing a woman's age, because no matter which culture, it's never OK to guess a woman's age wrong, especially if it goes way off (on the high end!).
"No, really. You guess how old I am. I use this oil every day and look at my skin,"
she said. Yet, I couldn't tell the woman she looked around my age, mid to late 30's, but the way she dressed, she could be 50 years old, so I really wasn't quite sure. Her skin was smooth, with less wrinkles around eyes than what I had. I got myself out of answering as she said
"I'm 45 years old, I love this argan oil, look, no wrinkles and makes my skin so smooth. Buy this, I use this one."
And so I did. I bought the argan oil at souk, even though I had already bought more directly from women's co-op Assaiss in rural Morocco, where I was able to see firsthand how argan oil is made. This had been just one of those many visits to different natural beauty product manufacturing facilities, herbal medicine healing places, plantations and farms I have visited around the world, which have made me a believer for better skin care and more holistic health care. My love for products like argan oil is the reason I just recently
became a Young Living essential oils whole sale distributor
. I have been using different oils and natural healing products for years, but they have usually been products I have carried home from my travels. I am ready to take the next step, and start learning even more about the essential oils and more natural way of healing.
Argan Oil in a nut shell
Argan oil has become quite popular the past couple of years, especially in beauty and hair products, and you can't shop for any beauty products without seeing Moroccan Argan Oil mentioned. There are a lot of information about the benefits of argan oil to skin and hair, but it's hard to tell which is scientifically proven. This miracle oil is rich in antioxidants so it's a great anti-aging product, unsaturated essential fatty acids Omega 6 and Omega 9 giving you energy and has anti-inflammatory properties, and vitamins like Vitamin E helping to heal your skin and hair and it has squalene, which might have skin cancer preventive abilities.*
You might have also heard it being called the Moroccan Oil, because argan oil is a rare oil extracted from the kernels of the argan tree nut. The argan tree is a 1.5 million year old tree type that only grows in the Southwest of Morocco. While Moroccan women have loved argan oil for centuries as their beauty product and on their dinner tables (it's especially good as a dipping oil), argan oil has a much more important meaning for many Moroccan women today. The Southwest area of Morocco where the argan trees grow is called the "argan road," and it forms a loop from Marrakech via Essaouira, Taroudant, Tiznit, Tafraout, Goulimine, Agadir and returns the outskirts of Marrakech. The area is an UNESCO protected, the argan forest has been an international 'biosphere reserve' since 1998.
The area is rural, and argan oil plays an important economical and environmental role and employs close to 3 million people in the area. Mostly it's women, working in small co-operatives, and argan allows them to get the income needed to get education for their children, or to provide to their families. Since argan oil production is mainly done by women, it has also improved the women's autonomy and standing in the very male-centered society.
Making Argan Oil in Morocco
The fruit of the argan tree looks a little bit like olive, and the fruit needs to be dried first before taking the kernels out.
Once the fruit is dried out, it is easier to separate the hard-shelled nut from inside the fruit. The nut contains one to three argan oil-rich kernels, and the nut needs to be cracked open to get all of the kernels out.
This is all still done manually, and the Berber women in the argan oil co-op separate the kernels from the nut by hand.
Making argan oil is a four-woman production line. Once the kernels have been separated from the nut, they are passed on to the next person in line. The kernels then are being grounded into brown paste. The brown-colored paste looks like natural peanut butter. The paste is passed on to the next person, who will then knead golf-ball sized out of it. This hand kneading is one of the most important parts of the production.
To extract the oil, the dough balls are pressed until the become hard and the oil is extracted. Finally, they decant unfiltered argan oil into vessels.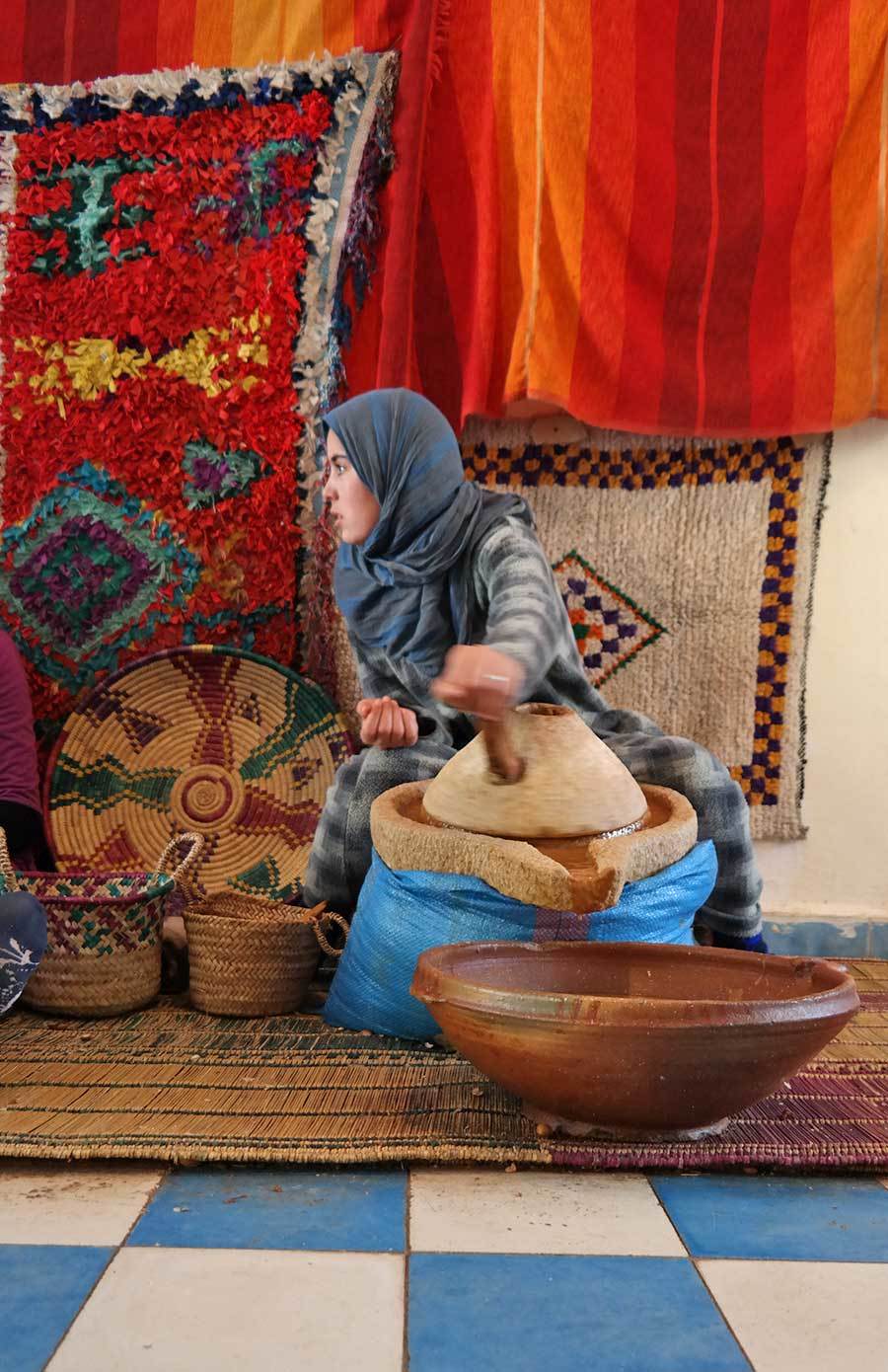 The
Assaiss argan co-operative
22 kms from Essaouira, Agadir road at No. 18 the center of the rural town of Sidi Hmad Ouhamed also had a shop for their products, and a restaurant and a little souvenir shop right next to it making it a great stop for those traveling up to the mountains. There were not many other places to stop in this very rural area.
The shopping for argan oil products was not that easy task though. There were so many different variations and uses for skin, hair and as an edible oil, and it was quite overwhelming to learn about all of the different products.
I've loved using all of the products I bought from the co-op, and wish I had bought more! Now when I joined Young Living, I bought less expensive argan oil (and not as good quality) and I am mixing it with essential oils to get even more out of the oil. Hoping to share my experiences soon.
What about you – do you love agran oil? Or do you use essential oils? Learn more
why I joined Young Living
and see my monthly freebie special. NOW is the perfect time to start learning more about essential oils and start living life to the fullest. *Disclaimer: These statements have not been evaluated by the Food and Drug Administration. This information is not intended to diagnose, treat, cure or prevent any disease. The information on this site is not intended or implied to be a substitute for professional medical advice, diagnosis or treatment. Please confirm any information obtained from or through this web site with other sources, and review all information regarding any medical condition or treatment with your physician. Never disregard professional medical advice or delay seeking medical treatment because of something you have read on this website.
Disclosure: I was in Morocco on a trip organized by Norske Reiseblogger and sponsored by Sahara Experience. My opinions are my own, as always.