weekend retreat
loving friend, Tasha, told me about the wonders of her Southwest Companion Pass (Yep, your buddy flies for free!!
Read the easy tips on how to get your own here!
) I knew we were in for some serious Springtime fun. After chatting with a few of our favorite brands, hotels and spas, we decided on a month to squish these trips into. Then, we began research on the amazing locations we want to explore. Now, we're skipping arm-in-arm around the U.S. all month! First up?
San Antonio, Texas.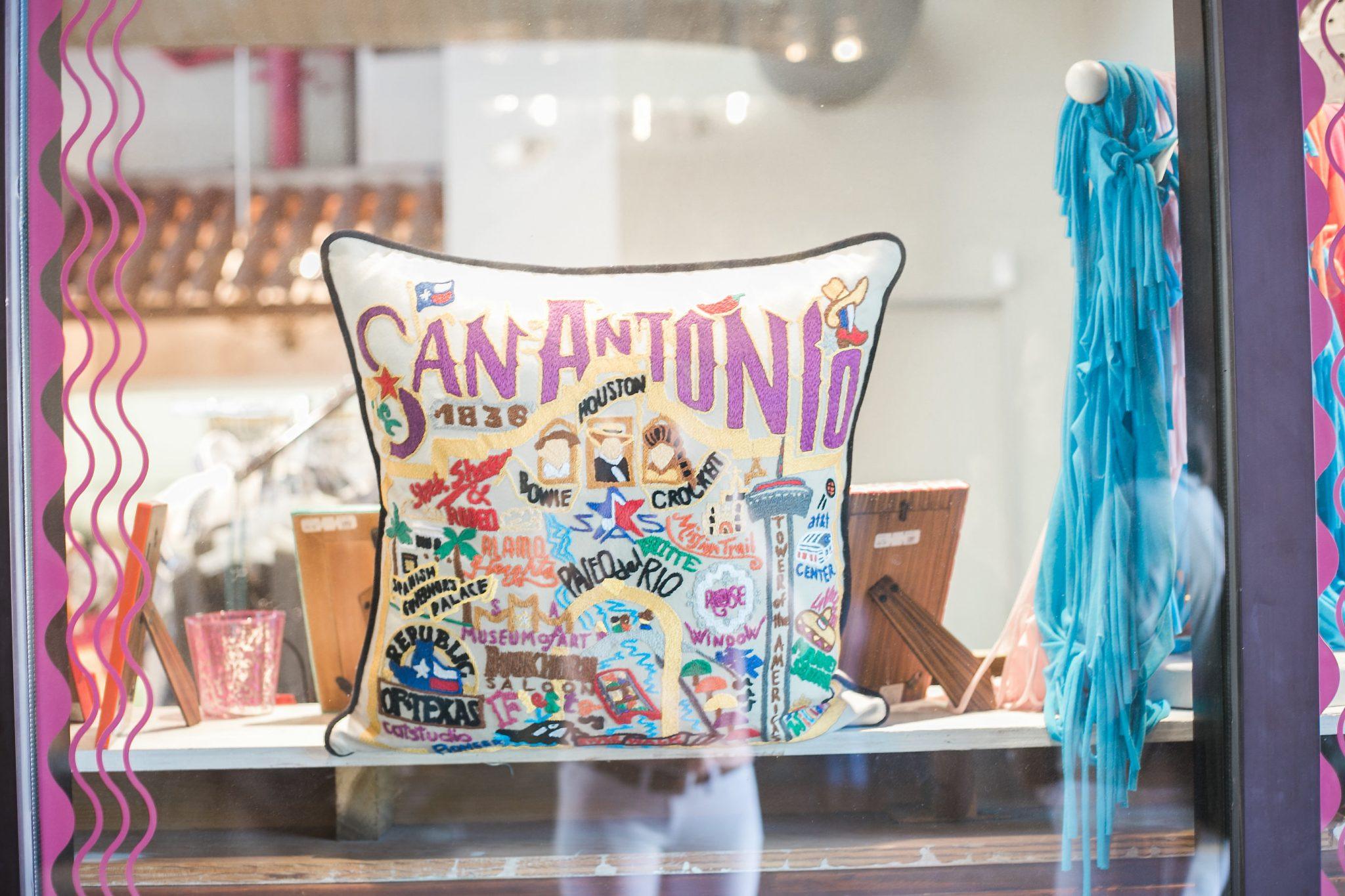 Truth be told, Texas has never been on my must-see list. If you know my usual travel companion (my sweet and talented husband, Wilhelm) and I at all, you know we love water. If we're in charge of choosing the destination you can nearly be sure it's oceanside, lakeside or riverfront.
When I think of Texas
I don't picture water (yeah yeah I know, nearly 400 miles of the great state are coastal, but that's simply not the image my mind conjures up). Upon researching San Antonio, I am intrigued: A South-Central Texas city with immense history, built around a 15 mile Riverwalk/public park…
Texas officially has my attention.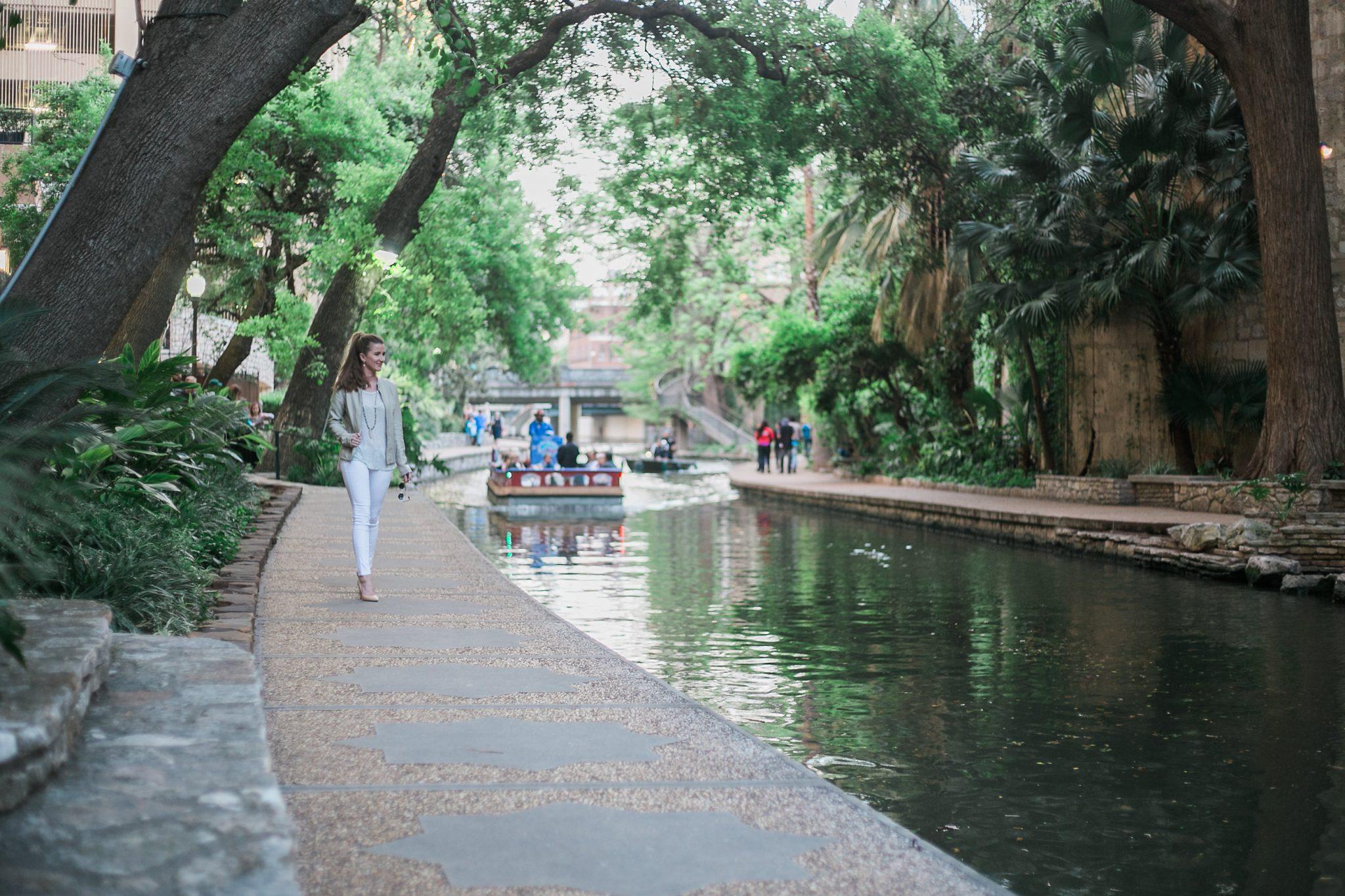 A quick flight and we arrive in
The Alamo City
! Our first stop is to
Voge Boutique
, I first spotted this gem on Instagram and have been itching to pop into their store (if not to see the gorgeous fabrics and prints, then to meet the lovely ladies who run the place and the shop mascot, Sophie – an itty bitty Yorkie who is usually accessorized with a bow!). We leave, arms full of fun and colorful outfits, and head for our chic, Riverwalk hotel!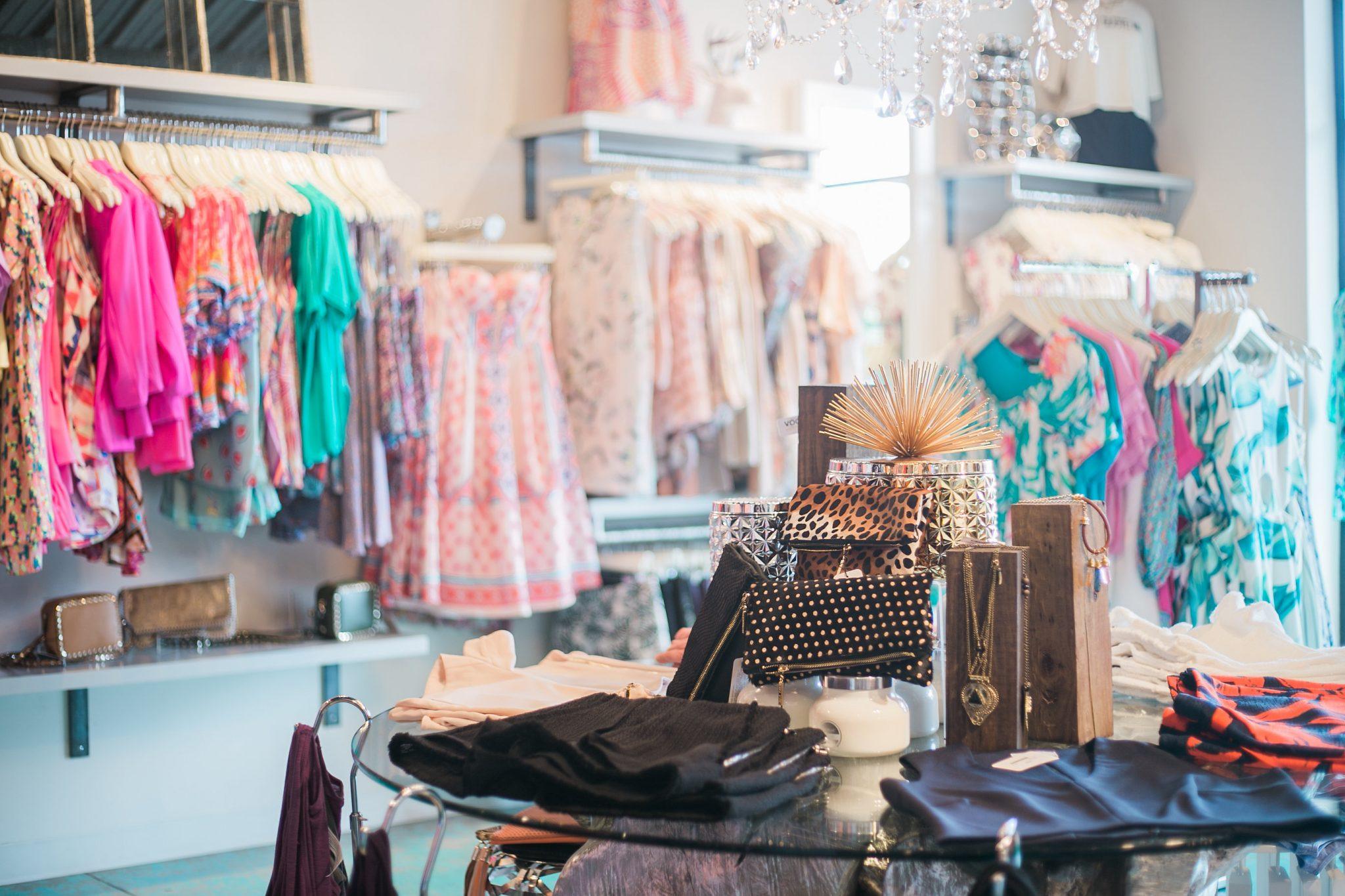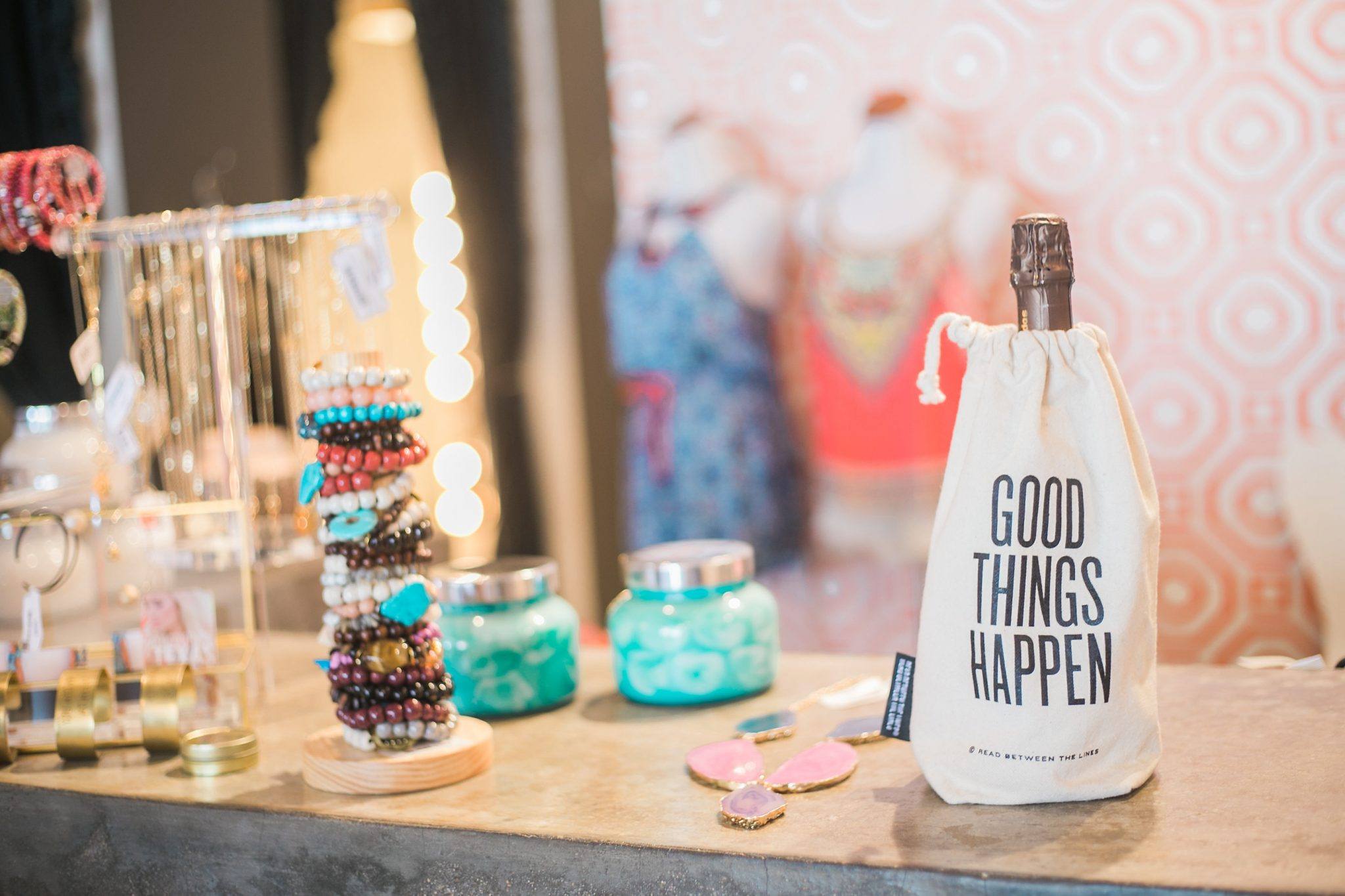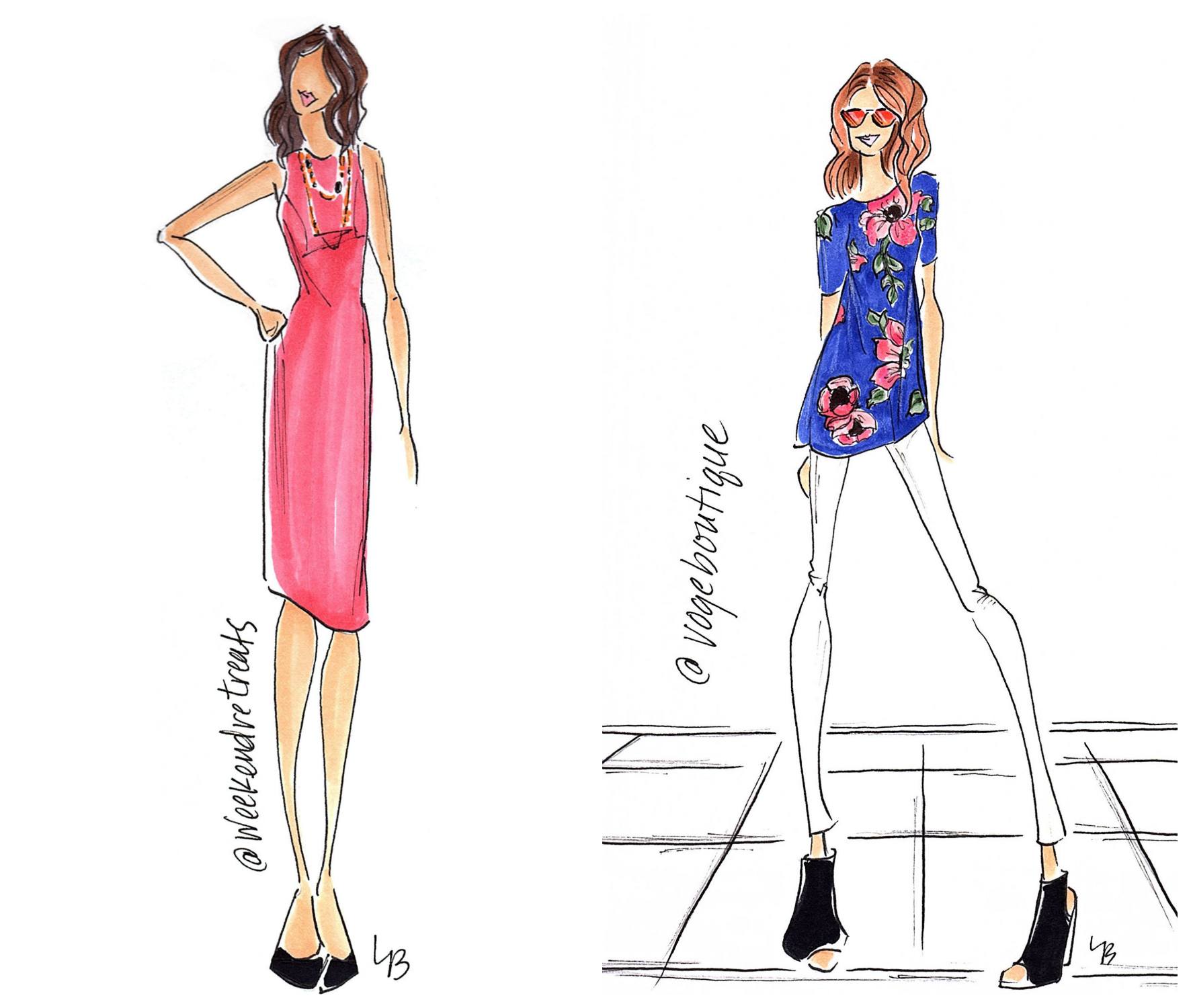 Upon our arrival at
Hotel Valencia
, we're impressed by the friendly help, the peaceful waterfall in the foyer, and the remarkably pleasant signature scent (with notes of citrus, orange, neroli blossom, lavender and bergamot). In travel (as in Real Estate) location is key, and as our home for this weekend sits right on the famous
San Antonio Riverwalk
, we could not ask for anything more! I'm blown away by the lush greenery, weathered brick and colorful umbrellas of long-standing cafes lining this beautiful way.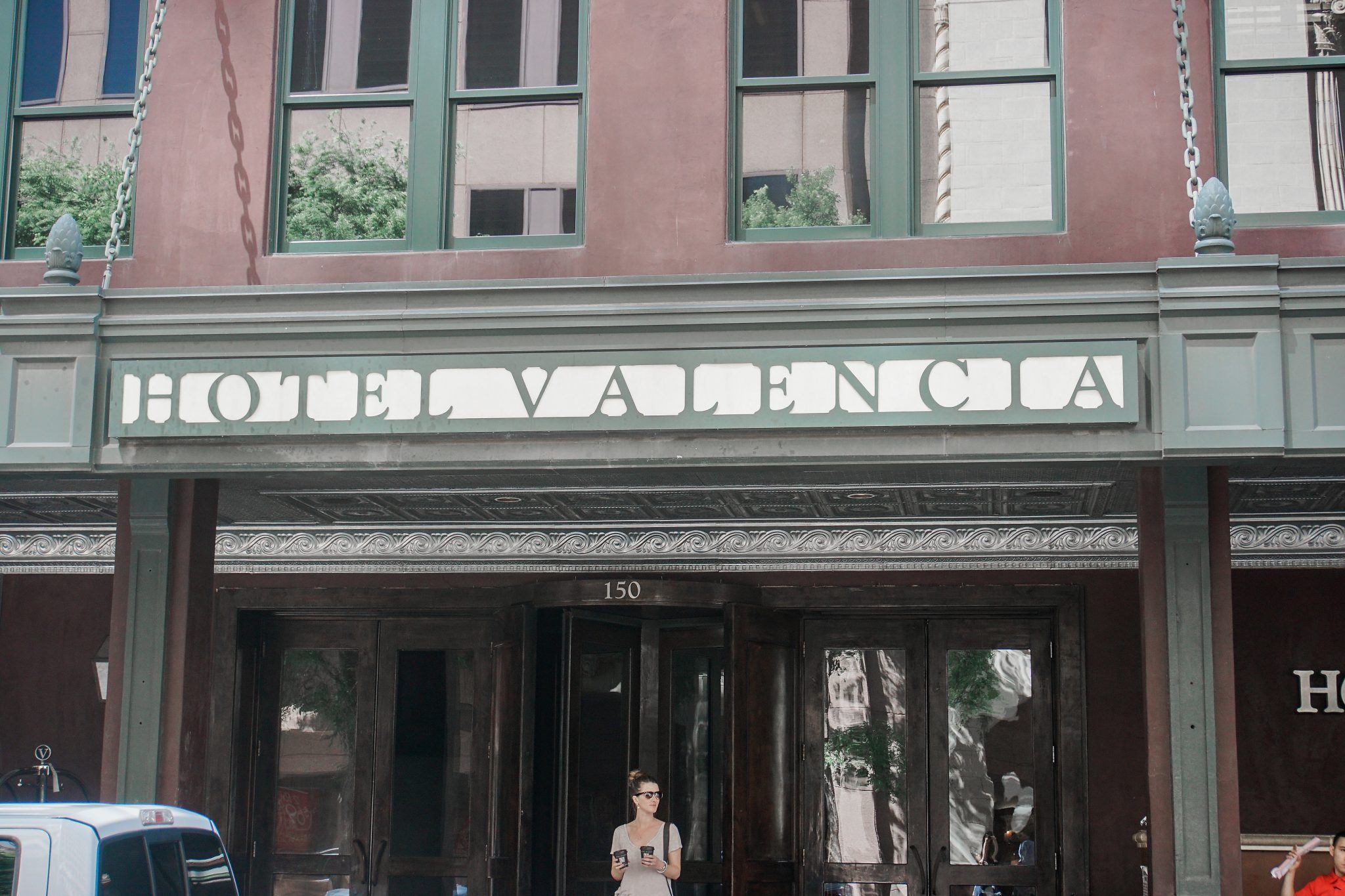 After a day of traveling and shopping ('til we nearly dropped) we're interested in a low key evening. As our hotel's own restaurant,
Citrus
, comes highly recommended we decide tonight is the right evening to indulge in their eclectic American fare and fun cocktails. We ask our waiter for his suggestions on the absolute best dishes to try and before we know it, our table is covered in mouthwateringly delicious bites of all sorts. We try everything from the crispy brussels sprouts with chorizo and citrus macerated grapes (such a great combo), and the honey-maple jus brined duck, to the morel and truffle sprinkled pastry
Pot Pie
. (This "pot pie" by the way? For the love of all things wonderful,
DO NOT MISS this dish.
) The chef is trying out a new dessert and we're the lucky taste-testers! Churro inspired macarons? Now that's the way to top off a perfect meal!
Though quite full and a little sleepy, we head across the way to
VBar
and snag two habanero margaritas. Now, full and deliriously happy, we hop on the elevator, head a few floors up, dive head first onto our fluffy white beds and call it a night.
Neither of us typically drink red wine for breakfast. Mimosas? Sure. Bloody Mary's? You betcha. Cabernet, however, we usually save for at least the afternoon.
But,
we're celebrating the absence of an "Open Container Law" here on the San Antonio Riverwalk! We pour the grape goodness into our to-go cups, and we're off! We don't make it far before we catch a wonderful whiff of
Casa Rio's
and we're already making our fist pit stop for food, glorious food.
Seeing as we enjoyed Bloody Mary's with our delicious waterside Mexican breakfast, we still have plenty of wine to savor. The day is now in full swing and folks are now out and about – while it is a bit bustling, it's not wildly overcrowded. The energy and ambiance 
reminds me of Venice
and I'm blow away that there's anywhere in America that can remotely compare to the unique charm of the "Queen of the Adriatic"! We wander down the Riverwalk until we see signs for the Alamo at which point it's time to finish our vino.
The Riverwalk sits one quiet level below the city and when you emerge from this oasis, the open-container laws again apply – so keep your booze by the water.
Just a few minutes walk and we're here – at the scene of revered Texas history. The tales of what happened here vary greatly but what everyone agrees upon is that the story of
The Alamo
encompasses the true spirit of the Texans. From what I understand, the Texan defenders (including the well remembered James Bowie, William Travis and Davy Crockett) along with 200 others, held their ground for nearly two weeks while under attack by an army of Mexican invaders. This place and the stories that surround it add up to one thing for the Texans I've spoken to: Pride. You can feel the history of this place and the respect it's visitors bring as you watch the long, long line gather outside the weathered Mission walls.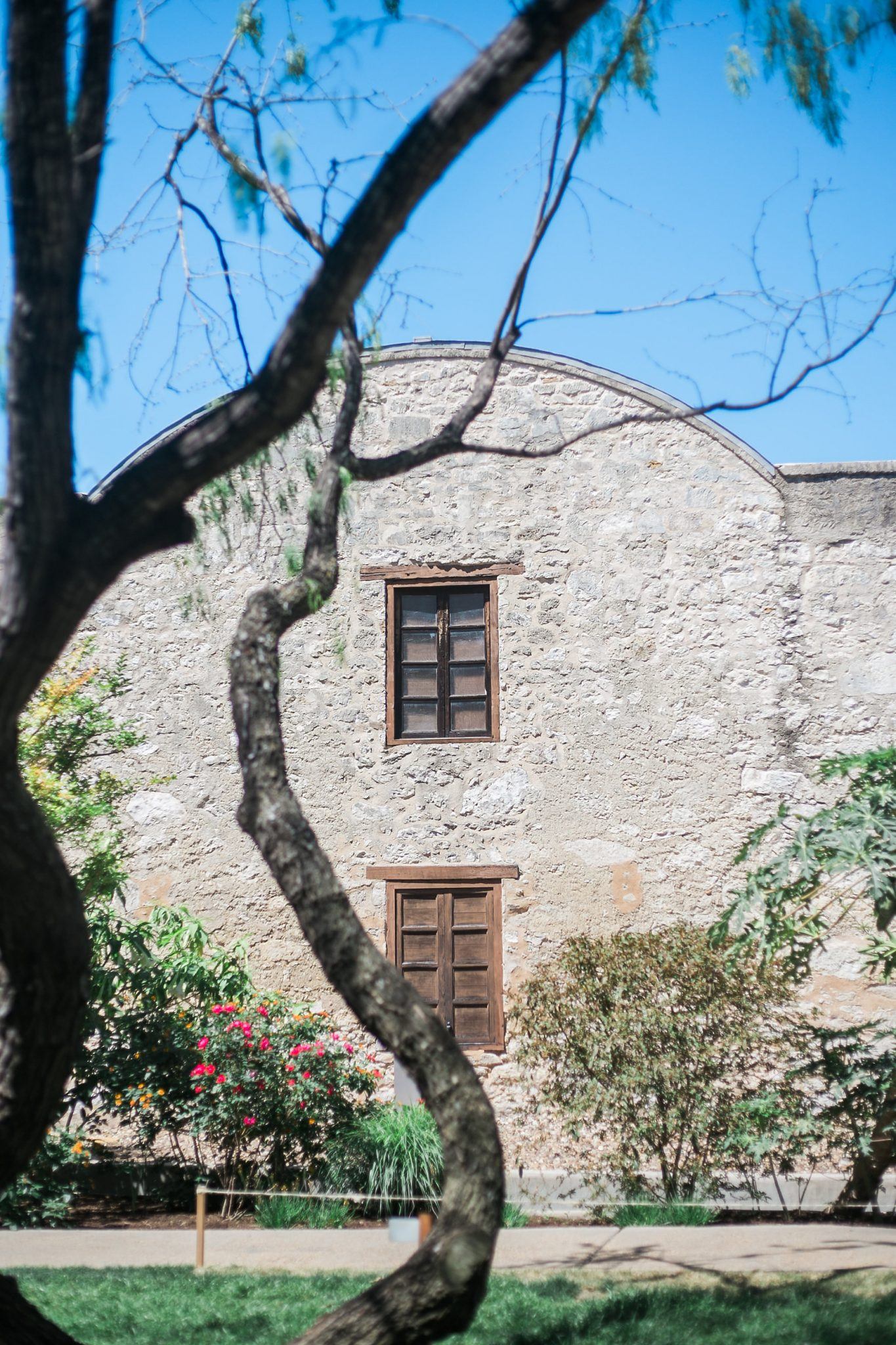 As we've merely wandered here (not thinking twice about it being mid-day on a weekend) we aren't prepared for the immense wait to see inside The Alamo. Instead, we meander through the back gates, into the peaceful and impressive
Alamo Gardens
. Behind the stone walls lie 4 acres of green space in which you can rest your feet, marvel at the incredible plant life and even hear tidbits about the Alamo and the city of San Antonio from the historical reenactors.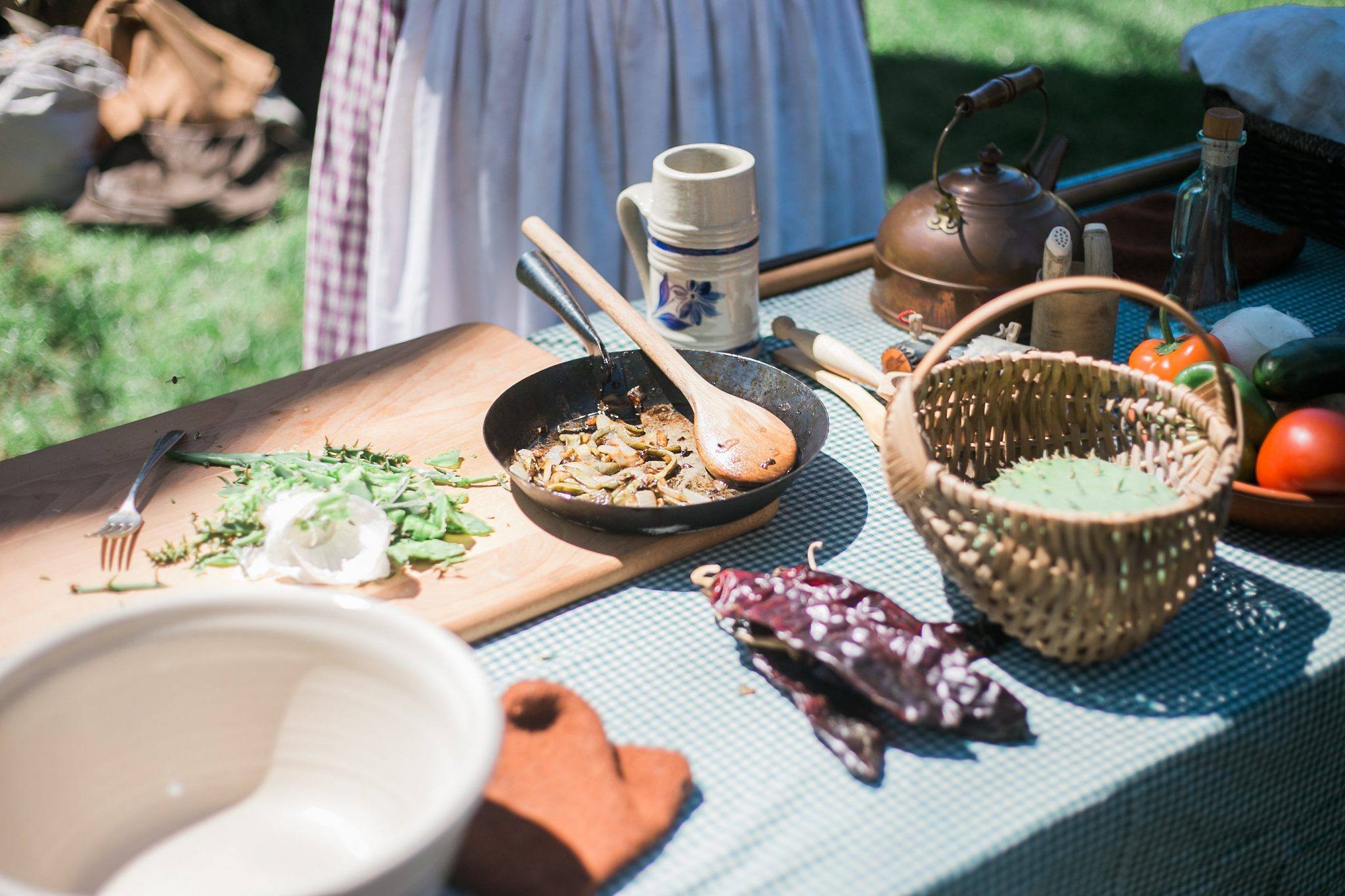 We explore the area, popping into an antique shop or two, before finding our way back to the Riverwalk. Something catches our eye, and we're back at street level before you know it – we've glimpsed the tip-top of the gothic beauty that is the
San Fernando Cathedral
. As we approach, through the lovely wooden doors we faintly hear, "You may now kiss the bride"… and, through the glass, we catch sight of the couple's first kiss as husband and wife! This Cathedral is no ordinary one (are any of them though, really?) – Legend has it this is the resting place of Alamo heroes
Davy Crockett
, Jim Bowie and William B Travis. Additionally, a little fun fact I enjoy: This stunning place of worship is named after a 13th century Spanish King (he was later canonized, dubbing him a saint) who was well loved and remembered for his efforts to foster peace between Jews, Christians and Muslims.
What a wonderful legacy to leave behind!

As we ooh and awe over the architecture and details of this beauty (the oldest bits of which date back to 1738 – thus earning it the title of "oldest cathedral in Texas"), we check out the stained glass and snap photos of the lovely old doors. We notice some soft light on the right side of the building and we take the opportunity to romp around a bit (See what I did there? I'm wearing my festive new romper. Clever, eh?), taking photos whilst enjoying a healthy local fave,
KTonic Kombucha
!
After a sun soaked day, we're off to savor the flavors of Southtown! We've heard rave reviews on each and every restaurant and watering hole along the main street in this area, and we're not about to miss great grub. We kick the evening off at
Feast
– I enjoy some bubbly as T sips on a "Black Butte Porter" (that she hilariously orders as a "Black
Butt
") while we munch on some shishito peppers… These things are okay, but a little healthy for my taste – I mean, peppers, as an appetizer? Don't worry though, we'll load up on carbs at the next few stops.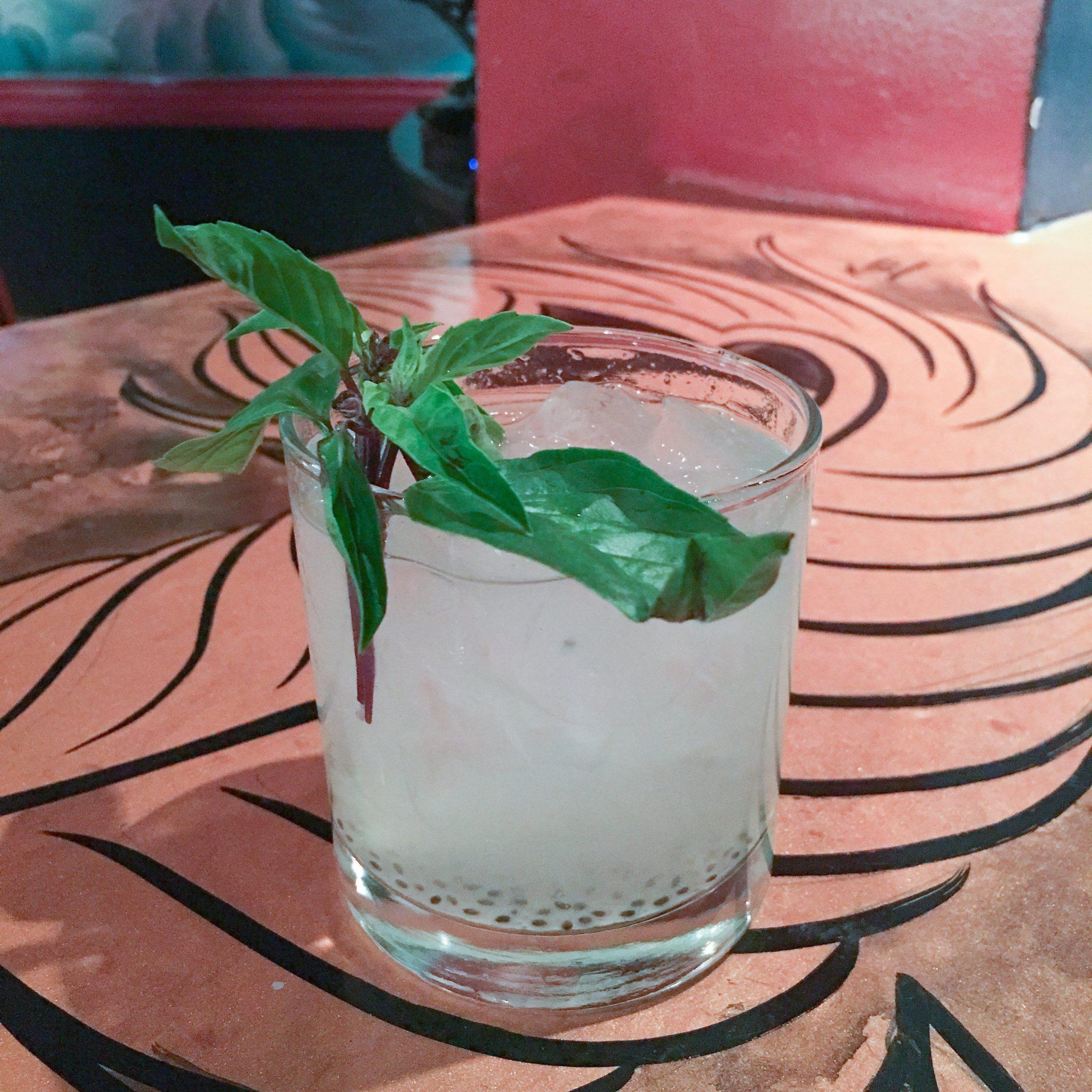 Next, and wildest/weirdest stop on our appetizer-crawl. We pop into
Hot Joy
… Here, we sip on Wasabi Pineapple Mules and Basil Seed Cocktails (this one tasted like bubble gum + basil, strangely tasty!) and devour the famous
"Twice Fried Chicken Wings"
(crab fat caramel, peanuts, cilantro). We want another order of this sinful dish, but we're committed to testing out more of the area's appetizers so we continue on our quest. We pop into
Rosario's
for margaritas + fresh chips and guacamole, we hear there's
much 
more to be had here, but we just can't take one more bite. Last, but not least, we wind up at
Fracis Bogside
– a swanky little bar packed to the brim with happy patrons! Though I have not the slightest clue of the ingredients, I order a number of cocktails based entirely on the fact that they have "bumble bee" in the name. The buzzy cocktails top off the evening. After a day of exploring and eating our way through San Antonio, we call an Uber and jet back to the hotel, eager to throw on some PJs and call it a night.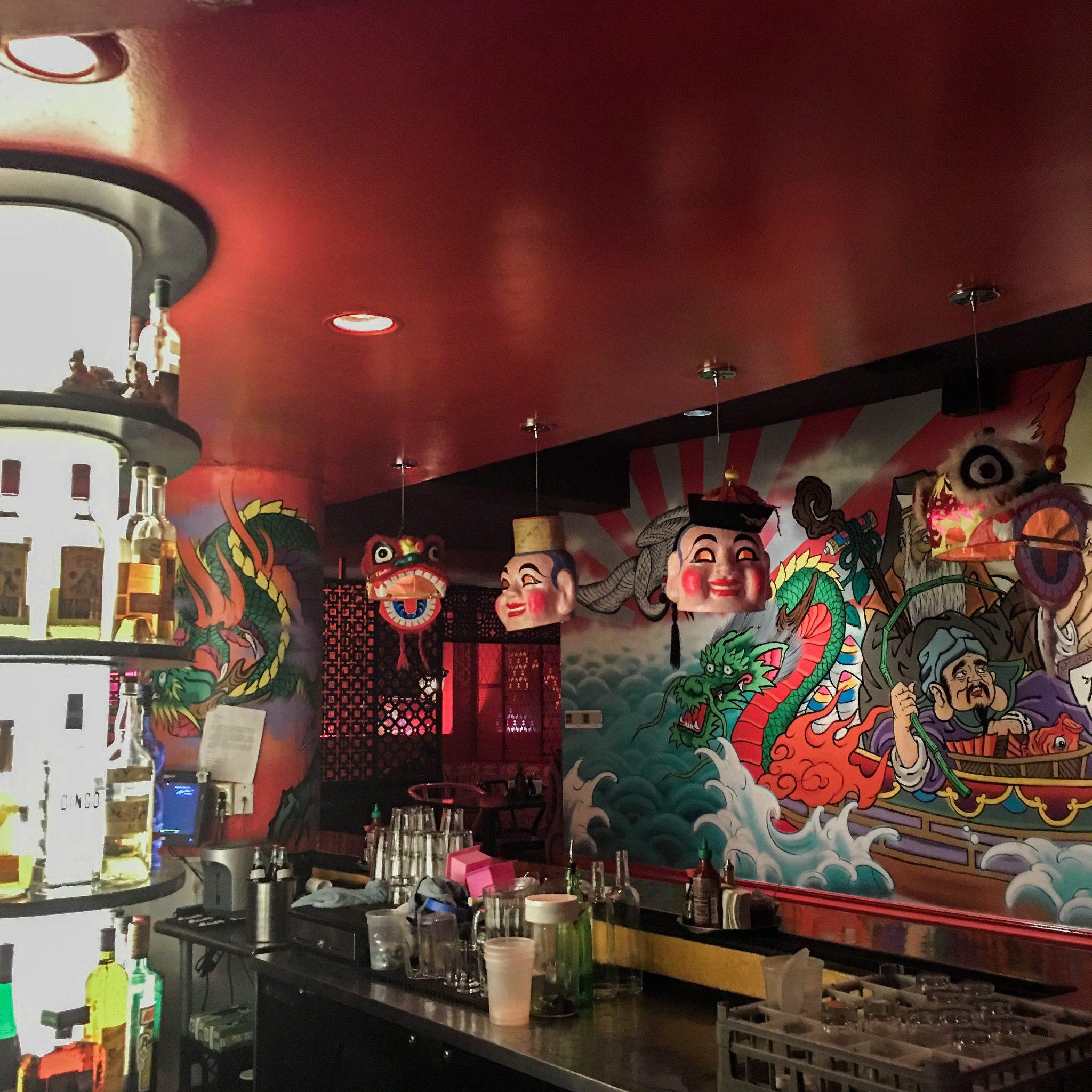 Sunday sun rays peek through the black plantation shutters, beckoning for us to come out and enjoy the city… We're off to the Historic Pearl District today
but first, breakfast in bed
! Citrus for supper on Friday just wasn't enough – we're up for more of their delicious fare, and we ring for the "American Breakfast", the "Salmon Gravlax", a few refreshing juices and some energizing green tea.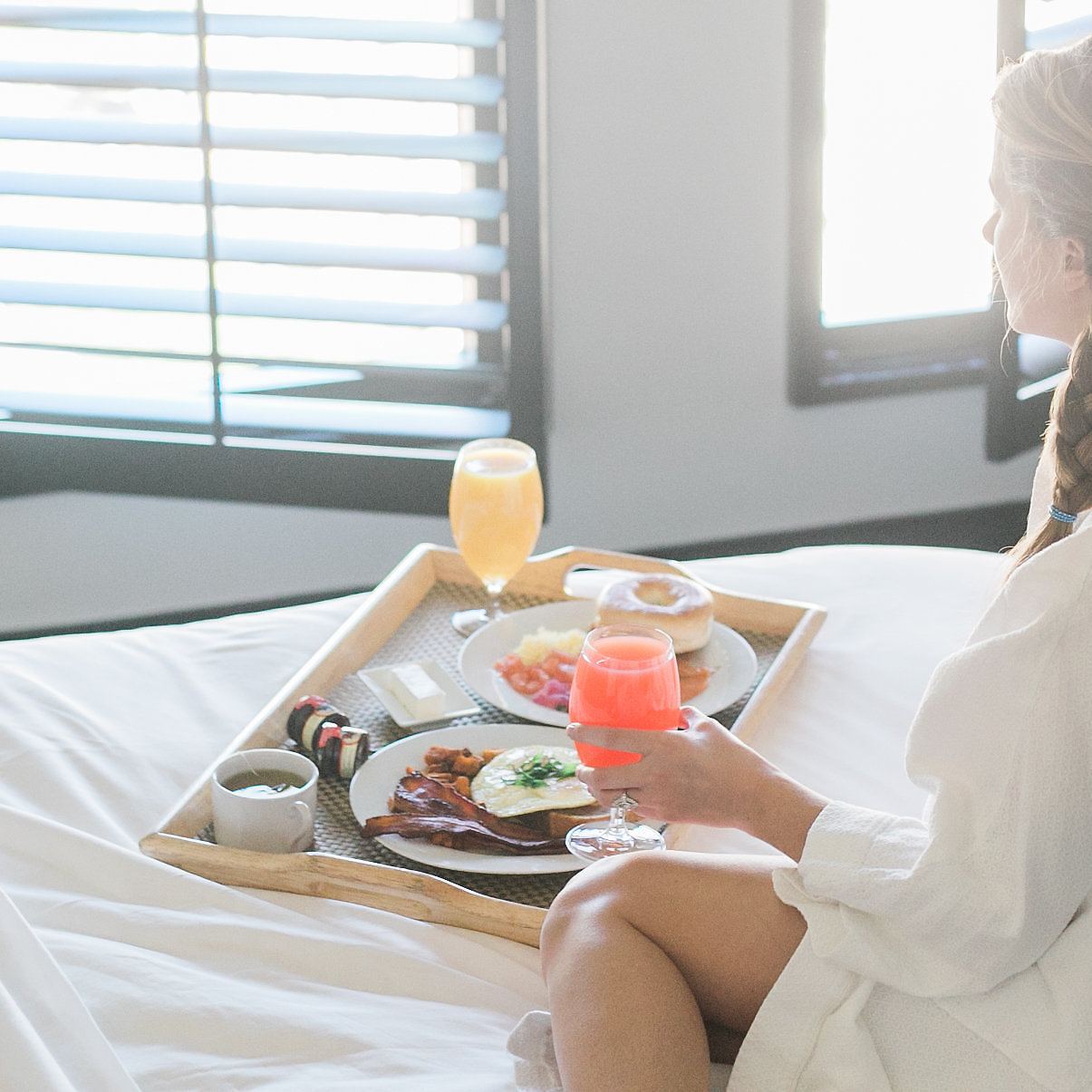 Arriving in
Historic Pearl
, our driver drops us directly in front of the area's namesake. "The Pearl" comes from what was once the Pearl Brewery (closed in 2001 and reopened in 2015 as the opulent but cozy – and remarkably beautiful – Hotel Emma!) The brewery was originally named based on an observation made by a German brew master in the 1800's – He noted that the tiny bubbles in his freshly poured beer resembled pearls, and he called them "perlen". The Pearl beer formula was later purchased by the San Antonio Brewing Association and brought to Texas from Europe… and thus, Pearl beer (and the city, eventually) was named. We're planning to check out the famed bars and restaurants within the hotel, but for now we trek off to see more of this quirky little oasis.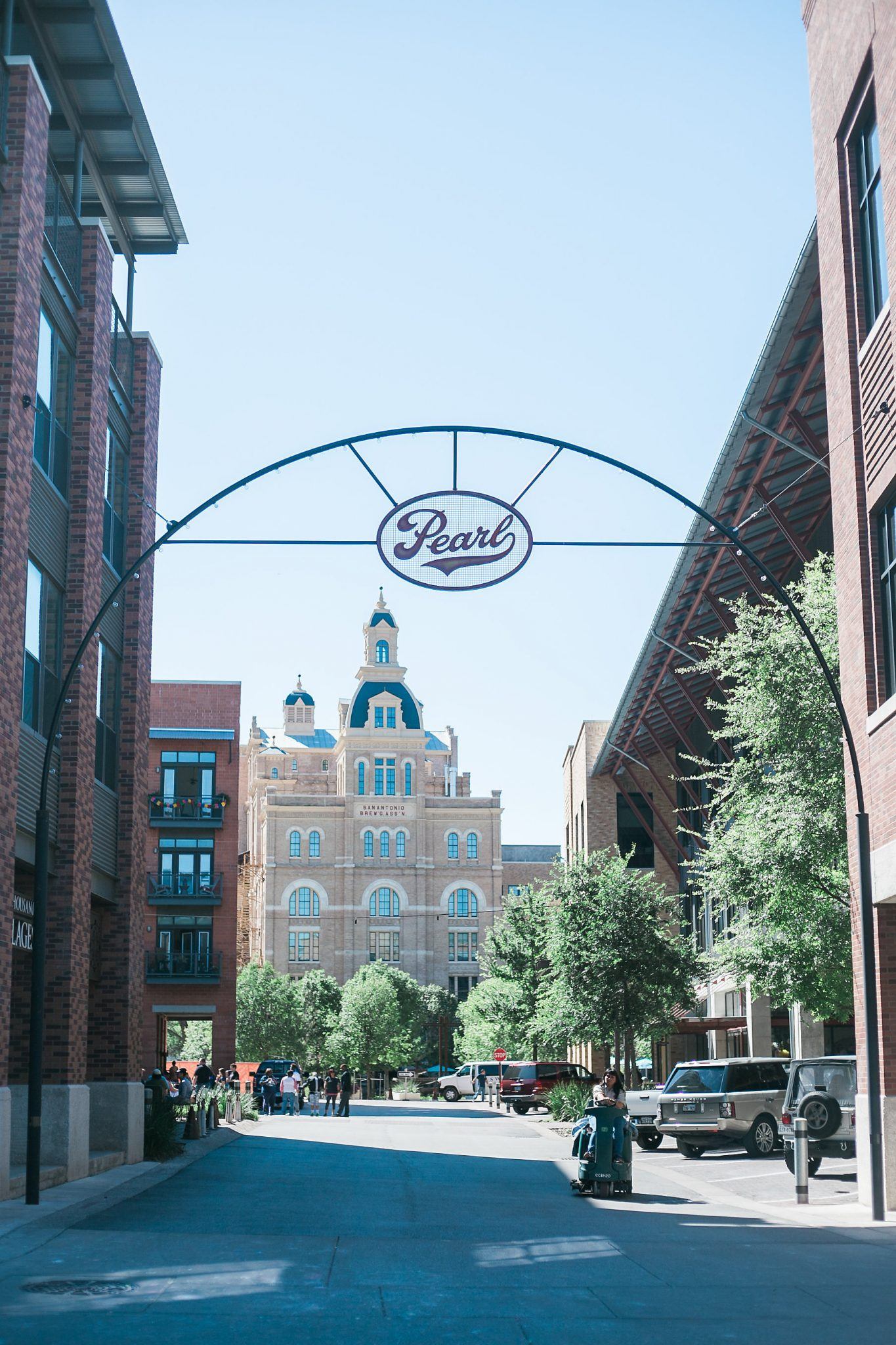 Pearl is a vibrant and active area! Each way you turn there are runners, bikers, yoga(ers?) and if you spin the other direction you'll find juice, coffee, clothing, decor and ice cream shops! As always, we're making a bee-line for the food. Our timing is off to visit
Cured
(famous for charcuterie and farm-to-table dishes) so we keep on wandering… our sadness evaporates as we spy
Lick Honest Ice Creams
 a brand out of Austin and rumored to be the best. With flavors from "
Horchata
" (based on the Mexican beverage) and "
Goat Cheese, Thyme & Honey"
to "
Dark Chocolate with Olive Oil & Sea Salt
" – there is truly something for everyone! For me? It's once scoop of "
Roasted Beets & Fresh Mint
" and one of "
Hill Country Honey & Vanilla Bean
"!
The icy goodness disappears quickly and we're back on the quest for more eats. We stumble upon the
Granary 'Cue and Brew
… We were under the impression they'd be closed, so imagine our surprise and wonder when we realize not only are they open for business on this particular Sunday, but they're also serving a special menu… As we approach, the chalkboard sign says:
"Beer & Doughnuts Pairing"
. We're sold. Four little beers and four decadently paired doughnuts later (my favorite is the Socrates Coffee IPA and the Blueberry Lemon Lavender doughnut!), it's time to walk off all the treats (or try).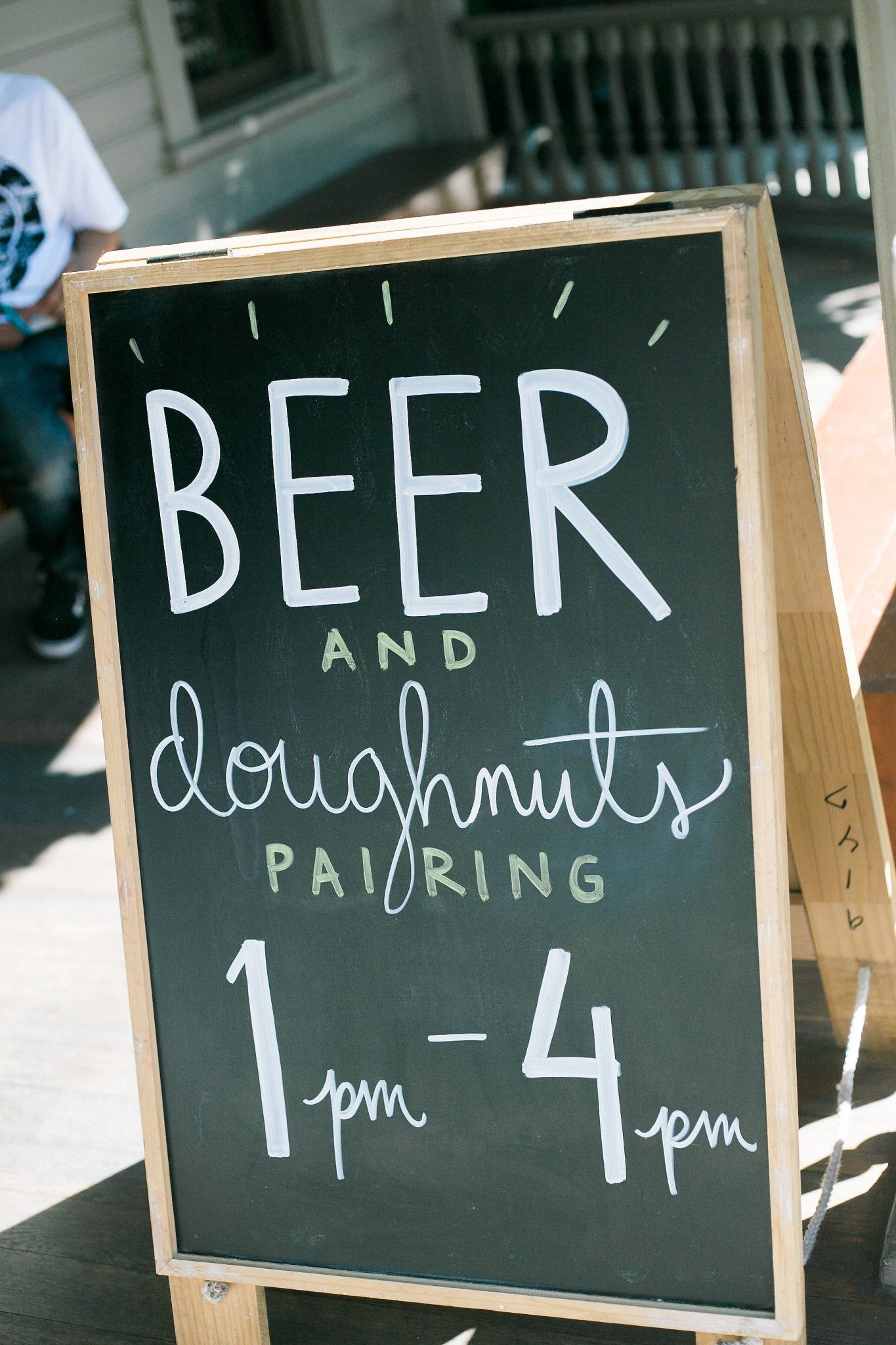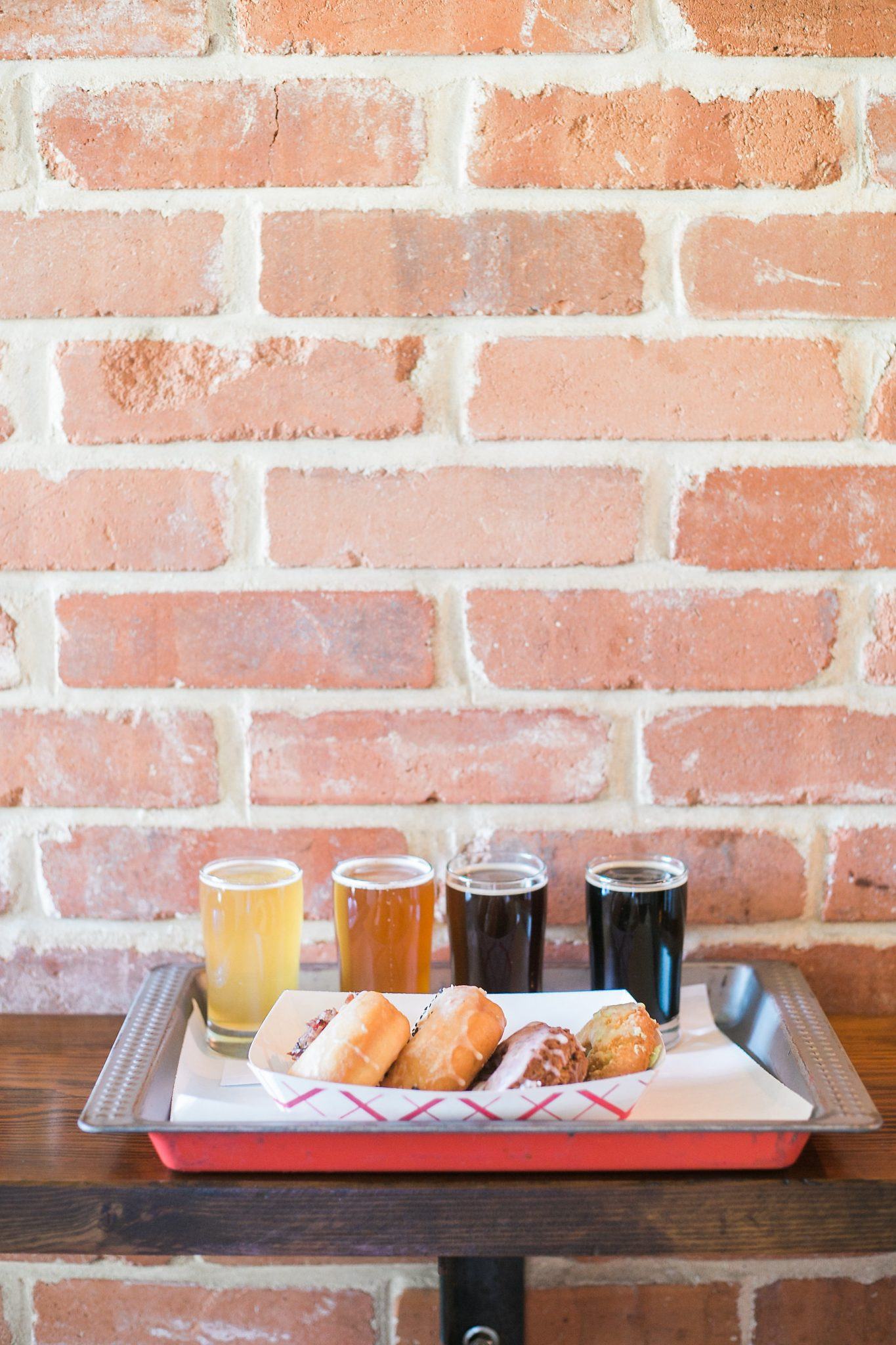 In an attempt to take a break from our constant eating, we wander around Pearl, checking out every cool shop and capitalizing on the very picturesque photo opps this tiny town has to offer. All the while, we're sipping on our Kombucha – because T tells me this
100% organic, all-tea drink
will keep us healthy & well, despite our crazy schedule + copious intake of local food and libations… it tastes great and is very photogenic, so I don't put up a fight.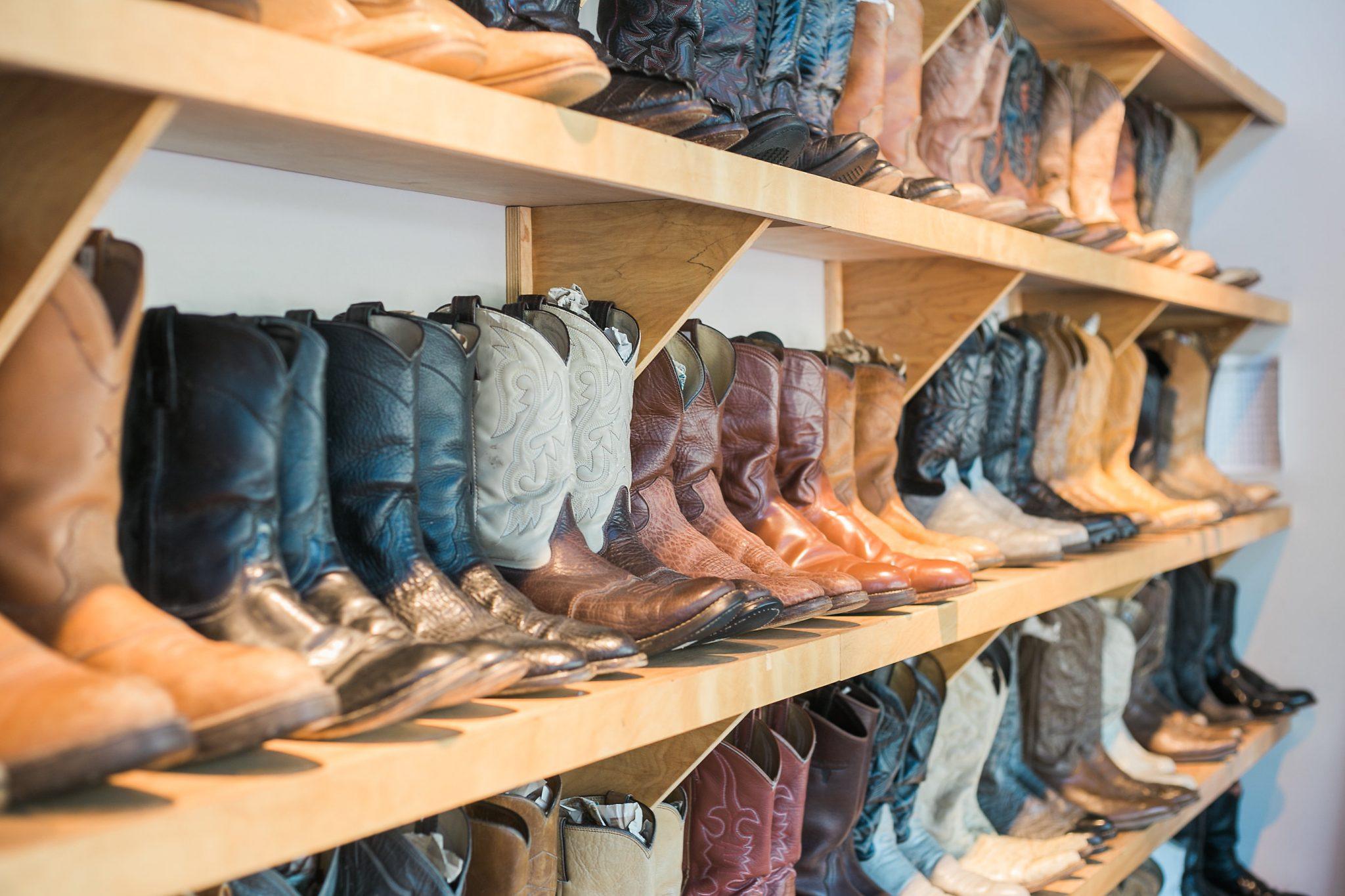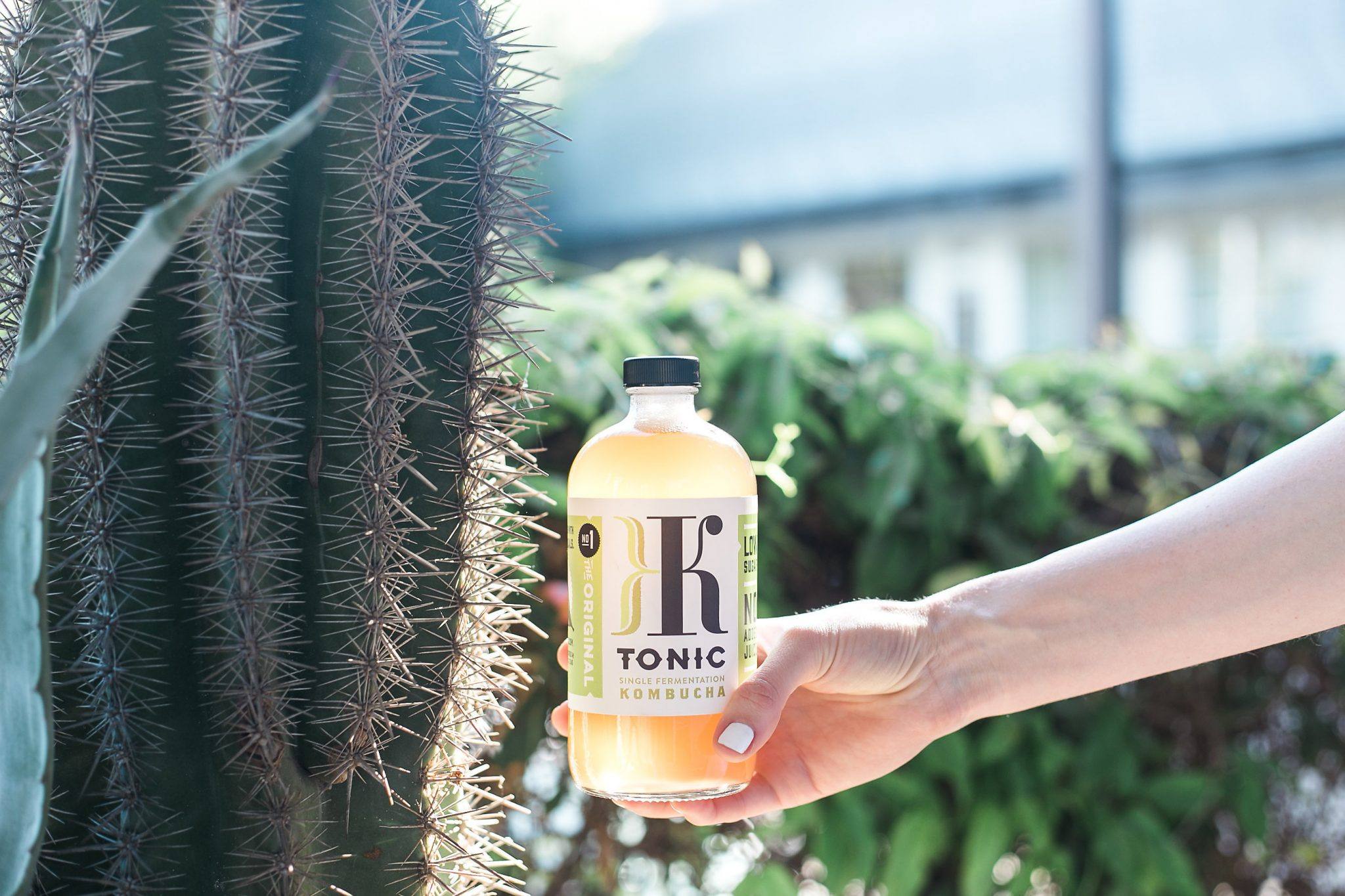 Enough with walking and shopping… We hear live music! Willing victims to the siren song, the tune lures us to
La Gloria
. A hopping, colorful spot, famous for it's interpretation of
Mexican Street Food
, this place is a don't miss in my opinion! We're sitting outside, the patrons are happy, the music is great and the drinks are cold! We even make  friends here: a few locals, an MD who travels the world competing in BBQ competitions, and a couple from the Carolinas who I'm quite positive could be my new BFFs. We eat, we drink, we relax and chat – all in great company and a lively-but-chill atmosphere. A little plus, if you travel with your pets: Like many of the establishments in Pearl, this spot is dog friendly.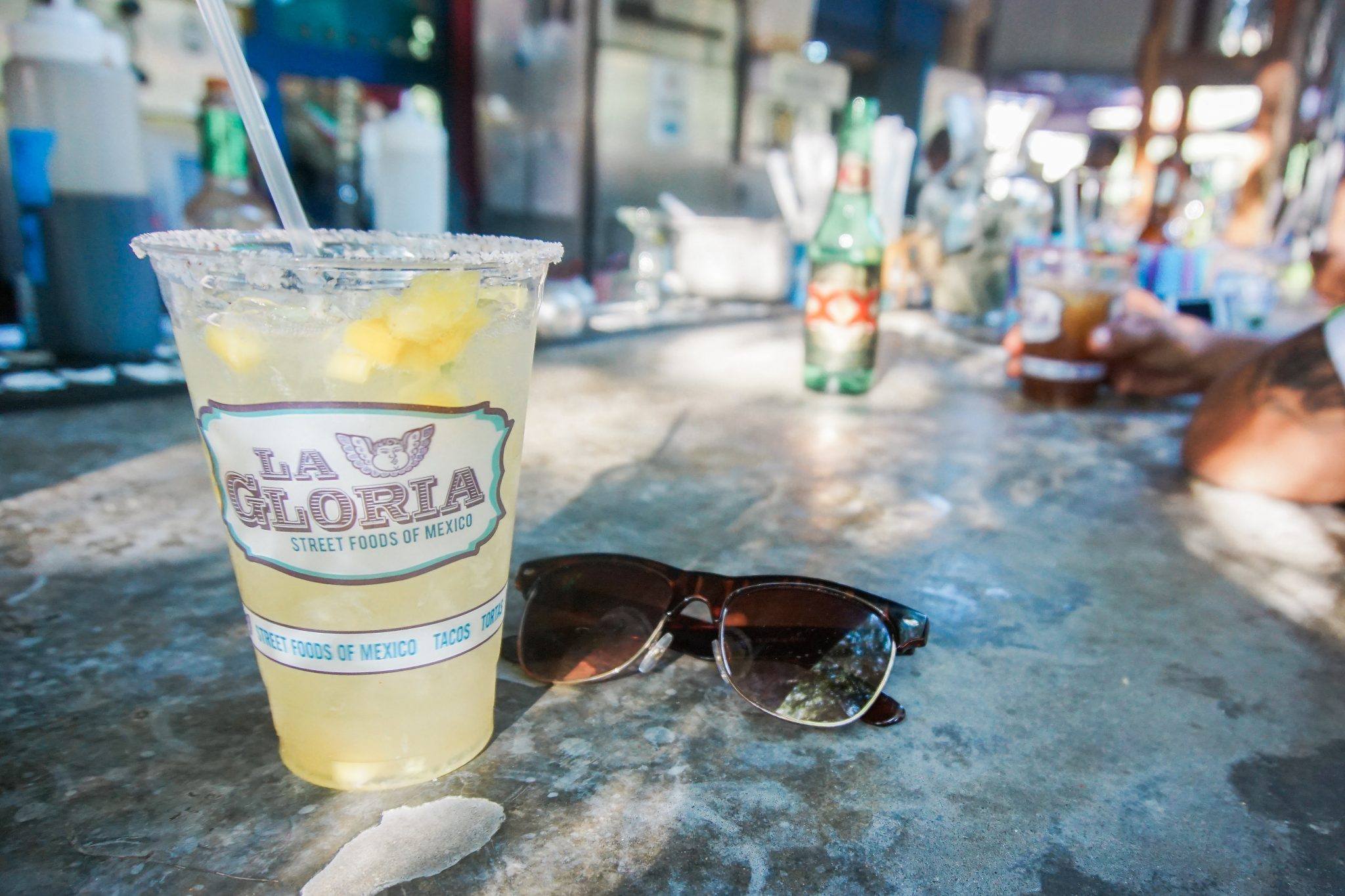 A 360 turn as far as ambience is concerned.. We head from the vibrant Mexican vibes at La Gloria to the lavish and sophisticated 
Hotel Emma
. To say this place is a stunner, is a wild understatement! The beautiful old building that once housed Pearl Brewery, is now drenched in character and charm. From the striking sitting area out front and the exposed walls inside to the bar booths situated within the old valves (once part of the brewery air system), this site is worth a visit. We stop in to visit the bar,
"Sternewirth"
– this, or dinner at one of the two restaurants, is the only way to sneak a peek at this gem if you aren't a guest of the hotel. Fun Tidbit: The bar name comes from the term
"Sternewirth Privilege"
, which apparently entitled 19th century brewery employees to free beer during their workday! This tradition was widespread amongst breweries until prohibition, but continued on at Peal until the 1990's!
A favorite spot of mine, within Hotel Emma, is the scrumptiously unique, and equally beautiful, library – the sight of it makes me giddy! The books inside were once the collection of Sherry Kafka Wagner (a bit of a a local celebrity, a historian, a cultural anthropologist and a novelist, herself!), and were acquired by the hotel to share with it's visitors. (Not so secretly, I hope my eclectic collection of books, old and new, are someday enjoyed by others as well – So, I find this gem truly charming!)
Our feet are tired but the night is young and at the suggestion of a local, we wander into
Blue Box Bar
. It's comfortable, though not overly casual, and we feel right at home. In no time we've made friends with Andy Luna – the fascinating bartender (and fiancé to last nights gorgeous lady bartender in Southtown – small world!) First thing we learn about Mr. Luna? He's crazy about Bowie. Yep, David Bowie. He's got David's face tattooed on his chest (he'll show you if you ask) and an entire Bowie-inpsired cocktail menu to prove it! Try the "Rebel Rebel", the "Diamond Dog" or even "Motor Red". Andy and T get chatting about spicy drinks and before we know it he's whipping up something special for her – it has Mezcal, lemon, agave, basil, soda and even red bell pepper in it! Every drink we have is tasty, the crowd is pleasant and the entire staff is vibrant and interesting – we've struck gold here. So, we wile the hours away until it's time to call it a night. Saying goodbye to our new friends, we head back to rest our final night in San Antonio.
It's our final morning and we're up and at it! First, we enjoy some tea and take advantage of the stunning photo opportunity that is Hotel Valencia's courtyard! It breaks my heart to admit we didn't discover this spot until our very last day. When you visit – don't make that mistake! Be sure to enjoy a cup o' joe here and relax, as the breeze passes through the leaves and the lovely blue-tile-fountain trickles serenely… (and if your friend captures a cool photo of you in your San Antonio "Fiesta" outfit? Be sure to send the snap to
ProjectPrint
to have a fabulous fashion sketch drawn!)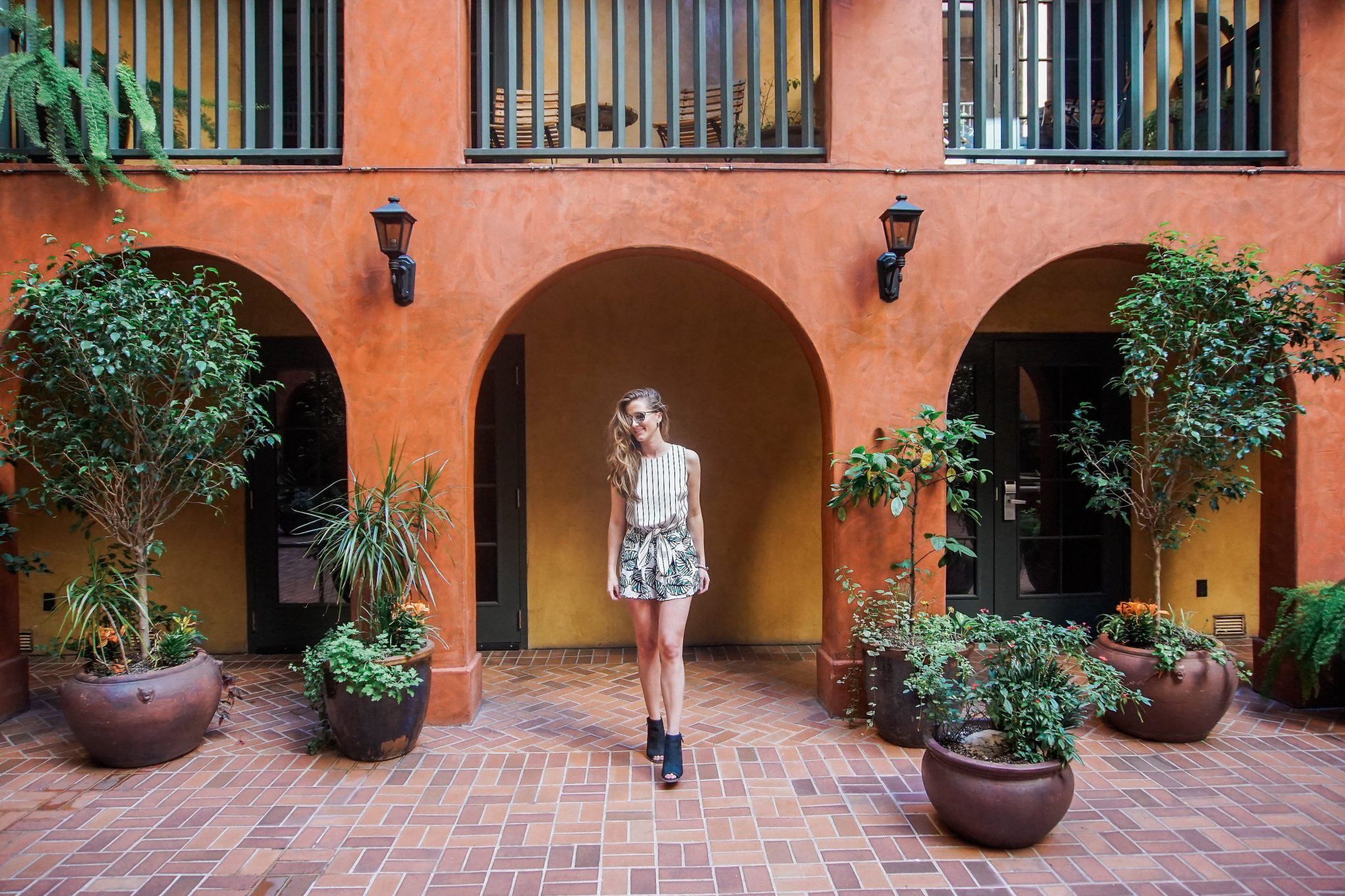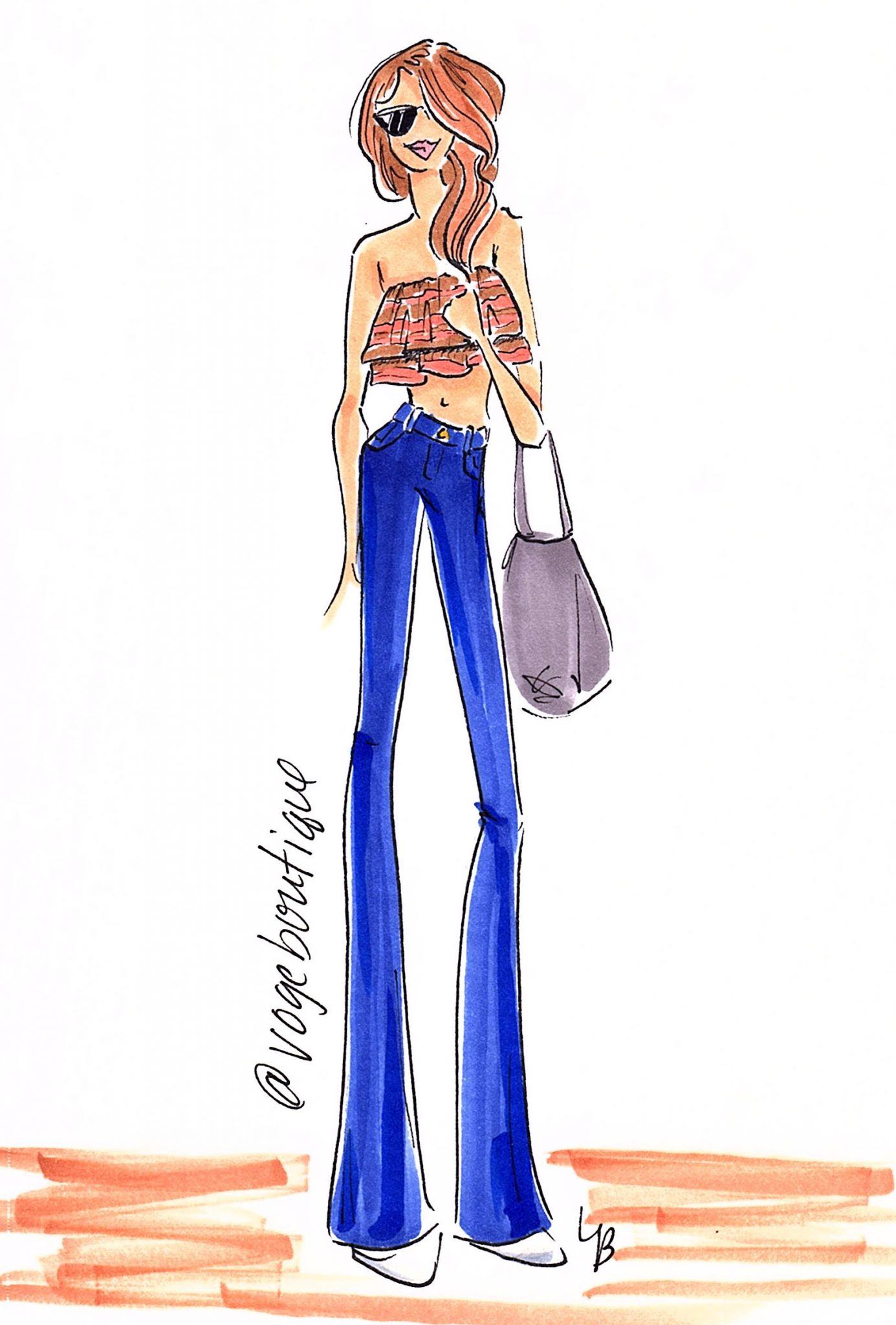 One of our last (but certainly not least) stops:
The House, Boozy Ice Cream & Brews
! Since we're here to sample, we get the chance to try a bit of everything, and bite by bite, we're getting tipsy!! Seriously – each scoop is equal to a shot, I think?! That's just insane. When you visit, don't miss the booze-infused glaze-doughnut-flavored ice cream… Or maybe do a
Mexican Hot Chocolate milkshake
! You cannot go wrong.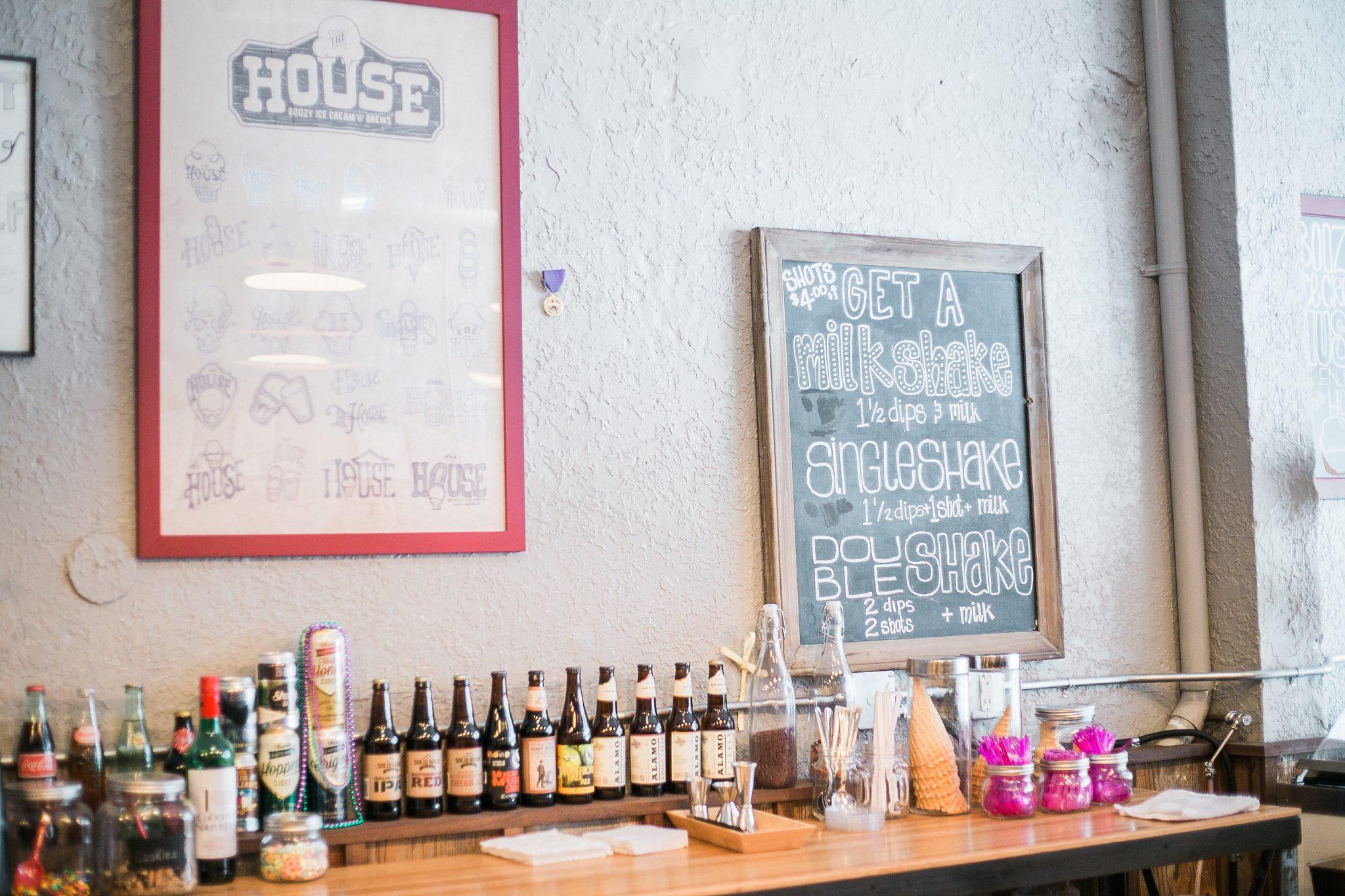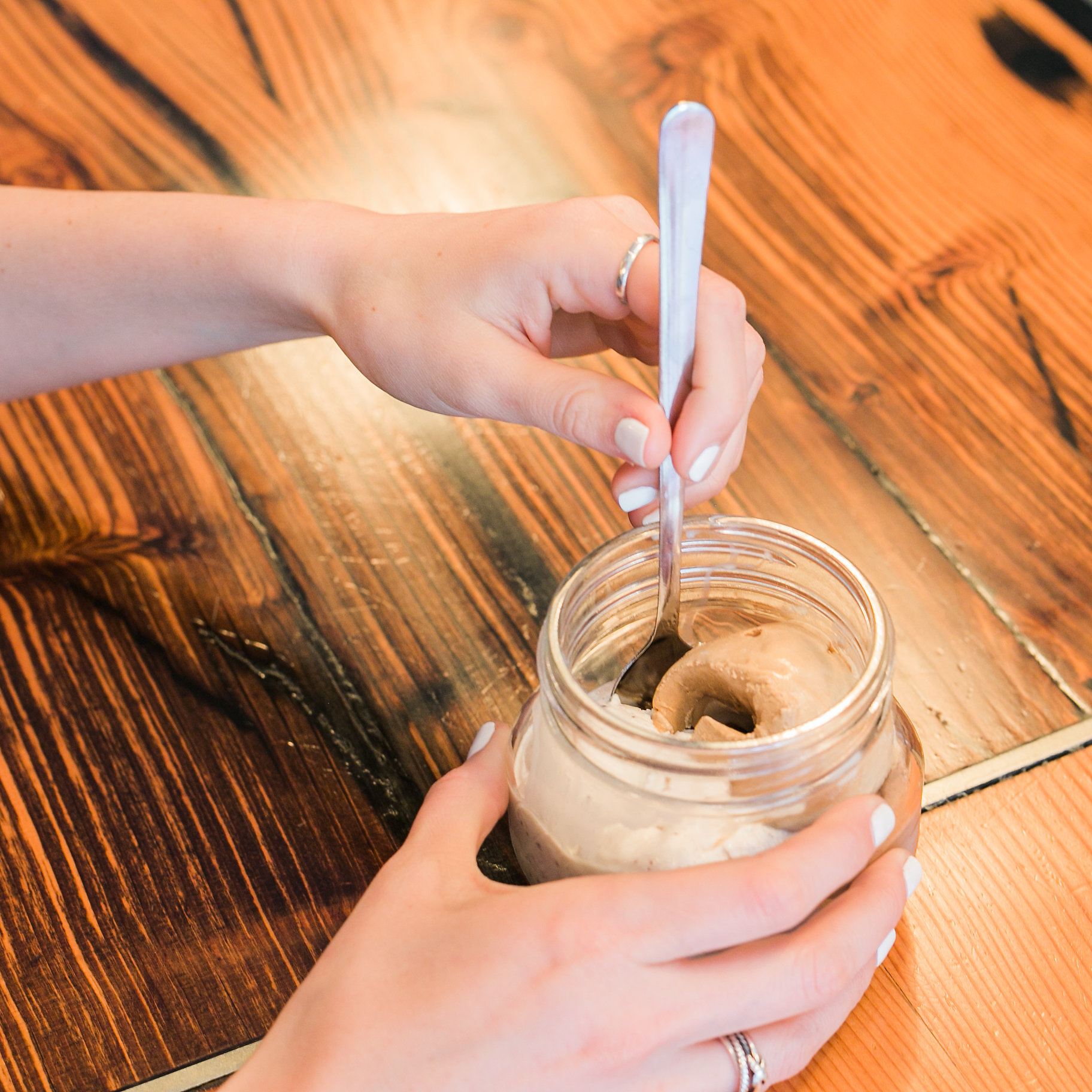 Buzzing on boozy ice cream, we hail an Uber driver and request a slow ride through the
Historic King William District
! Our plan was to bike through this area (had I been traveling with Wilhelm we surely would have chosen the horse-drawn carriage option)
but, 
as often happens when you're having fun, the time flew by too fast and we're running late for the airport. Our driver obliges and stops (for us to get great photos, of course) when we squeal with delight at the porches, gardens and architecture around this lovely area.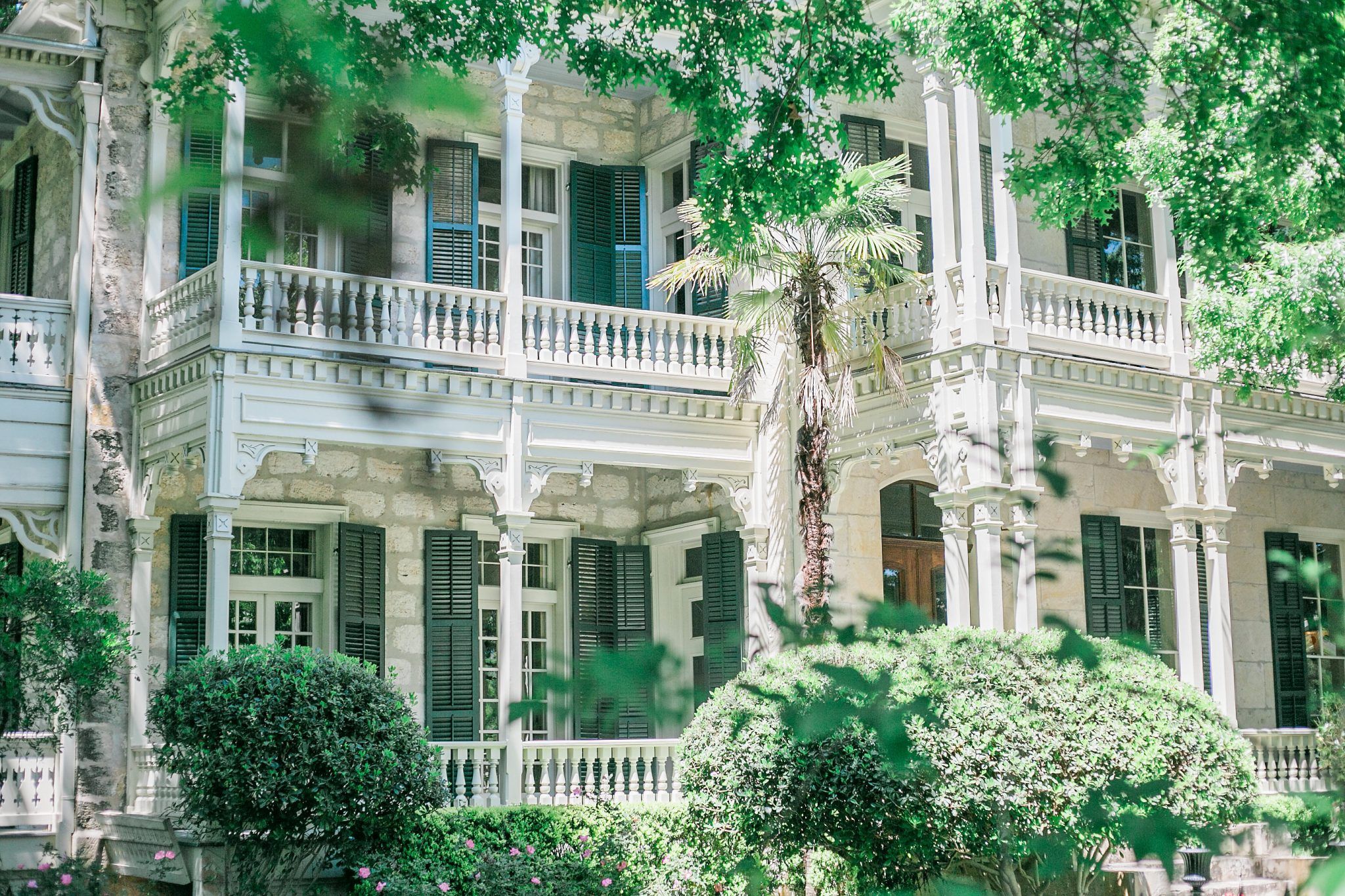 This idyllic neighborhood is filled with unique homes and TONS of charm. Due to the large number of German immigrants who settled here in the late 1800's, the area was once known as
"Sauerkraut Bend"
! An additional fact I find amusing: The area was named to honor King Wilhelm I, of Prussia (Americanized to William)… Is this only a fun fact to me, as my husband's name is Wilhelm? If so, sorry for the
not
-so-fun-fact ;)
Skipping the afternoon bicycle ride has afforded us just enough time to scarf down one last San Antonio meal, and (again, at the suggestion of a local), we're off to
Stella
. The "farm to pizza" concept is just up our alley – wood fired, fresh, locally sourced goodness? Yes. Yes, please. I'd be remiss if I didn't mention, however, that the
truffle mac & cheese
is the one thing on the menu you truly must not leave without savoring! This made for the perfect last bite of sweet San Antonio, Texas. Sadly, right here where Stella sits, is an SA gem that we missed! Thanks to our mishap though, you don't have to.
The Blue Star Arts Complex
was once a warehouse, but now hosts a collection of galleries, performance spaces and studios. (There's also a "Sushi & Champagne Bar" called
Sukeban
… If only it had been open, I may never have returned home…)
We've reached the tail end of Girls Getaway #1, ladies and gentlemen! Up next: 
Sedona, Arizona
! Where T & I will meet up with our fashion-guru,
Jessica Hall
! Stay tuned for scenic spot suggestions, fantastic food finds and relaxing recommendations for Red Rock Country!
*Photography in this post provided by Nomadic Newlyweds and Travel Part Time
*We're upfront folks: Some of the highlights on this adventure were sponsored – but, as always, all opinions expressed here are our very own :)
When my