The trend of sustainability continues to grow and expand to many industries. At Skimbaco, we are all about living life to the fullest, and because of that, we embrace sustainable, natural products whenever possible (evidence by our love for
essential oils
).  When selecting sustainable products in the fashion or  interior design realm, it does not mean you have to sacrifice style, design, or quality. Last week's launch celebration of Portico was a showcase of how design forward and sophisticated sustainable products can be. Portico celebrated their relaunch on
Bloomingdales.com
at the perfect location, a swanky apartment at 25 Bond Street which is currently on the market for $11.495M…any takers? The sleek lines and modern finishes were the perfect accompaniment for the new
Portico collections
on display.  Portico originally opened its doors in 1988 in the historic SoHo district of 1988 and quickly became a design destination. Their success in bedding and bath products resulted in a partnership with Hyatt Hotels. In 2009, the brand began to utilize sustainable fibers in their products which appealed to a more conscious clientele.
Today, their modern and luxurious collections are created as "responsible luxury," made with organic cottons and other materials that uphold the integrity of the earth. Guests were able to meander throughout the apartment while sipping cocktails courtesy of Belvedere Vodka and previewing the newest lines from Portico.
One of my favorites from the new collections on display was the
Park Avenue bedding collection
. The set of duvet and pillows was showcased in the master bedroom, giving the room a modern, refined feel. Looking at the details, the luxury and sustainability of the Portico product becomes evident. The Park Avenue collection is anchored by a duvet cover that is crafted from certified organic cotton, done in a subtle stria pattern that creates a soft ombré on the bed. Other details of the brand's earth-conscious design include pillows that are made from certified organic cotton and filled with ethically-sourced duck feathers. The patterns of the collection bring interest to the room while not being overpowering.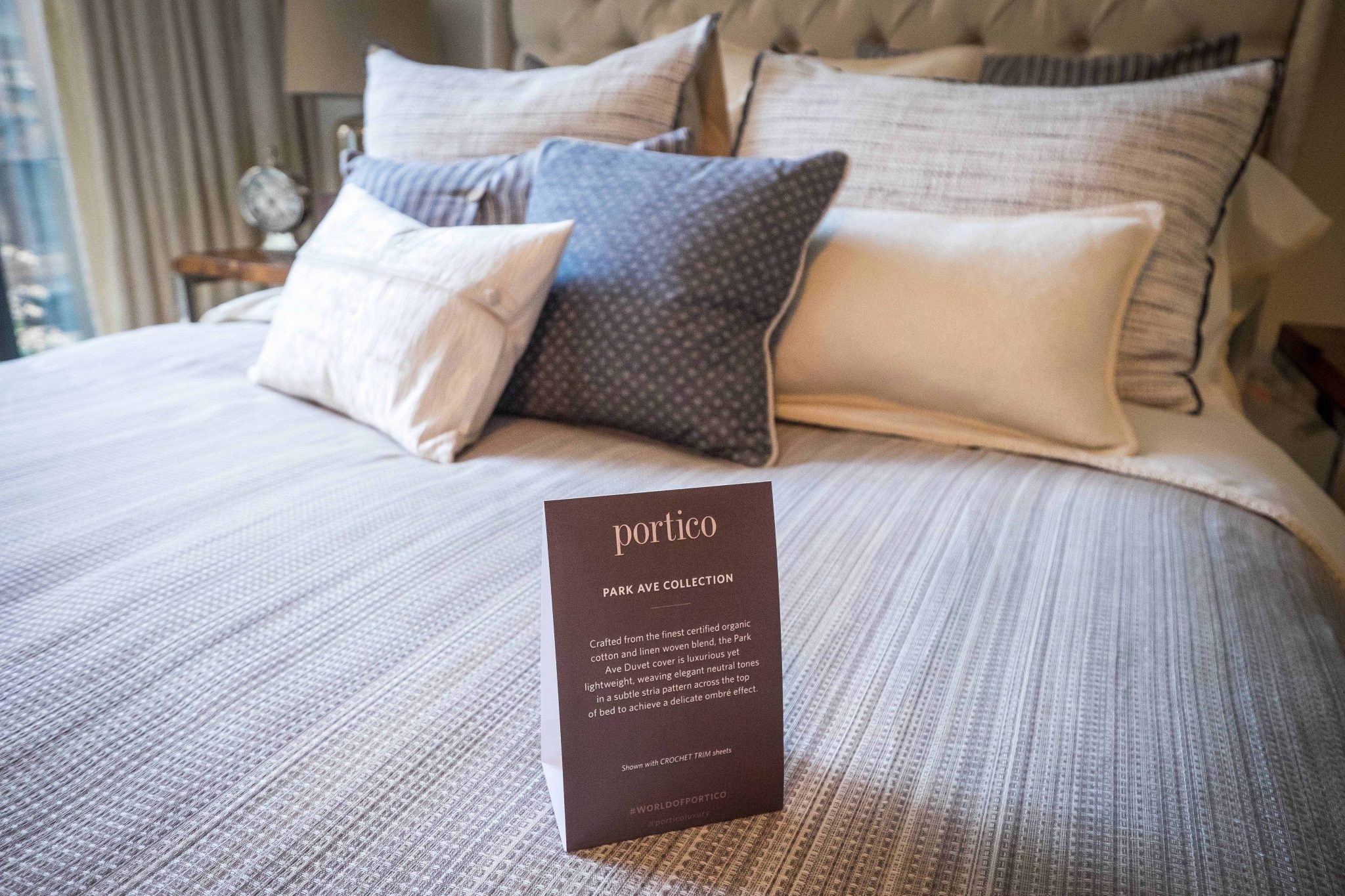 If you are looking for sustainable products to decorate your home, I encourage you to check out the newly relaunched Portico! Photos: Andrew Bisdale