7 mistakes to avoid when launching your company
post. I've been extremely lucky – I'm surrounded by brilliant business-minded people that inspire – and help me when needed. Here are tips from some of my female tribe members how to build your personal brand and showcase the real you when building your business.
Best way to market yourself: be authentic
I admit, one thing has always been very difficult to me: marketing myself. I know, it may not seem that way, because
I speak in conferences
, promote my business on social media all the time, and
I often even talk in conferences how to market yourself via social media
. Years before the
Unmarketing
book was written by Scott Stratten and Alison Stratten, I actually spoke in conferences about "non-marketing marketing". It may also not sound good as a marketing agency owner to say that marketing myself doesn't come easy.
But authenticity is the key, so I am who I am.
Like
Leanne Stewart wrote in her guest post
"I no longer force myself to be something I'm not," and I also accept myself as the type of a business person I am. I get kicks from providing value to others, so it should not be a surprise that some of my best marketing work has been when I have helped not just my business, but my community. Like when the shoes from my store were on Oprah show – and I taught bloggers about SEO so their story about the shoes would rank better. When promoting my book in 2013, I started a #IGTravelThursday-community and spoke around the world in conferences why travel brands should hire bloggers and Instagrammgers – and taught bloggers to use Instagram.
Show your smiling face
You already know our Brooke! But have you been following what all she has been doing the past couple of years? Brooke and Wilhelm moved from wedding photography to
coaching couples
and being these amazing power couples experts.
Don't be afraid to put your smiling face front and center! There's a ton of noise online these days, THE thing that sets you apart is YOU! Don't fear niching down! Find your ideal silent and then speak to them in all your messaging… that will fast track you to success.
Brooke Genn,
Love & Lifestyle Coach
. Please check Brooke's gorgeous and bold 30-day self-love/ body positivity experiment at
BrookeGenn.com
.
Create a solid brand voice for yourself
My friend Carla Birnberg just recently also did something bold – she launched the first female pleasure subscription business. Yes, you got it right – box for your "box" – and the company is actually called
Your Box Box
.
My best trait and my worst trait is I move quite swiftly from idea to execution. It's positive because I don't get mired in the paralysis by analysis phase, but I often need to put the brakes on myself before launching to be certain the brand voice is what I want to convey and consistent throughout. Person Carla was ready to launch this project pretty quickly. Brand creator Carla knew it was pivotal the voice was captured correctly and, even though I knew tweaking invariably happens (we think we know exactly who our customer is until we launch and realize the consumer base is entirely different), this takes time/decisions/refining. With this specific brand there were many terminology decisions (there are a few phrases we decided absolutely never to employ for a number of reasons. One of which being it was too much of the male gaze when our consumer is 100% women) and also tone choices (are we the experts? Are we your best friends who are simply a few steps down the path encouraging you to come along with us?) and even though I'm confident we will still circle back and tweak things – – it was a really good reminder a solid brand voice pre-launch is vitally important.
Carla Birnberg of
Your Box Box
Make sure everything you do, reflects on your brand
Meet my friend Nina Ehrsam – Nina already had a career as an event planner in Silicon Valley, but she got sick a few years ago. Determined to make other dreams happen, she just recently became a wedding planner, and she is already making a name of herself. She has worked with a famous wedding planner Kevin Lee, and for example was in a team planning Quentin Tarantino's wedding last August.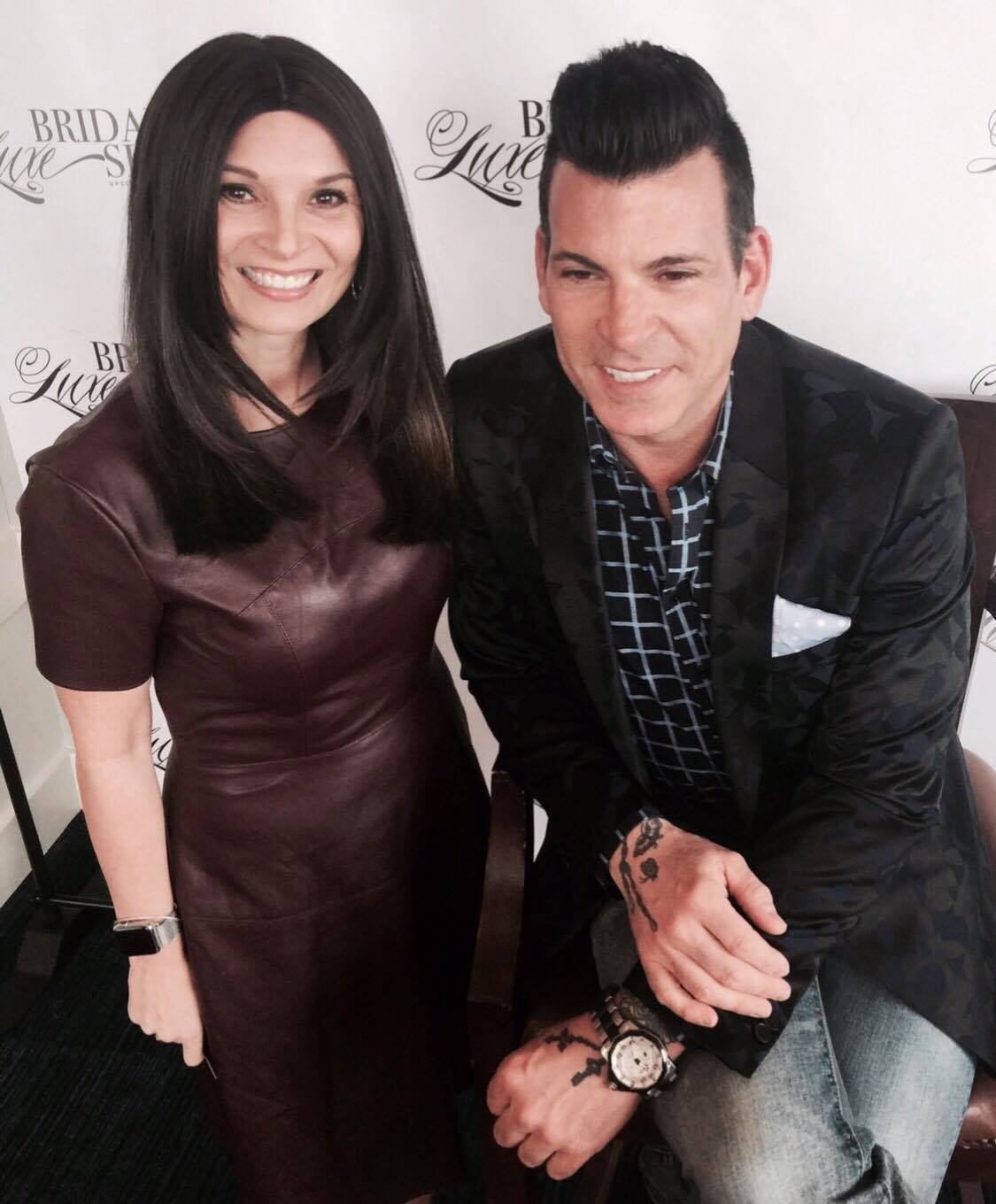 (Nina pictured with the most famous wedding planner of the US, David Tutera.)
Wedding and event industry is very much people business, hence the brand that you create, should define you, your style, and who your clients are. Your brand is your reputation and it's everything in this business. To create a cohesive brand around your business, you should do your market research, determine who your client is and how you define your business (even more important if your business is a niche business, like destination weddings). Make sure all your marketing material reflect your branding as well (colors, style, logo) and gives a cohesive look. Create a message for clients, who are you and why do you exist? In order to be recognized and reach your target market, bringing these aspects together are the essence of your business. Make sure your social media reflects this as well.
Nina Ehrsam, Wedding &a Corporate Event Planner Follow Nina on her Instagram account
@worldismygem
.
Keep your emotions on check
Last but not least – hear from our own Leigh Hines! Leigh is still blogging at
Hines Sight Blog
, and she runs the Out About North Carolina social media community.
"Don't be afraid to put your personality behind your brand. However, always be careful about your own emotions on social media. When reading a social media post or criticism, we sometimes want to react and our first reaction may not put our best foot forward for our brand. It is important to always think before you post and ask yourself if your post will put your personal brand in the best light or could your social media post be taken out of context or cause unwanted controversy. If you have any hesitation after you ask yourself those questions then you may want to rethink what you are posting."
Leigh Powell Hines, founder of OutaboutNC social media community and of course
Hines Sight Blog
.
Summary: 9 tips for personal branding.
1. Build a community of like-minded people. 2. Be authentically you. 3. Provide value to others. 4. Share your knowledge. 5. Niche down, and really define your business. 6. Your brand is your reputation. Don't ruin it. 7. Do your market research. 8. Create a cohesive brand look, and stick to your brand. 9. Be careful with your emotions, don't take business too personally. Now – share these tips with YOUR female boss lady tribe![/vc_column_text][/vc_column][/vc_row]
[vc_row][vc_column][vc_column_text]Happy International Women's Day! I hope you are celebrating it with your boss lady tribe – I am with mine! It's takes a village to run your business, and getting a good tribe around you to help is vital for your success, like mentioned in my