Yes, it's vegan.
We decided test Pulled Oats, and see if this trendy Finnish food item really is ready to take over the USA.
Matt grew up in Austin, Texas. It shows in our dinner table in a way that we eat Tex-Mex at least once or twice a week. Texas BBQ however is something we might cook only once a year, usually on 4th of July, but we haven't even owned a BBQ grill for a few years. We decided to mix Finnish ingredients, Pulled Oats, and make a vegan dish that even Texans might go for. We mixed the Pulled Oats with Orange Ginger Coleslaw and baked sweet potato with a crème fraiche sauce. It's juicy and spice-loving texture is perfect for frying, and it's the perfect ingredient for all the meals you love. Pulled Oats® are all vegan and pack more muscle-building protein than any (yup, any!) meat product on the planet. It's good for you, good for "foodkind," and good for the whole world.
The real kicker here: this is a vegan dish. Hellmann's makes a vegan mayo (for the coleslaw), Sweet Baby Ray's BBQ sauce is vegan, and Oatly makes a vegan crème fraiche.
The verdict: it does not replace Texas BBQ pulled pork sandwich, but since we don't eat that much meat anymore anyways, we don't make pulled pork sandwiches anymore at all. So to have this kind of a substitute – brilliant.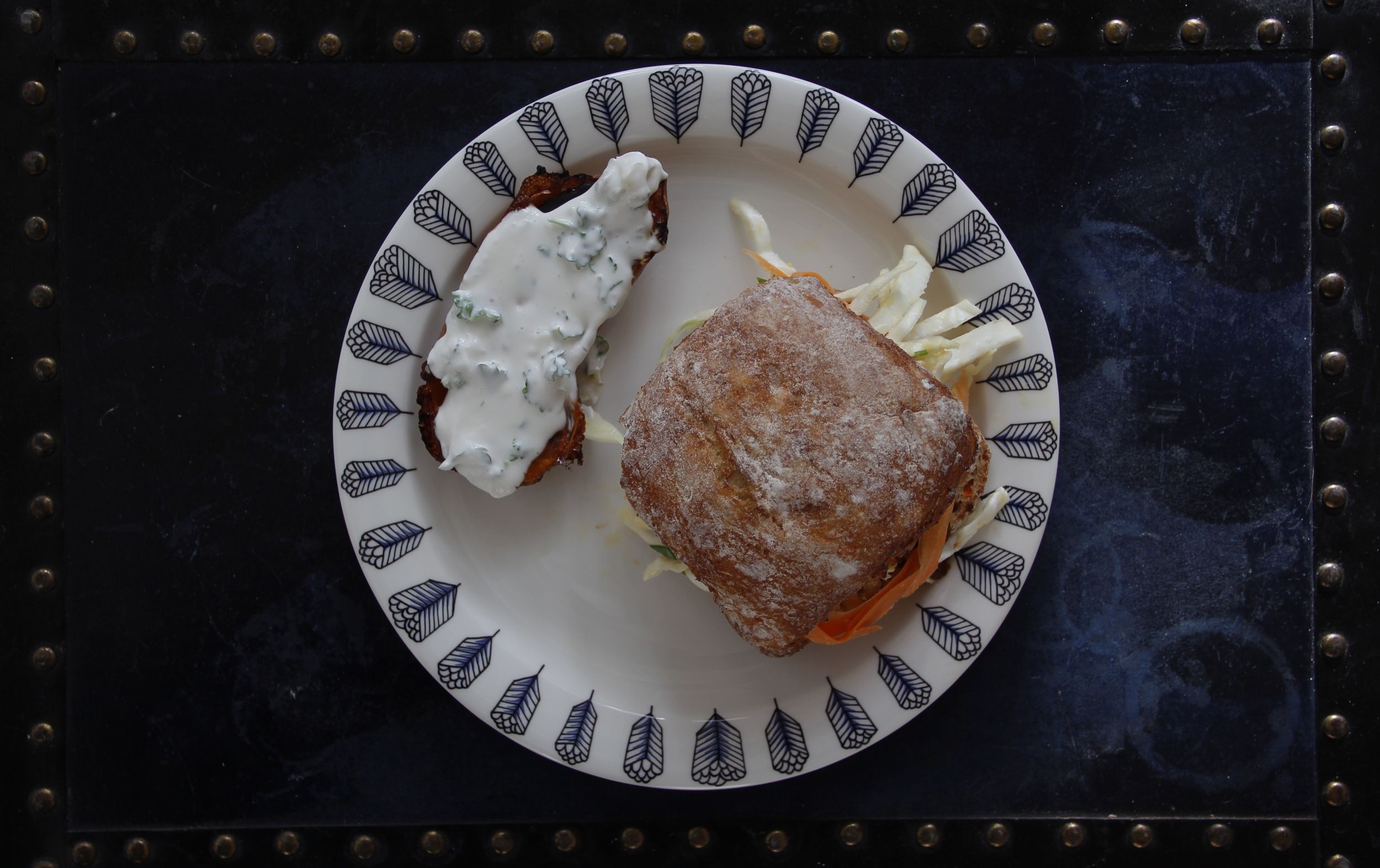 Vegan Orange Ginger Coleslaw
Chop all these really fine:
1/3 cabbage
2 carrots
small cube of fresh ginger
1 small onion
1 orange
Spring onions
Fresh cilantro
Tip: use a potato peeler for the carrots, you can make really nice thin slices of carrot and makes the coleslaw nice and moist.
Mix all these:
2 tbsp apple cider vinegar
orange juice of one orange
3 tbs Vegan Mayo
Dash of salt and pepper
Dash of Cumin seeds
Mix the chopped veggies with the mixed liquids well, and your super fresh coleslaw is ready.
Vegan BBQ Pulled Oats
Mix all of this:
1tbsp apple cider vinegar
1/3 cup apple juice
Orange slices juice
1 tbsp olive oil
1 tbsp ketchup
1/2 a Sweet Baby Ray's container barbecue sauce
1 container of Pulled Oats
Let the Pulled Oats soak in the liquids for 10-15 minutes or so, and then cook on a pan for another 10-15 minutes until soft and the excess liquids have soaked in/evaporated. Serve inside a fresh bun with the orange ginger coleslaw.
Vegan orange crème fraiche sauce for Sweet Potato
2/3 Oatly crème fraiche
Juice of 1/2 orange squeezed
Parsley chopped
One clove garlic minced small
Squeeze orange juice, chop parsley and mince the garlic and mix with Oatly crème fraiche
Baked Sweet Potato
Cut sweet potato in half, pour some olive oil on a baking sheet covered with a baking paper and place the sweet potato half face down on the baking pan.
Cook 30 minutes on 300F/175C. Serve with the sauce.
YUM.