The Art Exhibition is Held During Pride Month in Helsinki
We are excited to announce Gabriella Presnal's first art exhibition!
The exhibition will be held at the Utua brand store at Aleksanterinkatu 36, Helsinki during 19th of June until 2nd of July.
The Utua brand store in Helsinki is on the main shopping street in downtown Helsinki, along the Pride parade's route. Pride parade will be on 29th of June, and last year it was estimated over 100,000 people attended. Utua makes artisan high quality leather handbags in an environmentally friendly way. We like their commitment to sustainability, and their small batch production – each bag is like a piece of art. Read more what Gabriella has to say why this exhibition means so much to her. We hope you will come and check out the art exhibition, and support Gabriella!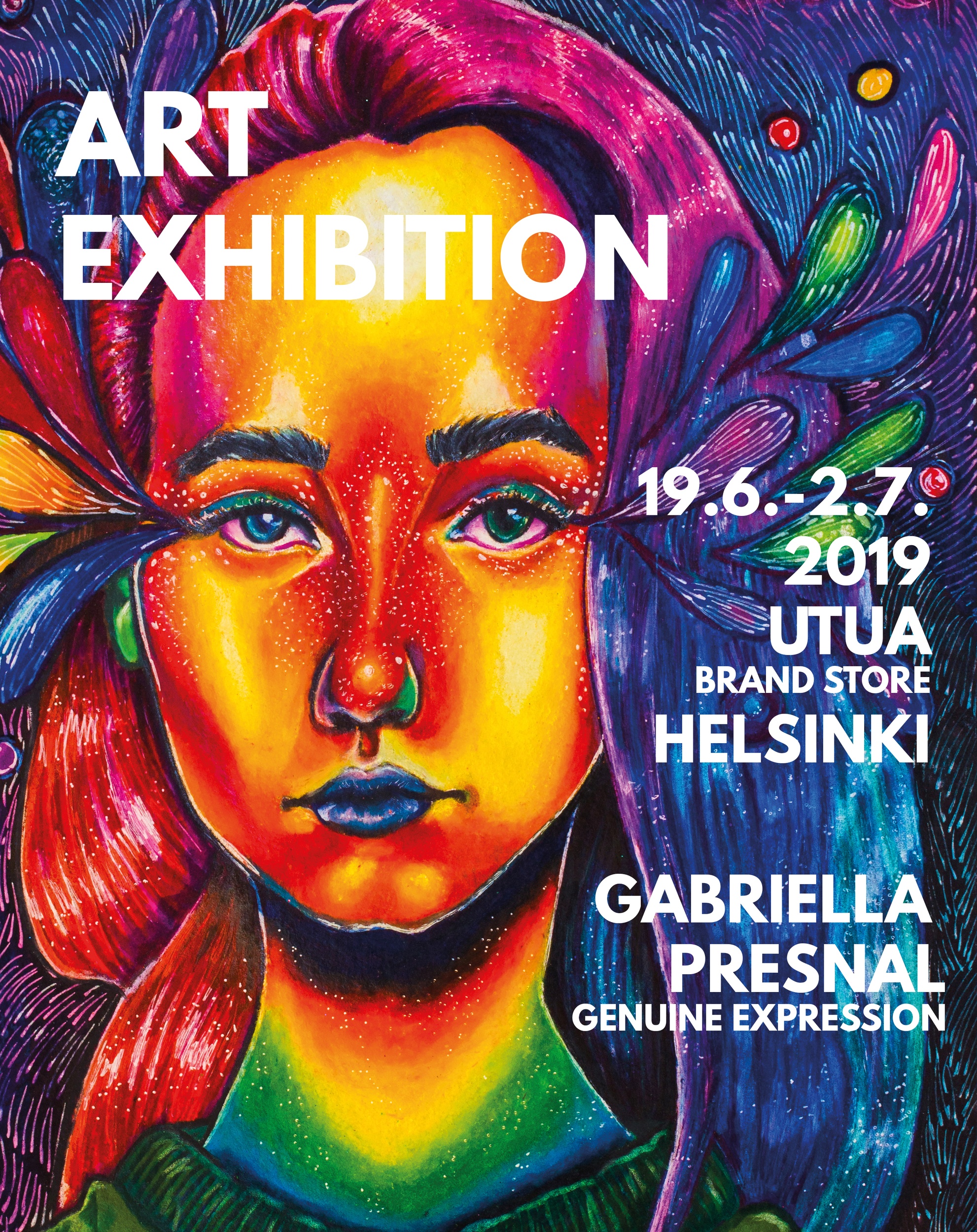 Connect with Gabriella on Instagram:
@GabriellaPresnal
art account
@safezone4all
social activism account
About the Exhibition by the Artist
Hello, my name is Gabriella Presnal and I am seventeen years old. I am a Finnish-American currently living in Finland. This is the fifth country, and the ninth place I've lived. I have mostly lived in the US, but I have also lived in Sweden, Canada, and I was born in Germany. I am very privileged as to not have faced extreme forms of bigotry and exclusion compared to others in the LGBTQIA+ community. However, Pride month and Pride week stands to remind us is how queer people and the LGBTQIA+ community have been oppressed all over the world, including Finland. It is during this time that we must commemorate how pride month began, and who it was catalyzed by, and why LGBTQIA+ pride has to be sustained.
The Message
For the context of my art and the Genuine Expression Exhibition, my perspectives on global political issues like gender equality and LGBTQIA+ rights do come from a more privileged point of view. For my works that surround the community and our different expressions I do not claim to know their experiences, for instance I am not claiming to know the experience of a Black trans woman in the US, but because this exhibition is surrounding queer people and the depth of our community, I cannot exclude groups or experiences. It would be wrong to paint our community as made up of a monolith like white and gay, or binary, i.e. only women and men. This exhibition stands as a reminder for people to acknowledge and support queer people in all shapes and forms. I want to emphasize, that even within queer spaces, there is no one way to look or be queer or LGBTQIA+. A lot of people have one interpretation of looking at trans or gay people but this project is aiming to say that queer people will continue to be ourselves, regardless of anything arguing otherwise. My primary inspiration for these portraits is the community and other queer artists and queer activists, primarily from the US, but from all over the world. Like
Chella Man
,
Adam Eli
,
Blair Imani
,
Daniel Arzola
, and many others. I wanted to emphasize that the queer identity is not only affected by the intersections of our identities but how we understand ourselves and those identities both separately and combined.
About the Art Medium
The most common medium in this exhibition is a series of drawings. I used markers, colored pencils & gel pens. This is the most common medium as it is my main medium and I have worked with drawings the most. I also made a few acrylic paintings and collages. They all take on similar messages but the medium emphasizes it in different ways. For instance, the collages highlight that the community is made up of a lot of different individuals and not just one or a couple persons. The pieces are fitting for Utua as they centered around expression, show wide range of colors, and unique personalities.