House of Parvi
served an elegant perspective on sustainable fashion at the
Helsinki Fashion Week
. The brand, created by the visionary partnership of Parvi Chadha and Mridul Jacob, showed how you can craft beautiful garments with a commitment to luxury with a conscience. Just wait until you hear about their fabrics. House of Parvi's founder Parvi Chadha, heir to a legacy of bespoke clothing, ventured into the world of fashion business management after her graduation. Driven by her passion for both sustainability and fashion, she joined forces with Mridul Jacob, an esteemed designer renowned for his expertise in bespoke menswear and a shared dedication to eco-conscious fashion. Mridul Jacob's impressive accolades, including winning the prestigious Will's Lifestyle "The Debut" Award at the India Fashion Week. Raised in the United Arab Emirates, he brings a unique blend of luxury and finesse to the brand. Both Parvi and Mridul are alumni of the prestigious Pearl Academy in collaboration with Nottingham Trent University, UK. Together, they have crafted a brand that embodies their vision of seamlessly marrying luxury and sustainability, delivering exceptional fashion with a conscience.
The Art of Sustainable Elegance & Fabrics 
House of Parvi's collection at Helsinki Fashion Week was elegant, flowy, well-crafted, and ready-to-wear. The collection succeeded in both: having pieces with beautiful artistic prints that looked hand-printed, but minimal with simple cuts. The collection included silky shirts, stoles, series of flowing scarf-like summer dresses, each designed with precision to show impeccable tailoring. The prints were inspired by nature and looked like they were painted by watercolors.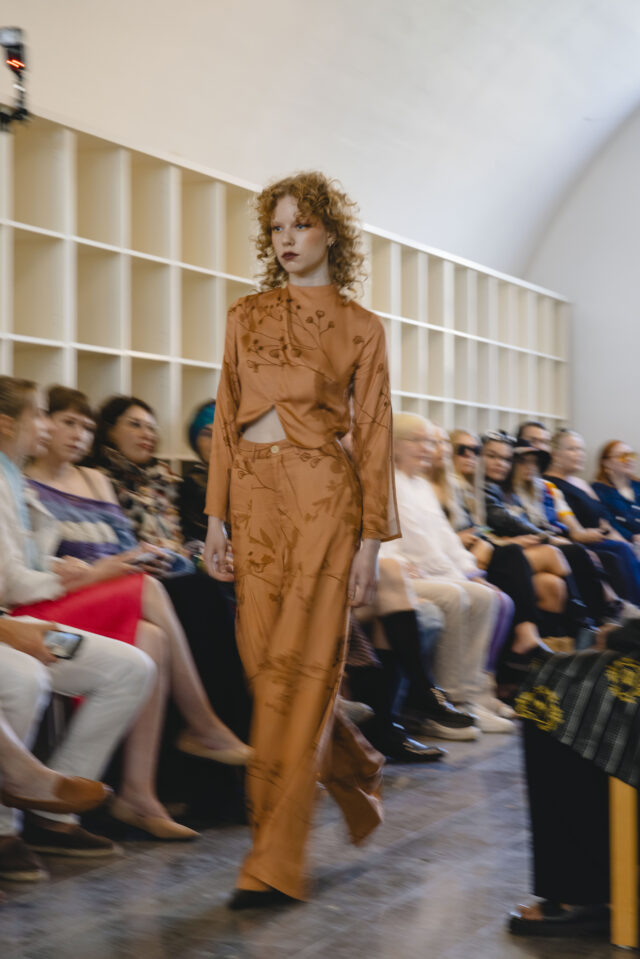 At first look, the material looked like luxurious silk, but it was rose petal fiber. Yes, you read that right. The rose petal fiber is extracted from the natural waste of rose petals and then processed to create a luxurious and soft spinning fiber. In addition to rose petal fiber, House of Parvi uses aloe vera, and lotus stem as fabric materials. The aloe vera fiber sounds amazing, it's breathable, wicks moisture, and it's wrinkle-resistant and good for your skin. The fabric is antibacterial and anti-allergenic and also cools during the warm days and warms during the cool temperatures. These natural fabrics are sustainable, eco-friendly, and biodegradable.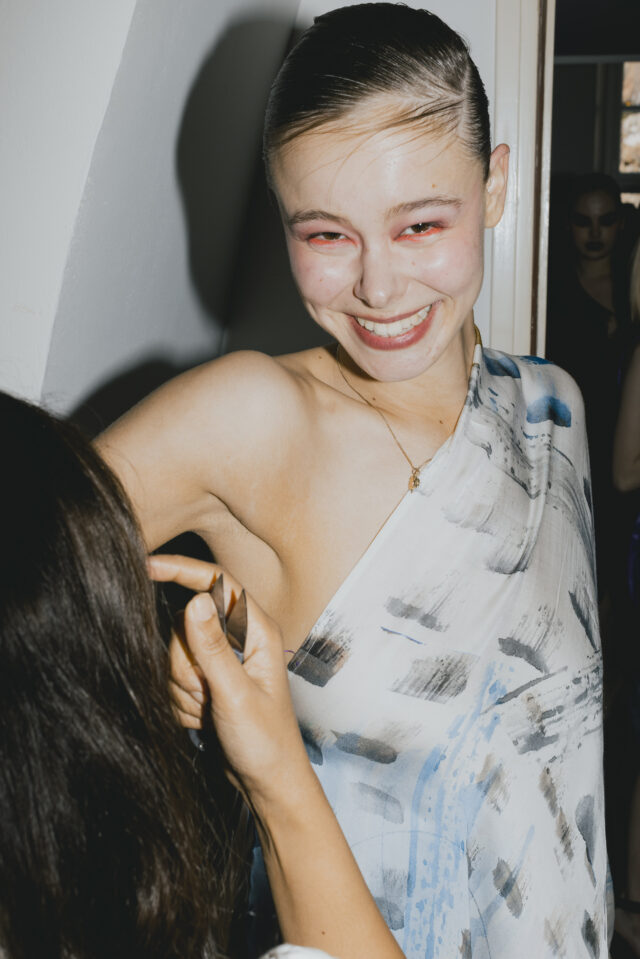 Photography: Fashion photographer Kristian Presnal