It's been yet another amazing week in Durango. The week started with sunshine, and it felt like spring was already here. Luckily the temperature kept going back down, saving the snow from melting. Thursday we started getting some new snow, it's all good now.
Fresh powder, perfect temperature, just in the low 30's.
I was skiing with the boys on Thursday, and me, Matt and Kris ate lunch at the 10,000 feet on our ski break. Then the snow really started coming down, and we had half of a foot fresh snow on the top of our skis. I was so proud of Kris – he did so good in the powder snow. I think I'm really going to miss these "just three of us" days when he goes to Kindergarten this fall. On the other hand I can't wait that mommy and daddy can just drop the kids off at school and go and ski together the whole day.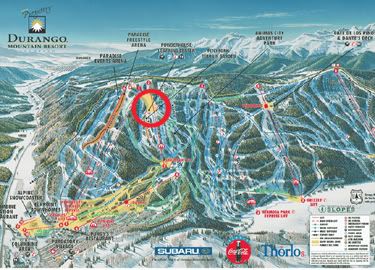 The trail map – see the red dot – that's our lunch restaurant, not bad, huh?
There is a ski bike festival at the resort this weekend, and we'll try to see some ski biking and ski with all three kids on both days, Saturday and Sunday. I can't wait!
PS. It's not just all sunshine here in Durango… there was a
huge fire
downtown today. It's so sad – old buildings getting destroyed.