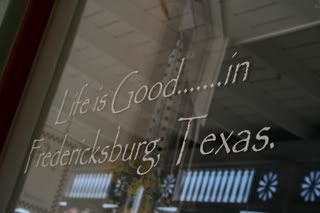 I woke up at six o'clock this morning, trying to get some work done, before hitting the road again. By nine thirty I had three kids and a husband starving for breakfast and separating me from my laptop – to get some day old muffins and nasty eggs from the "free international breakfast buffet" the hotel offered. Damn, made me miss the European hotel breakfasts with fresh homemade style butter, just baked warm rolls, homemade jelly and… never mind. We weren't in Germany, we were in Vanhorn, Texas, and spent the night in one of their three hotels, so the choices for quality breakfast were non-existent.
And then we were on the road again. And
Alvin and the Chipmunks
was on the backseat DVD-player again, and yesterday evening's tantrums were all forgotten. But I had to bring "might cancel SeaWorld" up before all the peace was achieved.
The morning was l o o o o n g.
The positive thing about driving in West Texas today was seeing the hundreads of windmills. Yes, Texas ain't just oil wells anymore – the rolling hills and the plain prairies are now ecologically in much better use.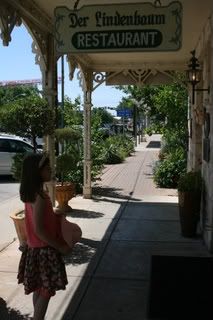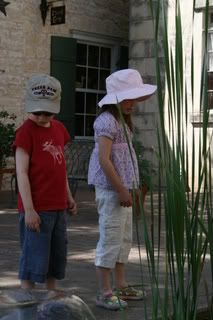 We were determined to get to
Fredericksburg
by lunch time, and eat some Wiener Schnitzels and German chocolate cake. Fredericksburgh is a small town, about an hour and half West from Austin. It was founded by German settlers in 1846, and the German culture is still very visible today. Well, especially today. Today is Wednesday, and like in Germany – many shops and restaurants were closed in Fredericksburgh too.
Yes, we were looking for authentic German culture, after all that's were me and Matt met and honeymooned for three years, and Gaby was even born there. But we were very dissappointed that some of the bakeries, the shops, the cafes and restaurants were closed.
We ate at
Der Lindernbaum
– and it was just like in Germany. The place didn't have airconditioning, and we were so hot in the 100F weather (we are not used to). The windows had white lace curtains, and little side tables had German steinware, walls had paintings of German country side. The waitress spoke English with an accent, but I couldn't practice my German – most of the staff was speaking Spanish to each others.
The food. Like in Germany. It was past three o'clock when we finally got our table, and we were starving, so we ordered a good sampling, a few Jäger Schnitzels, one Wiener Schnitzel and the Knackwurst sampler for all of us to share, of course with some red cabbage and Sauerkraut. It was so good, that I didn't even have any space left for the German chocolate cake I had been dreaming of since last night. That's good, since the bakeries were closed anyway.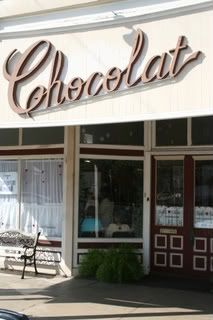 We walked in Fredericksburgh, visited some little shops, kids had some Blue Bell ice cream (oh, I've missed you old friend, will have some later this week), and we packed ourselves in the car again. Before heading to Austin, we bought some fresh peaches from one of many peach farmers in the outskirts of town. Fredericksburgh is famous not just for German culture, but also for their peaches.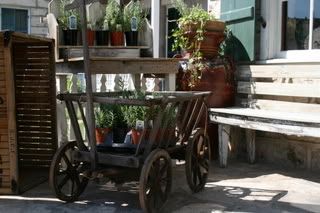 Outside of town was also a
winery
my husband's parents used to own when he was just a little boy. I wish we had had time to visit, but maybe next time, and just two of us. Fredericksburgh had so many wine tasting bars and bistros, and wineries around the town – some day me and Matt will visit again and enjoy our time just two of us.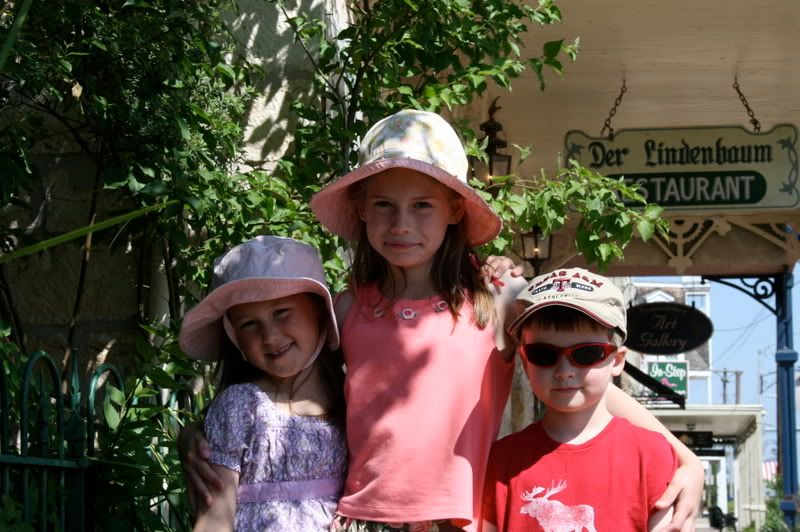 The drive to Austin went by fast – and kids finally were worn out. After 30 hours since we had left home – all three kids were finally asleep at the backseat.
Bliss.
And then we arrived to our destination.
Austin, Texas. The capitol of like a whole other country.