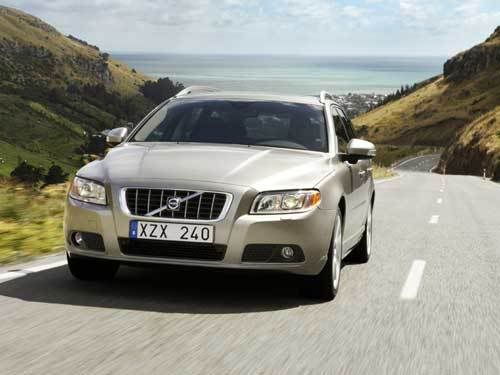 Even though the gas prices are high, our nation just loves road tripping, and there is no question about it – the highways will be full of vacationers this summer too. Our family has done quite a few long road trips. We have driven to Orlando, Florida to visit Mickey Mouse and seen Niagara Falls on the Canadian side. We've driven the coast from Florida to Texas, and seen the scenes of old route 66. We've been to Cape Cod and driven the mountain roads of Colorado. Not to even mention that we've cruised on the Autobahns of Germany and on our latest trip to Europe we actually bought a car from Sweden.
We are a road trip family.
While we recently drove from Colorado to Texas, and it qualified for a long road trip, it was just a warm up of our Long Road Trip this summer. We will drive from Colorado to New York later this summer.
With the previous experiences, and planning on the crazy long upcoming road trip, here are our best product picks for long road trips. Good luck on your family road trip!
1. Reliable car with low gas consumption
While SUVs and mini vans offer great seating comfort and space for luggage, the smaller cars are more fuel efficient and this will have a huge impact on your road trip travel budget. While our Volvo V70 offers about 26 MPG, and it's not the most fuel efficient car out there, it offers among the best safety features in the cars in it's class. Starting at 33,000$.
2-4. Portable DVD player with right accessories
2. To keep backseat passangers happy a portable DVD player is a must have.
Sony 8-Inch Portable DVD Player
(179.99$) has received great reviews, and it has up to 6 hours of battery life with excellent picture quality.
3. Don't forget the
Portable DVD Player Case
(32.99$), this one lets you to attach the DVD player to the front seat for easy watching. This case has built in headphone Jack and provides a sturdy carrying case for the player.
4.To keep the front seat passangers from hearing the movie and the backseat riders enjoying the movie, I recommend getting enough
headphones
(4.99$) to each movie watcher.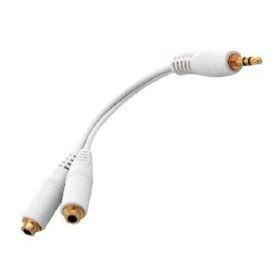 5. If you have more headphones than headphone plug ins in the player, you will also need a
headphone splitter
(5.57$).
6. Movies on the go
Get into the mood with these new and classic road trip movies.
7. Portable Cooler / Car Refridgerator
When you want to get to the destination fast, having a good amount of snacks is always a good idea. This way you won't be tempted to stop and eat in unhealthy fast food joints either. You can plug the
Wagan 15 Liter Hot / Cold Personal Fridge
to the cigarette lighter socket and keep your snacks and drinks cool the whole drive. You can also purchase an adapter to plug and use the fridge indoors.
8. GPS Navigator
You will save time, gas and energy when you don't get lost and make unneccessary U-turns. Driving in a new city or in the country side in the middle of nowhere also becomes a whole lot safer when you know that you will find your way out. If your car doesn't come with a GPS navigator, I recommend getting one. One of the top selling brands is
Garmin
(156.94$) pictured above. It is easy to use, small in size and works well. And in case you do is a turn, it automatically re-calculates and gives you a new route to get to your destination.
9. First Aid Kit
You know how they say when you bring your umbrella, it never rains. Be prepared and have an emergency kit in your car.
Adventure Medical Kits Savvy Traveler Kit
(50$) will give you needed security in your mind, and help if needed.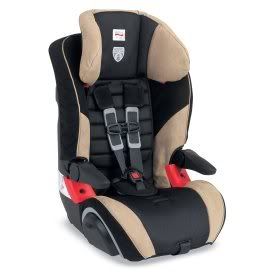 10. Safety Seats
You should never drive if your children are not buckled up in safety seats. Our family's favorite car seats are made by Maxi-Cosi and Britax, both high European quality. The
Britax Frontier Booster Car Seat
(249.99$) is comfortable and safe, and especially focuses on the side-impact safety. Our 5 year old loves it.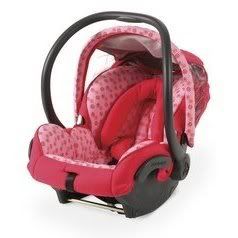 When we had babies, we loved our
Maxi-Cosi Mico Infant Car Seat
(169.95$)
11. Sun shades
If you have a little one in a car seat, and your car seat doesn't come with the sun shade like the Maxi-Cosi does, the handy
Protect-A-Bub UPF+50 Car Seat Sunshade
(34.99$) keeps your baby or toddler shaded and protected from the sun. The window shades are great, but this will keep the sun and heat away much more effectively.
12. Travel Crib
It's always nice to have your own travel bed for your baby, just in case your hotel doesn't have one – I always used my own for sanitary reasons.
The Air Crib
(107.94$) just came in the market last year, and it is a wonderful alternative for more traditional portable cribs. It weighs only 8 pounds and storages in much smaller space, and the best: you can set it up under one minute! Talk about convenience after the whole day of driving!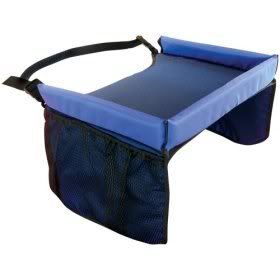 13. Travel Tray
This
Star Kids Snack & Play Travel Tray
(19.99$) is a great for active tot. The tray is made of soft material and is safe to use in the car. The side pockets provide lots of storage for toys and activities. The side panels keep the toys from sliding out of reach.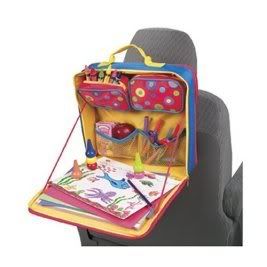 14. Car organizer
Keep your car organized with CD folders, DVD folders and for kids' toys – the
car valet by Alex
isn't just functional but also fun!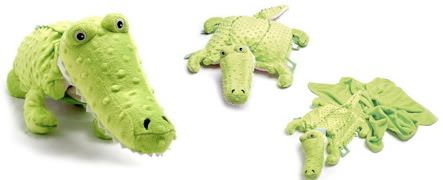 15. Zoobie pet – pillow, toy and blanket in one!
Most kids sleep in car, and giving them a pillow and a blanket for the drive will make them want to get cozy and take a nap. Zoobie pet is a great new product that provides a toy, pillow and blanket, all in one! Your child can choose from several different animals, my favorite is
Kojo the Crocodile
(25.49$).

16. Car sickness clean up set – the YakPack
YakPack
(8$) is a spill clean up kit for including motion sickness bag and absorbent lap pad to protect surfaces, scoop, odor neutralizer, wipes, heavy duty dry cloth, gloves and everything else you can think of needed to clean up a yucky mess in your car. Everything comes in a small bag fitting in your glove box. All this for eight bucks, but when accident happens, this YakPack feels priceless.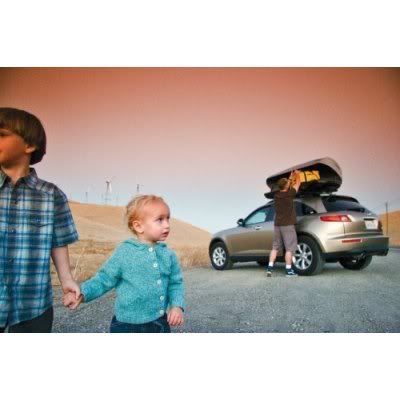 17. Top box for added storage for luggage
There are several types of top boxes available. We have a wide but short box covering most of the top. This
Thule top box
(539$) is narrow and long – leaving space on the other side for skis, bike, kayak etc. sporting equipment.
18. Good Map
Even if you have a fancy GPS System, don't forget your map!
The Road Atlas
is only 9.99$.
19-22. Music, iPods, books
19. Small books for kids are great, but also consider audio books.
20. Individual
iPods
(299$) and MP3 players are great so nobody gets into each others nerves with different music taste.
21. Also, if you bring your iPods, get one of these handy
adapters
(38$) too – it will allow you to listen to the music from your iPod through your car stereo – if everyone agrees on the same music.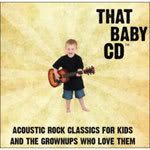 22. One CD everyone in the family will love is the
THAT BABY CD
(14.95$). That Baby CD is filled with great songs – songs that you may have sung at camp or put on a mix tape in your youth – and reworked them with fantastic new acoustic and vocal arrangements. Both your kids and you will love this perfect road trip CD.