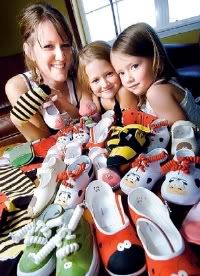 I am humbled of all of the
blog posts
about the Monkey-Toes' ladybug shoes I helped to get to the hands of Tom Cruise, who happened to show them for Oprah on Oprah Show, while she was visiting his Telluride home.
Watch the Oprah today!
But I am just a retailer and a PR girl, who put everything together, the real mompreneur behind the Suri's famous ladybug shoes is Jenny Ford of
Monkey-Toes
from Colorado. Jenny is busy filling out orders and sending fabulous shoes to be found under the tree on Christmas morning, but I had a chance to interview her and even I learned some new things about her!
Katja: When did you start Monkey-Toes?

Jenny:
I conceptually began Monkey-Toes about 9 years ago while taking a painting class with my best friend. I saw the cutest idea for painting on children's shoes, so I tried a design from a book, and decided to change it around and I branched off from there with my own. My first design was the Ladybug and they have been our most popular ever since. After a ton of legwork, testing, copyrighting, I actually opened my doors 6 years ago. We've been blessed and have been growing ever since.
Katja: The name Monkey-Toes just makes you feel warm and fuzzy, how did you come up with it?

Jenny:
The name Monkey-Toes came from my first daughter Rose's really long toes. I had thought for months about the name for the company and when she popped out and I looked at her toes, I knew that would be the perfect fit!
Katja: What is the best part of being a mompreneur?

Jenny:
The best part of my work is the creative process. I love changing something from blah to something amazing and useful. I am a very visual person so I really love to change the look of everyday things. I love marketing, I love being myself (completely silly) and having people react in a really positive way.
Katja: What did you think when your shoes were on Oprah? Wasn't it amazing?

Jenny:
Oh My! What does anyone think when their stuff shows up on Oprah??? I think I was in complete shock. Though I didn't actually get to see the show until a few days later, which drove me completely nuts. My stepmom called and said "Jenny, I think your shoes were just on Oprah". An amazing mix of feelings comes over you. I think I floated through the rest of the day!
Katja: But this isn't completely new to you though – several other celebrity children wear Monkey-Toes shoes too.

Jenny:
Yes, the list of celebtots is endless, we've had a great success with celebrity gifting. Allison Sweeney was just photographed with some of our accessories (wings, wands, antenna), Jennifer Garner's tot, Violet, was spotted with our Buzzy Bees socks, Liam McDermott (Tori Spelling and Dean McDermott) wears our socks and shoes, Trista & Ryan Sutter's (from the Bachelorette) son Max wears our Spunky Spiders tennis shoes, and the list can continue on and on.
Katja: That's awesome! Can you give us a scoop what is the next big thing happening for Monkey-Toes?

Jenny:
The next big thing…can't reveal too much, but we are growing tons. We are getting ready to launch another
complementary accessory line
– it is amazing. We're also seeking investors to grow this baby and explode it! We've got some major growth potential over the next year or so with more distribution in many more countries. I picture really amazing things.