Patrick Dempsey On Phone, In A Bottle, On A Kitchen Table
I'm mcdreamin' here, but it's all family friendly content. And with the
"family friendly"
I mean that my mother-in-law, father and husband read my blog, so I need to keep it down, ya know. Ok, fine, Patrick Dempsey has not been even close to my kitchen table.
(And if he'd ever come close to my kitchen table, I'd serve him some wild caught Atlantic salmon, hollandaise sauce and asparagus like for anybody else coming over for dinner. )
I do have a bottle of his new fragrance
Unscripted
in the front of me on a table though, and I was on a phone call with Patrick Dempsey, listening to him passionately speaking of his new exciting fragrance with
AVON
just mere 24 hours ago. Ok, fine, it wasn't just me and him… It was me and Steph from
Adventures in Babywearing
, Maria from
Diary of a Blue Suit Mom
, Arianne from
To Think is To Create
, Janice from
5 Minutes for Mom
, Amy from
Parentsphere
, Trisha from
MomDot
, Michelle from
Scribbit
, Beth from
I Should Be Folding Laundry
, Kim from
Jogging Circles
and a few journalists like the gal from Cosmo, to whom Patrick
(I can call you Patrick, right? You can also call me Katja, and you are welcome to call me anytime)
said "I know you" making us mommy bloggers green of envy. Yes, me on phone with Patrick… Don't faint, even though I almost did yesterday. I got intoxicated from listening to Patrick Dempsey speaking sweetly in my ear. Or maybe it was because I just kept spraying some more
Unscripted
and smelling the hints of vetiver and patchouli in the fragrance. I had no idea what either one of those were but I googled them and used a dictionary so now I do know these two essential ingredients of
Unscripted
. Either way, I was late picking up my kids from school, and still a little tipsy when I got to school and back to my motherly duties. Start struck? I think so – but even more so – I was just impressed by Patrick Dempsey. Ok, maybe he is a PR machine & an actor, but he truly made all of us bloggers to feel that he was happy to have a little talk with us. He even called us powerful. He also said that what we say will either positively or negatively effect people deeply, and we have a responsibility.. Hm, I wonder if he saw my Motrin video..?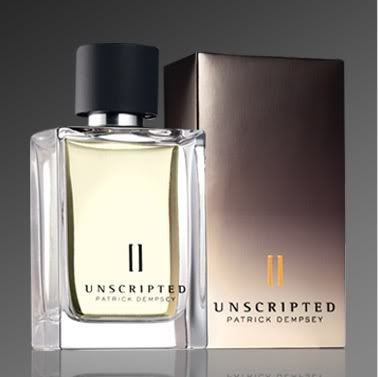 The story…
AVON has been working with Patrick Dempsey's make up artist wife,
Jillian Dempsey
, for a while and according to AVON, she is a true mastermind behind the reformation of AVON. Jillian has been creating new products, and her make up line has been a huge success. One day Jillian and the AVON representative were collaborating about AVON, and Patrick walked in and they started talking about possibly working together with him. While Patrick was telling the story how he got started working on the project, how involved he was in the process of designing the fragrance, the packaging, the name and everything involved, all I could just sense how passionately he was involved with it. He said that he thinks AVON is genuinely authentic company with a true passion of taking care of the community, like fighting against women's cancer, which he also is passionate about. Did you know he has a
The Patrick Dempsey Center for Cancer Hope and Healing
in Maine? It was also very sweet how he was talking about his wife, working with her and that he had learnt after ten years of marriage to listen to his wife's opinion – and he just had to look at his wife to know her opinion if she liked the fragrance. He was really into the whole process of making the scent and wanted to create something with authenticity and naturalness, and light to wear. He didn't want to put a product out that he didn't believe in.
Unscripted
is a fresh scent, that actually works for both women & men. He said that the whole crew of Grey's Anatomy now loves and wears the fragrance too!
Unscripted
has black pepper, cardamom, lavender, water anis accord, vetiver and patchouli, among a few other scents used to form a very classy fragrance, sweet, but not too sweet, fresh but not like your morning mouthwash like some fragrances. I like it a lot, and I have been wearing it myself the past two days, but I think now I am ready to share it with my husband too.
Get Unscripted
FREE SHIPPING Coupon Code –
JINGLE30
Expires – 1/31/09 The coupon gives you free standard shipping with a $30 order when you shop with an
eRepresentative
, and since Unscripted is $32, you'll get free shipping when you buy the fragrance! But this is not all… I have one bottle of
Unscripted
for one lucky reader!
ENTER THE UNSCRIPTED GIVEAWAY
1. Leave a comment here with your most memorable scent. 2. Deadline December 16th midnight EST.