My
cruise
on Disney Wonder to the Bahamas was with girlfriends (well, we
were
bunch of mommy bloggers who didn't know each others prior the trip, now we are
girlfriends
), and I am impressed by the selection of adult activities it had to offer. When I was leaving for the cruise, I was a little worried about the "Disney Overload" and being on a Disney Cruise and terribly missing my children. I quickly found out, there is no Disney "overload" and I am just fine without my kids. In fact now I know again what the word "relaxation" means, there is plenty of entertainment and things to do for adults without children.
There is something for everyone in the family at the
Disney Cruise Line's Disney Wonder
. Here are some of my picks for adults:
The Vista Spa & Salon
is a full service, luxurious spa with variety of facial and body treatments, hair & nail salon, and several different types of steam rooms and a sauna. The adults only pool is on a deck right outside of the spa, and the adults only gym is right next to it too, so you can easily first work out and then get relaxing treatments or enjoy the spa. What was absolutely amazing is the
Vista Spa Villas
. They offer a private room for massage and other treatments and beautiful verandahs with a hot tub and open-air shower (tip: book your Villa for the time when the boat is on the sea, or
you
will be the one tourists will take photos of). There is champagne was waiting next to the jacuzzi… just overall the romantic and relaxing spot for couples. They also have a single Villa – perfect for a moms' pampering day.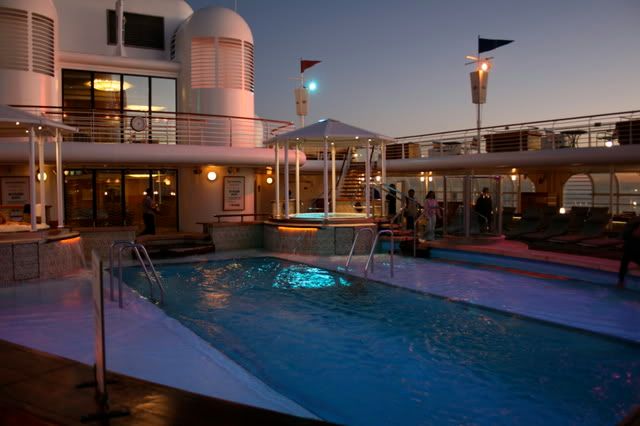 The excursions
list is so long that you will find something fun and exciting, or memorable and relaxing, from the list. The Disney Wonder stops at Nassau and at Disney's own private island Castaway Cay.
Nassau
We chose to attend the
Nassau Segway Tour
. I don't know what I was thinking but I just skimmed through and read
Segway
and thought it was some type of a boat and signed up. Well, I found out pretty quickly that it was not a boat, in fact we were
mall-copping
around the back bushes of Nassau. It was actually a lot of fun, but in a geeky way – and because I was with a very cool group of women (and one man, Travis from Canada).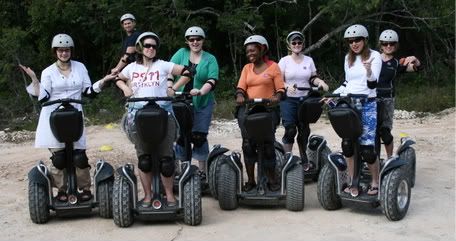 Nassau Segway fun: Me, (Travis from Canada on the back), Amy, Arianne, Denene, Melanie, who has an awesome recap of our Nassau day (with videos you don't want to miss), Maria and Kim.
I think next time I will skip the Segway tour and do something that involves boats, there are plenty to choose from, from catamaran to glass bottom. (Note to myself: if you don't know what a word means – google it.)
You might also want to google
conch
, because that's your exotic Bahamian food specialty. Thanks to
Maria Bailey
we found an excellent authentic-for-tourists conch restaurant, Conch Fritters, in the little downtown of Nassau, and had some fried conch and conch salad for lunch. It was very good, especially the fried type. Conch is the large pink sea shell with a (delicious) snail living inside. I had to buy one of the empty conches for five bucks from a street vendor when we were walking back to Disney Wonder – now it's staring at me on my bookshelf and reminding me of the warm breezes of the Bahamas and making me suddenly so hungry.
Castaway Cay
Castaway Cay is Disney's own private island, and the Disney Wonder docks right on the beach and you can walk to sandy beaches and several different activities like snorkeling, riding a bike around the island, sail around the island with your rental boat or pretty much anything you can imagine you can do on your beach vacation. We chose the stingray feeding, which was an amazing experience and I would recommend it to anyone who likes animals. The stingrays don't have teeth, so they just kind of suck the food of your hand. It was really cool how they had taught the stingrays to get their food from a Mickey shaped plate and we just put our hands firmly down on the plate and held the food between the fingers and the stingrays just came and sucked the food away. The nice thing about the Castaway Cay for adults was that they had a totally separate beach section only for adults (there was also a teenager only beach, very nice touch for older kids), so it was nice and relaxing for those who travel without kids.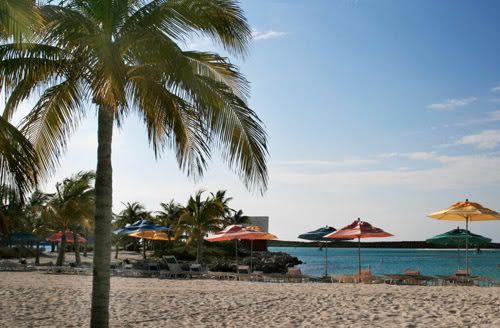 Food
Food… I think there is so much to say about the Disney food on board Disney Wonder, that I will try to do a whole new blog post just about the food. One of the excellent examples of the superior Disney customer service was that guests eat in a different restaurant every night to get a different dining experience – but the servers are the same every night. So your waitress will learn to know you and your individual likes and dislikes and it gives a very nice touch for the whole Disney cruise experience. I will also follow up soon with a blog post about everything the Disney Cruises have to offer for kids. PS. I will be changing the photos of the top right corner and you'll see new photos from my Disney Cruise experience every time you refresh the page.