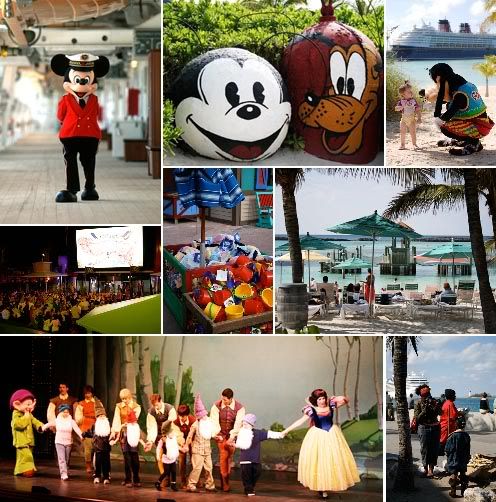 My recent cruise on
Disney Wonder
was amazing, and I already wrote how much fun the Disney Wonder cruise is
for adults
, now I wanted to share my thoughts why you should add Disney Cruise to your family's vacation wish list. Especially now when kids can get 50% off their tickets.
The 50% off offer is good when traveling with two paying adults on the same stateroom and for 3-, 4- and 7-Night cruises on most sail dates from April 18, 2009 through May 31, 2009.
See more great
Disney Cruise travel offers
.
Easiness of travel
Disney makes it so easy to travel with children. When you are checking in for your flight, you can actually check in your luggage to go to all the way to your stateroom in the boat – yes, right at your home airport. Your luggage is picked up by Disney at the Orlando airport and transported directly to the boat. And you can take the easy shuttle bus from the Orlando airport to Port Canaveral where you will set the sail. Just remember that it may take a few hours to get your luggage transported to your stateroom. And when you are leaving the cruise to go home – all you have to do is to put your luggage outside of your stateroom at the certain time, and it will be picked and taken outside the terminal right before the customs, so you can easily walk out of the boat without lugging your belongings. This is a huge plus for families – how many times I remember trying to carry all the bags, holding the kids, and even the dog (in Europe you have take dogs along for cruises) when waiting in the crowded lobby to get out of the boat. Disney cruises are different. Everything is made very easy for you. And speaking of easy travel.. Did you know that you can actually order and have your diapers, baby food, infant formula, and other travel items sent directly to your stateroom at any Disney Cruise boats or any other Disney destination? This is a whole new way of traveling with the little ones! Read more details at
Babies Travel Lite
Entertainment
Disney Wonder has a theater and a movie theater, and every night you can enjoy a different musical. On the 3-day Disney Wonder Cruise to Bahamas you will see The Toy Story Musical, The Golden Mickeys and Disney Dreams musicals. Amazing performances on a 1000 seat theater that spans over three decks high. The movie theater shows the newest Disney movies that are playing in movie theaters. There is even a huge movie screen at the poolside and kids can watch the Disney classics while playing in the pool.
Activities
There are several pools for kids of any age, and also one adults only – check out the picture of the fun water slide on board Disney Wonder. But swimming isn't the only activity for kids by any means. There are different activities for each age group. The babies can take a nap at the Disney Wonder's fully equipped nursery and kids 3-7 years old can enjoy variety of fun at the
Oceaneer Club
and Lab. When we visited the club, the kids were having fun with the chef from the movie Ratatouille and baking some chocolate chip cookies. At any given time of the day, there is a fun activity for kids at some part of the boat. There are also several excursions at the Bahamas destinations to go with the kids of all ages.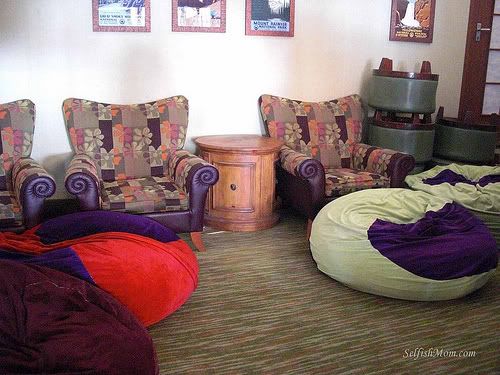 Photo: Amy of Selfish Mom
What I also really liked that it's not just the obvious Disney age groups that are covered. There is not such thing as being too old for Disney, whether you are a teenager or an adult. There are
so many activities for tweens and teens
. And one of the coolest hang out places your family's teen (13-17) is the Aloft – where there have the internet cafe, big plasma TVs, movies, video games and teens can jam with GuitarHero or relax and watch movies in the lounge chairs and take a break from all of the other activities. One of the things that really impressed me at the Disney Wonder was the basketball court on the top deck. I mean come one – playing ball with the ocean views?? Where was this fun when I was a teen? Oh, and the deck activities include playing ping pong and shuffleboard, and there is a separate gaming room for gamers.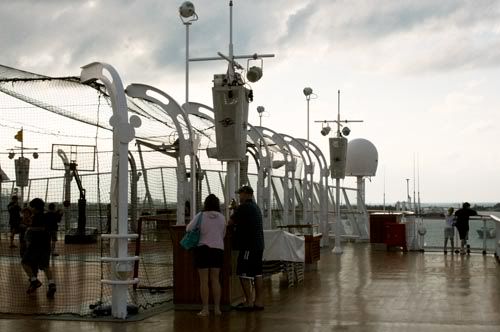 Over all the Disney Cruise is a great experience for the whole family, and you can go all the way for a 7-day-cruise, or just test it with a 3-day-cruise. I hear that most people who try the 3 or 4-day-cruise return later for the whole week of fun. I really like the idea of first spending a few days at DisneyWorld and then going on a cruise to relax for 3 days after that.