Today I was featured at the lifestyle expert Julie Mulligan's blog as a Mom On-the-Go. While the gift she gave me was spot on for me – tulips in a eco-themed travel coffee mug and a Starbucks gift card (I couldn't have picked better myself!) – the being "on-the-go" for me isn't just a way trying to balance and multitask the every day life. It's a whole another lifestyle. Last night my husband and I were laying in the bed talking about moving to Germany. My husband's company will have a few positions open there in the upcoming years. It was really late, but I still couldn't resist picking up the laptop in bed to do some googling about the town we could possibly move to. An hour later kids' possible international high school
(duh, oldest one is now on 3rd grade)
is already found and I'm checking the ICE train schedule to Paris. Today I told about it to my friends, and one of them says "wow, big news". No, not really. Two weeks ago we were googling another European country. This is just how we are. Our three kids were born in different countries. Four years ago we lived in Ohio, three years ago we lived in Tennessee, two years ago we lived in Colorado but drove to Houston, TX for a possible new job and finally moved to New York last summer. While I love to live in the moment and want to encourage people to enjoy what they have and enjoy every second of the life, it doesn't mean that I personally want to stay in the same moment forever. Maybe that's why I am OK that many things in my life are not perfect – like our
home has been so blah
ever since we moved here. I'm not afraid of the change – even though the change has brought me into this tiny blah rent apartment I still haven't decorated from big beautiful houses we have owned and I have renovated and decorated. I understand that change is scary – you don't always know what you gonna get, but I much rather take my changes and live life to the fullest and try new things. And new places. And no – not that there is anything wrong with the place where we live right now – we love New York, and are not ready to leave, but if the opportunity knocks and my husband could stay in the same company and move overseas… we would consider it.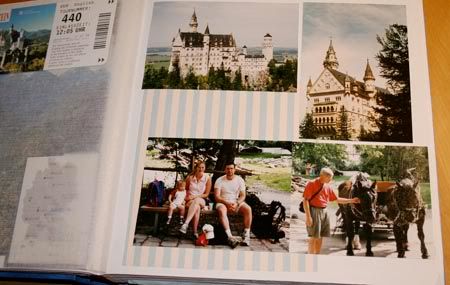 Isabella, me (pregnant), Matt & my parents (my dad in the picture) in Neuschwanstein Castle in Germany in 2001
I wanted to share a picture from our previous time we lived in Germany and started looking at photos in a family album from 2001. The album starts on June 2001 and ends in April 2002. It begins with a trip to Finland, continues with a trip to Southern-Germany, Halloween at my Aunt's house in Frankfurt am Main, birth of Gaby in a small town hospital in Schweinfurt, Germany. The year comes to an end with a family Christmas with both Matt's and my parents and sisters visiting us in Germany, and 2002 starts with a move to the US with a 2-month-old baby and 23-month-old big sister, then visiting Texas, living in Alabama and vacationing in DisneyWorld. See a pattern here – I'm really living the lifestyle of mom-on-the-go. But no – we are not moving to Germany or anywhere else soon. Well, unless we can escape the blah apartment and find another rental. But what I would like to do… take this little girl again to DisneyWorld. Starting to google DisneyWorld now..