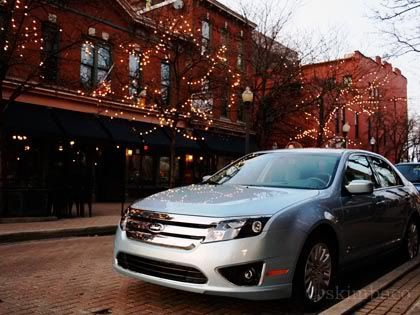 Traveling Mom
Kim Orlando and me both had waken up around four on the morning, flown from New York to Detroit to meet with
Scott Monty
and pick up the 2010 Ford Fusion Hybrid for our road trip. I would love to share some of Ford news what I learned with you, but for now (writing from the hotel, still on our road trip..) I just wanted to give you a peak how we gave the Ford Fusion Hybrid some good ol' times. We hit Cleveland area after 6, and swung by my old house in Lakewood. It was still there, I was a little blue for seeing it, but was even lucky to speak with new owner, who seemed to be a good person. Around 7:30 we hit the
Great Lakes Brewing
to meet up with some friends. The Great Lakes Brewing is close to one of my favorite Cleveland places, the
West Side Market
, an European style fresh food market.
After tasting a few local brews (well, someone "had to" drive so I volunteered to be the designated driver, not a bad choice, considering we were driving a brand new, not even yet on the market, Ford Fusion, and I don't even like beer), we drove cross the bridge to the Cleveland downtown area to the 6th Street to eat dinner at
Crop
. The food was the most innovative I have ever tried in my life – simply said: it made my mouth happy. More about Crop in a separate blog post – including photos of the food.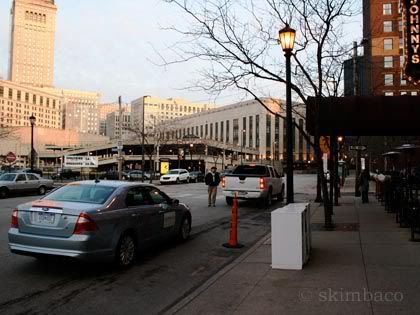 "The Flats" is an old party part of the town, and we heard there was still some action going on under the bridges. We were getting pretty tired of the long day, but stopped to take a few shots of the Hybrid.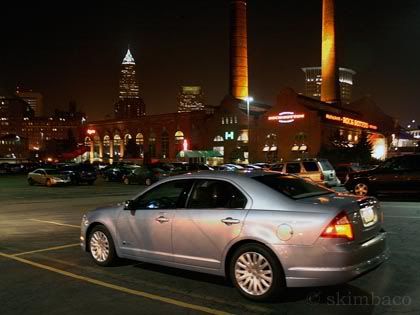 What do you think? Doesn't he look like he is having a great time with two traveling moms?