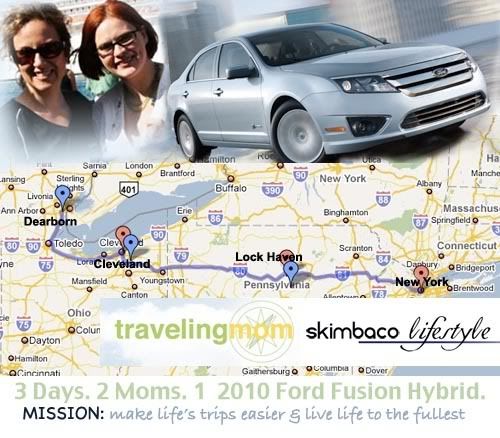 I have exciting news! I'm having an awesome opportunity to test drive the
2010 Ford Fusion Hybrid
this week with a friend of mine, Kim Orlando of
TravelingMom.com
. And this test drive isn't your normal test drive – we'll fly to Dearborn, MI, to Ford headquarters to pick up the 2010 Ford Fusion Hybrid for a road trip back home to New York. 3 Days. 2 Moms. 1 Ford Fusion Hybrid. We'll visit at Ford's headquarters tomorrow and we'll drive to Cleveland, Ohio, tomorrow afternoon.
We are hosting a TweetUp at the Great Lakes Brewing at 7:30 PM tomorrow, Thursday March 26th.
Be there! And if you are not in Cleveland, let your Cleveland friends know about it! On Friday we'll drive to Lock Haven, Pennsylvania and hoping to meet some people for TweetUp there as well (details to come). And check out the map – if you are somewhere along the purple line in the map – let us know and we'll stop and say hi and you can also see the new 2010 Ford Fusion Hybrid. I'm excited about this opportunity, the 2010 Ford Fusion appeals to the techie and green sides of me, and let's see how it will measure up with the Volvo V70 I drive right now.
Follow our trip on Twitter:
@katjapresnal
@KimOrlando
#fusiondriveNYC
Read my
2010 Ford Fusion Hybrid review
.