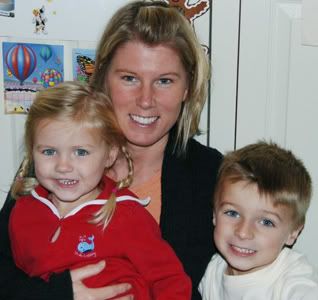 Today's featured Mompreneur is Sara Tyndall of
Ladybugs and Lilipads
. Ladybugs and Lilypads is a charming store where you can find beautiful products for your kids and you – and what gave me a warm and fuzzy feeling: Sara even has those famous ladybug shoes that I sent to Suri Cruise (as then later on seen on Oprah) on her homepage!
Katja: Please tell us more about your company. Sara:
Ladybugs and Lilypads is a unique online Children's Boutique. We offer a unique selection of items many of which are custom handmade to order. We hand pick our items very careful in order to bring only the best to our customers. We have everything from children's clothes and accessories to furniture and room decor.
Katja: What is your favorite Mother's Day memory? Sara:
My favorite Mother's Day memory is my very first mother's day. My husband planted a tree in our backyard and it meant so much to me. Now we have a tradition of planting a new tree for each Mother's Day and I look forward to it every year.
Katja: If you could choose anything in the world for Mother's Day gift, what would it be? Sara:
If I could choose anything for Mother's Day it would honestly just be to spend the day with my husband and children having fun, planting our tree and relaxing. Maybe have someone else clean the house for me…that would be wonderful!
Katja: Can you recommend a Mother's Day gift idea from Ladybugs and Lilypads? Sara:
My favorite mom gift in our store is our
photo necklaces
. I have one of my own and adore it. I find myself wearing it all the time. I really treasure that necklace.
Virtual Mother's Day Gift For Sara
As a mompreneur and a former boutique owner myself, I understand completely that when you take time off working on your own business, cleaning isn't really the first choice of things to do – I rather hang out with my family too! I would love to gift Sara a gift certificate to
BidMyCleaning.com
so she could spend more time with her family instead of cleaning the house. (Oh, don't we all wish this!)