Today was one of my favorite days as a blogger. I co-hosted a BBQ hot dog lunch at the West Point Military Academy Flight Detachment helicopter hangar together with Sikorsky Aerospace Maintenance at their First Annual Sikorsky Memorial Day BBQ. I was able to do this together with my husband, and enjoyed spending today with him while doing something good. My motto is to live life to the fullest, and thanks to great companies I have been working this spring, I was able to make this day a very special one – and serve the soldiers wieners and panties! No, really – Oscar Mayer sponsored our party and we served their hot dogs and soldiers got Hanes socks, tees and yes – boxer briefs. I had no problem saying at the party "sir, I can't throw a party without giving away free panties" without any shame. And I might have teased some that I needed some modeling with the new Hanes on, but for PR purposes I am not able to discuss this matter in more details. Let's just say that everyone loved their Hanes and are looking forward coming to work and serving our country wearing comfortable undergarments.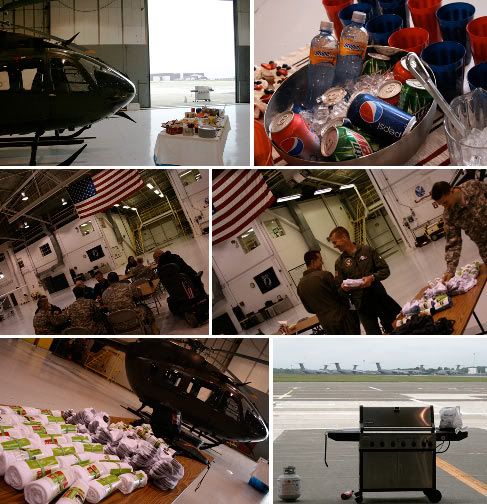 We set up picnic tables inside the flight hangar, right between the planes and the helicopters, and the grill was right outside the hangar – next to the runway. Military personnel, some with their families, Sikorsky employees and even the state police from next door enjoyed a lunch and a break from their daily work. We had 100 Oscar Mayer hot dogs and I overheard people saying "this is my sixth one" – it is easy to believe that Oscar Mayer Franks are the best tasting hot dogs according to national taste test. And if you haven't tried the Jalopeno ones, make sure to taste those this summer, pilots from Army to Sikorsky to State Police went for seconds. My salads were so popular that
I was encouraged to post the recipes
(follow the link to get the recipes) up for everyone to find, and even the cupcakes with hand whipped whipped cream and fresh strawberries and blueberries were a hit. Today truly was one of my highlights as a blogger, it felt so good to do this for people in our community. Soldiers shook my hand and thanked me before walking away from the hangar carrying their Hanes bags, and asked "when can we do this again". After cleaning up I drove back home thinking "when can I do this again".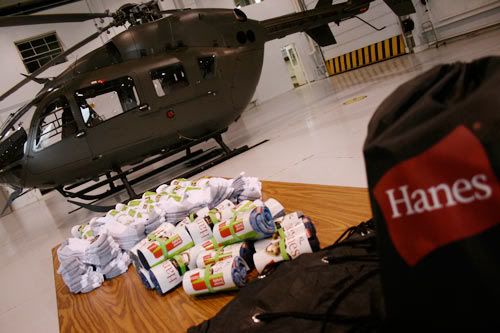 Thanks to following companies for sponsoring our party with donations, products and/or coupons: Oscar Mayer, Hanes, Frito-Lay's Smart Food, Propel Fitness Water, Duncan Hines cake mixes