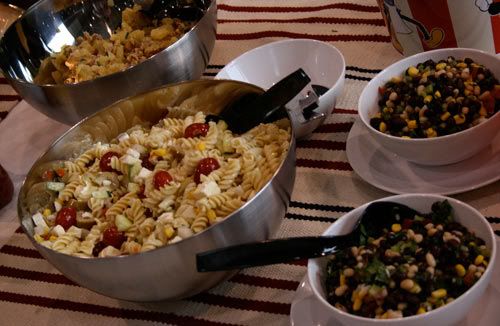 These easy recipes are easy to make even for a larger crowd, perfect summer food to accompany your next BBQ party. You can prepare most of these a day before your party so you have more time to set up and make the main dishes or other last minute party preparations. There are fancier versions of all dishes but these are easy recipes with ingredients you might already have home making them also a perfect last minute side dish. The three salads are German Potato Salad, Greek Style Pasta Salad and Tex-Mex Black Bean Salad – go with the one that fits the best with your other BBQ foods, or be brave and give your party international flair and serve all of them!
GERMAN POTATO SALAD 10 small red potatoes cooked 1 onion 10 slices of bacon 3/4 cup white vinegar 1/3 cup water 3 tablespoons mustard Salt to taste Lemon pepper to taste Chives, fresh or dried
1. Boil the potatoes with skin on. Red potatoes work the best. Cool down (peel if you wish) and slice the potatoes. 2. Cook the bacon crisp, remove from pan, but don't get rid of the bacon fat. 3. Dice the onions and cook them golden in the bacon fat. 5. Dice the bacon and mix with diced potatoes, mix the sautéed onions in too. 6. Mix vinegar, water, mustard in a separate dish and then mix with the potatoes. 7. Add salt and lemon pepper to taste. (taste the salt first, I usually skip the salt because bacon is so salty) 8. Garnish with chives.
GREEK STYLE PASTA SALAD 1 box of rotini pasta cooked al dente 1 cup salad dressing, my choice is Paul Newman's Ceasar Dressing 3/4-1 onion diced small 3/4 English Cucumber diced 20+ olives 8 oz Feta Cheese, I use Athenos Traditional Feta Cheese Chunk 2 large tomatos or 10-15 cherry tomatoes Salt and Lemon Pepper to taste
1. Cook the pasta al dente. Make sure not to over cook it. Drain well with cold water and add a little bit of the salad dressing or extra virgin olive oil after draining it to preventing it from sticking together. Cool it down. 2. Dice onions and English cucumber and add to the pasta. 3. Add olives. Make the salad fancier buying specialty olives from your grocery store olive bar, or make your own gourmet olives.
Gourmet olives: add 2-4 garlic gloves, herbs like basil, thyme and/or rosemary to canned olives, fridgerate at least over night, preferable for one week.
4. Crumble or cut the Feta cheese small and mix with the pasta. 5. Add salad dressing and salt & lemon pepper to taste. 6. Dice large tomatoes and add to the salad or add the cherry tomatoes.
Tip: You can do 1-5. the day before, but if you use large tomatoes, they are best to be added no longer than 2-3 hours before serving – or you can use cherry tomatoes.
TEX-MEX BLACK BEAN SALAD 2 cans of Black Beans 1 can of White Beans 1/2 can of yellow corn 3-4 gloves of garlic 1/2 green bell pepper (or 1/2 jalopeno pepper if you like it hot) 2 limes generous bunch of fresh cilantro salt to taste lemon pepper to taste (1 small tomato dices if you want extra color)
1. Drain the beans & corn. 2. While the beans are draining squeeze the limes to get fresh lime juice. 3. Mince the garlic small. 4. Mix beans, corn, lime juice and garlic. 5. Mince bell pepper (or jalopeno) and add to the mix. 6. Dice the tomato if you want to add some, and mix with the bean salad mix. 7. Cut cilantro in small and mix with the salad. Add salt & lemon pepper to taste.
STRAWBERRY CUPCAKES 2 Boxes of Duncan Hines Strawberry Cake Mix 6 Eggs Water 3/4 cup table spoons of coconut oil Vanilla Sugar Powdered Sugar Heavy Whipping Cream Strawberries Blueberries
Makes around 35 cupcakes. 1. Mix the cake mix according to the instructions on the box OR use coconut oil instead of vegetable oil and add vanilla sugar to the mix. 2. Bake the cupcakes according to the instructions on the box. 3. Cool down the cupcakes. Try not to eat too many while they are still warm. 4. Skip the icing and make real whipped cream:
1 pint of heavy whipping cream 1/2 cup powder sugar 1 tbs vanilla sugar Use electric mixer until the cream is whipped. The powder sugar in the mix makes the whipped cream little heavier and easier to spread and stay on cupcakes.
5. Spread the whipped cream on cupcakes. 6. Garnish with sliced fresh strawberries and blueberries.