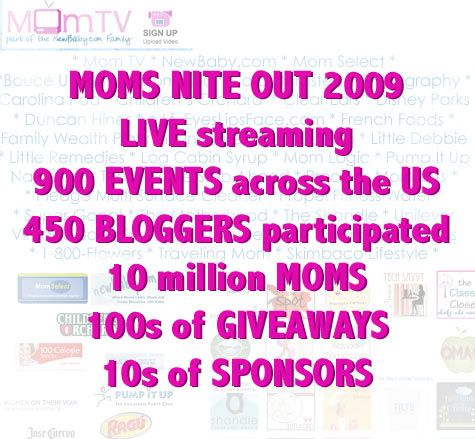 Mom's Nite Out was an idea of
Maria Bailey
, the CEO of
BSM Media
, host of
MomTalkRadio
, author of
several books
(
Mom 3.0
is my favorite) and co-founder of
NewBaby.com
and recently launched
MomTV.com
.
On May 7th millions of moms nationwide had a well-deserved Mom's Nite Out.
Thanks to hundreds of bloggers, tens of sponsors, malls, restaurants, hotels, website partners and above all, thanks to The Ultimate Mom, Maria Bailey.
What started as one mom's idea to do something good for the other moms spread into something huge. Even in the largest events the "made with love" could be felt on Moms Nite Out. The at-home-parties, the cocktail parties, the comedy nights and even at the large mall events – they all shared the same feel, this one night was for
us
moms. To be celebrated and to be cherished with each others. I had an honor to spend that night with Maria Bailey and co-host the New York City party at the beautiful settings of the Wyndham hotel with her and Kim Orlando of
Traveling Mom
. Amazing New York City area moms filled the room, and I had an opportunity to meet the first time Debbie of
Mamanista
, Joy Rose of
Mamapalooza
, Debi Silber, the
Mojo Coach
, and
Ms Latina
, as well hang out with friends like Emily of
The Motherhood
, Amber, the
Jersey Momma
, Amy, the
Selfish Mom
, Carol the
NYCityMama
, Daisy of
Blue House Blogs
and Wendy of
Babies Gotta Have It
.. and so so many other amazing women (sorry that I left you out, not intentionally, I couldn't list all 50 guests!). The
Propel Fitness Water
sent a Propel team to help us to set up and greet our guests. We had custom
Mamaritas
made out of Jose Cuervo tequila, and
We Take The Cake
and Little Debbie took care we all had the best of the cakes or 100 calorie snacks for dessert. We raffled giveaway prizes every 15 minutes and over 600 viewers attended our party at the Mom TV where we were livestreaming the party. I also raffled away spa day at the Dashing Divas day spa, sponsored by Pledge Multi Surface Cleaner, and I held another great VIP spa party last week. We had a talented photographer
Carol Barnstead
taking photos, and here are some of her photos of the night. You can see all of her photos of the
Mom's Nite Out NYC party
.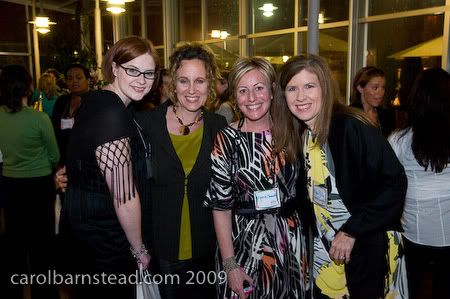 And we had swag… and boy did we have swag! Our swag bags had gifts for (gasp!) over $1000 per bag! So many companies and especially mompreneurs wanted to be part of our night and celebrate motherhood and sent gifts for our guests. We had e.l.f. make ups, baseball tickets to see Brooklyn Cyclones, Vintage Body Spa's bath products, Super Goop! sun lotion, 1-800-FLOWERS.COM
t-shirts, Name Your Tune CDs… And one amazing gift from The America's Personal Family Lawyer Alexis Martin Neely and her Family Wealth Planning Institute – every guest got a gift certificate for one time visit with a Personal Family Lawyer for legal consultation – great for example for all the mompreneurs and bloggers to set up their business.
Thank you so so much for all of our sponsors. It meant so much to me to be able to host this special night for moms with Maria and Kim, and then on the top of it send the guests home with Mom Logic bags filled with goodies. The best for me – seeing the look in the moms' eyes when they saw the gift bags and their contents, and hearing
"I'm a single mom, and I haven't had a night out for years.. this IS the Mother's Day for me and one of the best nights I've ever had".
See you all again next year on Moms Nite Out!
Thank you so much for the following sponsors who donated products for the bags: * Mom TV * NewBaby.com * Mom Select * * Blisfully Domestic * Carolina Pad * Children's Orchard * Clear Ears * HP * Brooklyn Cyclones * Duncan Hines * e.l.f. EyesLipsFace.com * French Foods * Family Wealth Planning Institute * Little Debbie * Little Remedies * Log Cabin Syrup * Mom Logic * Name Your Tunes * One Step Ahead * Precious Moments * Propel Fitness Water * Super Goop! * The Shandle * Today's Moms * Traveling Mom * Vintage Body Spa * 1-800-Flowers *