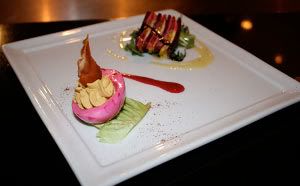 I visited one of the most innovative restaurants I've ever been to,
Crop Bistro & Bar
in Cleveland, OH, this spring. I practically inhaled the plate above with Chile Deviled Eggs with Crisp Pork and Roasted Beets, Goat Cheese, Watercress & Herbs w/ Pistachios & Orange Vinaigrette – and was in such food intoxication that I totally forgot how Steve Schimoler, the innovative chef of the Crop Bistro told to re-create the beet-goat-cheese-dish. This past weekend I was at
The Lodge of Woodloch
in Pennsylvania and had another salad with beets & goat cheese, and I had a change to have a cooking demonstration with their chef Matthew Vinetti and he shared his secret lemon-tarragon vinaigrette for his Beet & Goat Cheese Salad.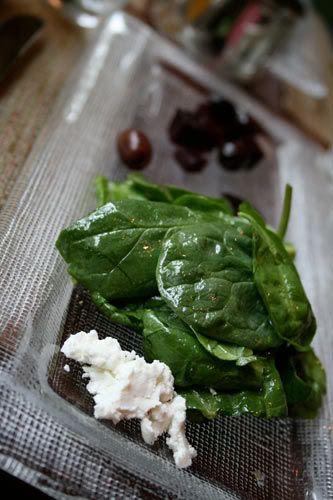 I'm so excited to share Matthew's recipe with you, but I like to cook
home food
that is fast and easy, so I made my own recipe inspired by this one. So the choice is yours – go the easy way or take your time to create even better culinary experience.
NOTE:
You only need about 1/2 of the vinaigrette made in the recipes, but I recommend making the whole amount. The vinaigrette stays good about two weeks, and is great for many other dishes as well.
MATTHEW VINETTI'S BEET, GOAT CHEESE AND OLIVES WITH LEMON-TARRAGON VINAIGRETTE ON SPINACH
3 beets kalamata olives spinach goat cheese
Lemon-Tarragon Vinegairette
1/2 cup olive oil 1/4 cup water 1/2 white balsamic vinegar 1 small chopped shallot juice of 2 lemons 1/8 cup chopped fresh tarragon 1/8 cup honey Pinch salt & pepper 1. Boil the beets for 20 to 30 minutes, until tender. Drain and cool, then cut in to cubes. 2. Mix the Lemon-Tarragon Vinaigrette. Squeeze the lemons and chop the shallot and tarragon and just mix all the ingredients well. 3. Wash & drain the fresh spinach. 4. Cut the goat cheese. 5. Assemble the plates by adding the spinach first and drizzling it with the Lemon-Tarragon Vinaigrette and then olives, beet cubes and goat cheese. Serve immediately. So that is the gourmet version, but it takes time because you have to boil the beets, and wait them to cool down, the beets do taste excellent this way, and I recommend doing this if you are serving this dish in a dinner party, but I wanted to re-create this recipe that it fits my 30-minute-meal-obsession, getting good food on the table fast every day. My recipe takes less than 10 minutes from start to finish.
KATJA'S EASY SPINACH SALAD WITH GOAT CHEESE & BEETS & ORANGE-LEMON VINAIGRETTE
1/2 can diced beets spinach goat cheese
Orange-Lemon Vinaigrette
1/2 cup olive oil 1/2 cup white balsamic vinegar 2 table spoons orange marmelade Juice of 1 lemon 2 tsp sugar salt & pepper 1. Mix the vinaigrette. The hardest job is really squeezing the lemon. 2. Wash and drain the spinach and the beets (in separate colanders!). 3. Cut the goat cheese. 4. Mix the salad – add the spinach first, drizzle with vinaigrette and then add beets & goat cheese.