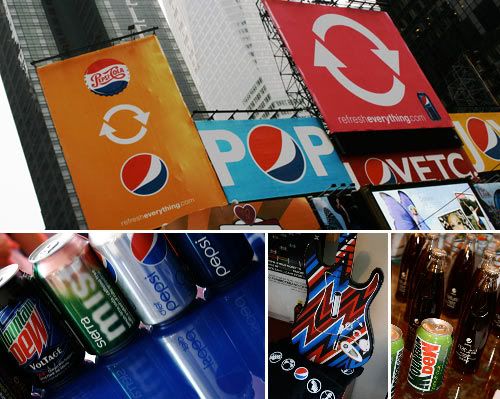 I was one of several social media experts and bloggers invited to the Pepsi Innovation Day and honored to be in the same group with people like Ted Murphy of
Izea
(whom I had honor to have lunch with) and Jory Des Jardins of
BlogHer
(who was also at the Pepperidge Farm Social Media Day with me the next day) and
Howard Greenstein
. We were invited to Pepsi's Research and Development Department in Valhalla to learn what kind of process it is to make Pepsi products,
especially the sodas
, and more about their social media marketing campaigns. I'm always mesmerized to learn more about the production and product development, after all I studied Production Management in college, and I think it is essential even for marketers, sales people and PR people to know how products are made, and what is involved in the process. We visited the flavor lab and were introduced to flavor chemistry – it takes seven years to train to be a flavor chemist, so I won't even start making a fool out of myself by saying I would have actually learned much. We also had a discussion with the color expert and were showed how consumer sensory panelists translate the consumer taste feedback into usable research information, and we were able to experience what it is to be a consumer sensory panelist. One of the coolest things was making our own sodas and tasting different Pepsi products sold at global markets and tasting new products coming out. My favorite was the Acai fruit vitamin water coming out this summer. One of the highlights of the Pepsi Innovation Day for me was also finally meeting Stephanie Agresta, who invited me to the event. The Pepsi Innovation Day ended with a panel discussion with Adam Cristinsen from IBM, John Andrews of
Mars Advertising
(formerly Walmart) and Christine Cea, Unilever head of PR. I truly enjoyed the panel, I am of course already a fan of work of John Andrews, and I had also met Christine Cea before, whose take-ons on social media I truly enjoyed hearing in the panel. Examples of the questions at the panel.
Note: these are my notes during the panel, and not exact quotas.
Q: What are the changes in the social media lately.
John Andrews
spoke about different platforms in social media: Large organizations have so many different tools to connect to customers -smart networks, social media involvement, mobile marketing, microsites- the task right now is how to bring that back to your organization and how to leverage them.
Adam Cristinsen
brought in the point how social media has improved communication also between corporations and PR agencies. Social media has changed the massive organizational pyramids and how to go around them. Social media has also changed how corporations work together with agencies and allowed better control of messaging and communications between the corporations and agencies. There are better relationships and better ways to connect with the company culture.
Christine Cea
pointed out that there is no control in social media, and that's the beauty of it. Tipping point for Unilever was when they let go brand control during the first season of Donald Trump's Apprentice – the company let go the brand control by letting the people in a TV show to create a commercial – and Unilever used it. Social media is evolution of letting go in a controlled environment. Now it's evolving and letting it go into consumers hands.
Q: How to unleash a message with all the legal restraints organizations have – how to let go?
Christine Cea
explained how PR department should always be involved. The requests to let go has to come from brands, but there is need to explain how to work with their marketing message. Don't just do social media because every one is doing it, you need strategy. Media/PR/Digital has to work together to create the solution. Public relations should always be involved. Even if it is viral video, PR is the one who is brought to clean up the mess, they should be involved from the beginning. And of course, if there is a mess, response well, and response quickly.
John Andrews
explained how the Twilight DVD release campaign was successful for Walmart and how they worked together with Elevenmoms from the designing the campaign to execution, and it was the most successful DVD-release ever at Walmart.com with most pre-sales. There has to be involvement and engagement with the bloggers/community in order the campaigns to be successful and successfully let go.
More takeaways from the panel.
– Social media is more about listening. Great benefit to the listening – trends, product development, find the enthusiasts who can push your brand messages. Google alerts still rock, but stay on the top of other platforms as well. – When you work together with different platforms, create the campaigns together with the platforms, for example create a FB activity together with Facebook. Basically; go where the people are, but use the platforms and work together with them, and use their brand voices. – There is greater area of word of mouth marketing offline – 80% of word of mouth marketing is still offline. There is so much more than just twitter and facebook, so many other ways to connect. – Social Media not about technology it's about the relationships. It's not about campaigns, it's about creating relationships and community and deeper relationships with influencers. Work with influencers who are part of your brand's core values. Use analytics to see who really are the influencers.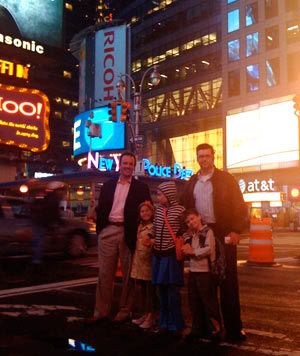 John, Gaby, Isabella, Kris and Matt at Times Square (iPhone picture – I wish I had had my camera with me)
The Pepsi Innovation Day was awesome and after that John Andrews and me drove to city and met my husband and kids at the
Kellari
Greek Restaurant. I have been working together with John since last fall and it was great finally introduce my family to him.