Marimekko Stilla. Designer: Björn Dahlström
Marimekko partnered with Italian wallapaper company Sirpi to create this new collection of vinyl wallpapers with classic Marimekko prints as well some new designs from young designers. 12 different patterns of Marimekko wallpapers just arrived at
AlwaysMod.com
, and this Minneapolis-based retailer is the only US retailer so far where you can find the new Marimekko wallpapers. Look at these rooms – wow, what kind of statement the Marimekko wallpapers do!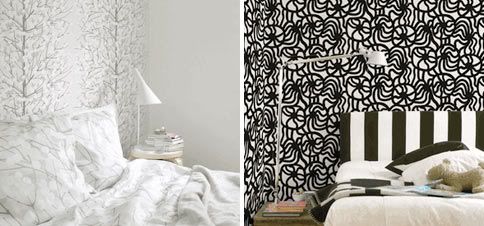 Lumimarja. Designer: Erja Hirvi. Joonas. Designer: Maija Isola
The Marimekko prints offer a bold design statement and little goes far. Many of these prints may be too over powering if you cover the whole room, but the prints are perfect for one wall, and mixed with more subtle patterns, like in these pictures. The Marimekko wallpaper is sold 11 yds x 27-1/2 in a roll for $89. It is a bit pricey, but way worth it. And if you are like me and don't waste anything, use the left over wallpaper in various craft projects.
50 wallpaper ideas
book by Derek Fagerstrom and Lauren Smith, the book is filled with amazing craft and design ideas with wallpaper.
Bo Boo. Designer: Katsuji Wakisaka
PS. If you want instant Marimekko fix – try these
Marimekko computer wallpapers
for your desktop.